New exhibit at the Morris Center serves up SC food history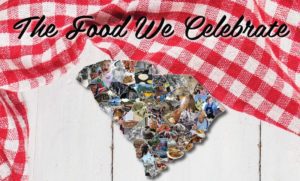 The Morris Center for Lowcountry Heritage is pleased to announce the opening of The Food We Celebrate on August 27, 2022, including a special presentation by Chef BJ Dennis at 11:00 am. On view through February 25, 2023, the traveling exhibit tells the story of selected foodways and how they are celebrated and shared.
Focusing on iconic foods from South Carolina cuisine, the South Carolina State Museum and South Carolina Humanities collaborated with 22 organizations across the state to develop the content of the exhibit. BBQ, Chicken Bog and peaches are just a few of the local specialties highlighted in the exhibit which debuted at the South Carolina State Fair in 2019.
Registration is requested, and a $5.00 donation is suggested to attend the one-hour talk by Dennis that explores Gullah food traditions and their West African connections. In addition, the book, Taste the State: South Carolina's Signature Foods, Recipes, and Their Stories, by Kevin Mitchell and David S. Shields will be available for purchase in the museum gift shop.
Morris Center is open to the public Tuesday – Saturday from 10:00 a.m. to 5:00 p.m. For more information, please visit www.morrisheritagecenter.org.
About Morris Center for Lowcountry Heritage
Located in the heart of downtown Ridgeland on US 17, Morris Center for Lowcountry Heritage is a learning and exhibition center dedicated to preserving and cultivating the history, culture and spirit of Ridgeland and its surrounding counties. Housed in a collection of vintage buildings, with the architecturally distinctive Sinclair Service Station as its focal point, the center features ever-changing exhibitions, interactive and dynamic learning opportunities, cultural offerings, storytelling and other forms of art