Charles Martin has been called by BookPage publication an author of "God-haunted Southern Literature".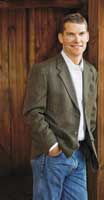 The Hallmark Hall of Fame picked up his second novel The Dead Don't Dance for a movie and now Martin's sixth book, Where the River Ends, has been picked up by book clubs around the country for its literary beauty and powerful story of heartbreaking loss and undying love.
On Wednesday, November 5, the Lunch With Author series of the University of South Carolina Beaufort will present this young Floridian to the public at the Colleton River Plantation Clubhouse, Bluffton. The all-inclusive lunch, lecture and book signing is $42 and reservations are a must. For reservations, email kingsley@uscb.edu or call 521-4147.
Where the River Ends chronicles the love-filled, tragedy-tinged journey of a young couple into their tenth year of marriage and faced with a life-threatening illness. When Abigail, the only child of South Carolina's most powerful senator, becomes seriously ill, Doss, her fishing guide husband, battles it with her every step of the way. And when she makes a list of ten things she hopes to accomplish before she loses the fight for good, Doss supports her in making it all happen. Together, they steal away in the middle of the night to embark upon a 130-mile trip down the St. Mary's River…a voyage Doss promised Abbie in the early days of their courtship.
In an interview Martin says, "Readers often ask me why I write the stories I do…'why these themes?' As I get older (I'm 38) and life dings me more, I wake up to find that hard places, sort of like fish scales, have calloused my insides. Mainly my heart. I'm not alone in this. At the end of the day, I hope my stories circumnavigate the hard places and touch what is still tender. Cause someone to feel something they haven't felt, love in a way they had forgotten or hope for something that pain had caused them to scratch off their list. If I can do this, then I will have done what I set out to do. And if I'm really honest, I do this as much to reawaken the numb places in me as in other people."
Charles Martin has been writing full time since 1999. He has an M.A. in Journalism and a Ph.D. in Communication from Regent University. He and his wife, Christy, live a stone's throw from the St. John's River in Jacksonville, Florida, with their three boys. When he's not writing, Martin fishes with his boys, coaches T-ball, and kneels by his boys' beds at night. Right now, the boys are praying for two things: a boat with space for a cooler, three or four people, and five or six rods because they're not catching any fish off the neighbor's dock…and oh yes! Daddy's books.
Other much loved books by Charles Martin are Chasing Fireflies, Maggie, When Crickets Cry, Wrapped in Rain and The Dead Don't Dance.