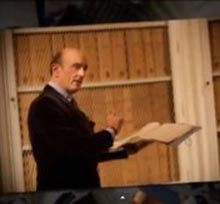 The Santa Elena Foundation if offering Lowcountry residents two unique opportunities to meet Spanish Count Alvaro Armada, the current
Adelantado of la Florida
and direct descendent of 16th century founder of Santa Elena, Pedro Menendez de Aviles.
Upcoming "Meet & Greet" events include:
Wednesday, September 9

10:00 A.M. short program followed by Q&A

Coastal Discovery Museum, Hilton Head Island

Friday, September 11

1:00 P.M. to 2:00 P.M. drop-in and Q&A

Beaufort History Museum, Downtown Beaufort Arsenal
The public is welcome to come during these times to meet the Count, learn about him and his lineage, and better understand the efforts to bring Santa Elena, the 16th century settlement on Parris Island, into the spotlight as an important aspect of the founding of America.
         "This is only the second time in as many years that the Count has visited Beaufort, and we'd like to share this opportunity with the public," says Dr. Andy Beall, Santa Elena Foundation Executive Director. "It is a critical time for our Foundation – we are working diligently to open the Santa Elena History Center and prepare for the 450th anniversary in April 2016. More immediately, the Count is visiting, and we are grateful to our partner organizations for hosting these two Meet and Greet events."
The Coastal Discovery Museum, a partner of the Santa Elena Foundation, is located at Honey Horn Plantation on Hilton Head Island and is a community based, educational institution dedicated to fostering greater knowledge and appreciation of the cultural heritage and natural history of South Carolina's Lowcountry. On site of the museum, visitors can also see a Marsh Tacky horse, a breed that descended from Spanish horses that were brought here in the 16th century.
The Beaufort History Museum, also a partner of the Santa Elena Foundation, is located in downtown Beaufort in the Arsenal on Craven Street. It is chartered by the City of Beaufort to share the deep and rich history of the Beaufort District. Among its many exhibits is an introduction to the story of Santa Elena and the 16th century settlement activity in the Beaufort area.
The mission of the Santa Elena Foundation is to discover, promote, and preserve the "Lost Century" of European colonization through the story of Santa Elena. The Foundation is focused on growing its family of volunteers and supporters to help bring this story and History Center to life.
To learn more about the Santa Elena Foundation and how you can be involved, visit http://santa-elena.org.