Chuck Ferguson, designer and craftsman, gets inspired with his wife and daughter at Camp Caroline, a fish camp in the heart of the Lowcountry.
Good design is a balance of function and ingenuity. A good designer takes both and fashions a product, or series of products, with the help of some thematic inspiration. For Chuck Ferguson, that inspiration is the Lowcountry of South Carolina.
For visitors unsure about the term, the Lowcountry is the geographic area located along South Carolina's coast that includes majestic sea islands surrounded and protected by a vast expanse of salt marsh. The region is known for its wealth of agriculture, historic charm, natural beauty and cultured inhabitants.
For residents, the Lowcountry reflects a state of mind. Life in this region is managed at a slower pace; residents take nature's lead to orchestrate a tranquil existence, even in the midst of seasonal storms and fluctuating tides. And like the intricate system of winding creeks that encapsulates the essence of salt marsh ecology, the Lowcountry is marked by a subtle sophistication.
Ferguson understands this sophistication. He understands simplicity, too. He is stimulated by the frequent orange and magenta sunsets that sink below the lime green hues of the salt marsh across the creek of his revered fish camp.
"Nothing can compete with this natural canvas. So why not find a way to accent it?"
That's the philosophy Ferguson takes with regard to his craftsmanship.
"I want my construction to be timeless. My finished products are designed to function well and
accentuate a style. My style is Lowcountry Living . . . simple and sophisticated," explains Ferguson.
When Chuck Ferguson moved to Beaufort, he quickly resonated with the lifestyle. A craftsman originally from Newport, Rhode Island, Ferguson was accustomed to coastal living. But Beaufort was different. Hardened by northeastern weather, Ferguson came to the Lowcountry and happily embraced its warmth – both the temperatures and the hospitality.
While easily adapting to life as a South Carolina resident, Ferguson still adored New England's architectural style – its masculinity and its subtlety in natural settings. Ferguson started The Meridian Company in Beaufort, a building construction and contracting business, founded on the artisanal enthusiasm for craftsmanship that he'd learned in Rhode Island. He brought the Ocean State's style with him.
And soon, he fell in love. Ferguson met Carman Poore, a native of Aiken, SC, and admired her calm demeanor and her love of the outdoors. They married, and Ferguson quickly adapted to her elegant style, which was equestrian-themed. They built the farm of their dreams, equipped with stables, paddocks, an accommodating farmhouse and an inviting guesthouse, on acreage in Northern Beaufort County, near many other historic plantations.
Their farm is a balanced combination of New England's shingle style and lean-to additions, Aiken's Colonial Revival design and Coastal must-haves like outdoor living areas and oversized porches. The Paddocks, as they call it, is a collaborative effort between husband and wife, huntsman and equestrian. The estate brings the outdoors inside and vice versa. And, it defines the look of The Meridian Company.
For more than 25 years, The Meridian Company has applied its uncompromising commitment to quality to building some of the country's finest residential and commercial properties, earning a reputation in the South for its signature construction. With a lengthy resume of residential developments, original homes and a collection of custom cabinetry under his tool belt, Ferguson has built a legacy of design throughout the Lowcountry.
But on a personal level, it's his beloved fish camp that continues to inspire him.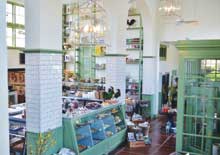 For many men in the Lowcountry, fish camps are a refuge from the daily tasks of professional monotony. Unlike man caves – delivering organized sport and games galore – fish camps are minimalistic and serene. Guys go there to enjoy friends and family, without the noise of pop culture. They go there to appreciate the divine landscape, engage in undisturbed conversation and unwind.
Ferguson's camp is located on a small island in the middle of the ACE Basin, a nature preserve that encompasses over 350,000 acres in Beaufort and Colleton counties and is one of the largest undeveloped estuaries on the Atlantic Coast. ACE is an acronym for the Ashepoo, Combahee and Edisto rivers that feed into the St. Helena Sound.
"This place is heaven for me. When my wife became pregnant and we knew we were having a little girl, we decided on the name, Caroline. So I named it Camp Caroline, immediately, before she was even born. I hoped she would enjoy it as much as I did, and my dream is coming true. She's now 5 and loves the camp. It's a child's paradise . . . . it's our paradise," says Ferguson.
Nestled among live oaks, palmettos and southern magnolias, Camp Caroline boasts cedar shake siding and a steep roof pitch indicative of Ferguson's native New England, yet in the heart of his beloved Lowcountry. The outdoor living area extends beyond the covered porch, fully equipped with an aged brick and oyster mortared fire pit. It is the setting where all the conversations begin, and end; where campers reinvent themselves and solve the world's problems, one log at a time.
There are three rules at Camp Caroline, at all fish camps. Respect each other. Respect the land. Respect the water.
Conservation of nature is in man's hands. When we understand nature's strength and significance, its patience and seasons, its beauty and design, we will then, and only then, understand ours.
And nature's strength and beauty are the true inspiration of The Meridian Company. For more information, contact Chuck Ferguson at (843) 575-9494 or visit www.themeridiancompany.com.