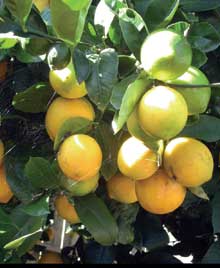 We don't often buy a new house a thousand miles away in a completely different environment. So when we discovered our current home on Saint Helena Island, it was a very big deal for us. Tucked against a lovely tidal creek, the backyard was serene. It featured palmettos, stately live oaks, and a husky, we later learned, Meyer lemon tree—about twelve feet tall and another ten wide.
To our delight, that tree produced 20 lemons our first year. What a nice treat, we thought. And the lemons were wonderful, fist sized and brimming with juice. Doing some research we learned that Meyer lemons are actually native to China and are a cross between a lemon and either a common orange or a mandarin. Brought to the U.S. in 1908 by Amsterdam native Frank Nicholas Meyer, a U.S.D.A. employee, they are thinner skinned and sweeter than regular lemons and are great to cook with.
The following spring our tree exploded in an intoxicating haze of hundreds of sweetly fragrant white blossoms. We loved to sit on the patio and watch the bees work them over. No botanical wizard, I still felt compelled to facilitate the process and so cheered them on and refrained from lighting a cigar so as not to disrupt whatever scent-driven forces were in play. It was great fun witnessing the little guys so hard at work. Fortunately our tree was in a great spot, getting full sun and deeply rooted in sandy soil. Lo and behold, that fall we harvested 80 lemons, plenty to share, and we even put some out on the table in a pretty bowl.
Apparently encouraged, our wonderful tree then sprang into full production mode, averaging some 250 lemons annually over the next five years, including some 325 this past season. "Hey, we're farmers again!" we realized, sort of like back at our previous home in Connecticut, which had a half dozen apple trees, one of which produced countless bushels of Rome Beauties. Some of our favorite times there involved my parents and friends coming over to help pick them. And the smell of cinnamon laced homemade applesauce simmering on the stove was always special.
Curiously, our one Meyer lemon tree managed to initiate a sequence of events that we enjoy every
year. Once the bees have finished, we look forward to our first nearly wild guess at how many lemons are in the upcoming crop. I like to walk around the tree trying to "bean count" all the tiny pinhead sized fruit. Accuracy is nearly impossible, but I can't resist. As the months pass, those miniscule green nibs turn into what look like limes, dark green and hard as a park bench. Come October the 'limes' morph into lemons, at least in color. We start picking in November and continue until as late as February. Meyers are hardy and can withstand a light frost or two. The only real trick is to try to avoid being jabbed by all the thorns. One day I just might remember to wear gloves and long sleeves (the same day I remember to watch where I'm going around the house and stop tripping over dog toys; yeah right).
We can only use so many lemons so there are always loads to give away. The first batch of 40 or so goes up to our family and friends in Connecticut. My mother easily finds all kinds of foods that need a quick squirt of lemon juice. Fish, chicken, vegetables, the list is seemingly endless. Other gifts go to many of our Lowcountry friends, including one fellow who specializes in making fantastic homemade lemonade. Rod, like me, is a kidney stone patient and he reminds me that lemons are very effective in helping to prevent stones.
This reminder prompts me to bring a sack of lemons up to my excellent urologist at MUSC, who is also a Meyer lemon fan. Dr. Picard assures me that Rod is right about lemons inhibiting kidney stone formation, so the two of them are my informal pro citrus/anti stone consortium. Other batches go to our bankers, local doctors, and almost anyone else who likes them as much as we do. This often includes the nice people who come to service our computer or HVAC, for example, or do other maintenance like carpentry or miscellaneous repair work. We love it when our lemons find a good home.
Speaking of maintenance, our tree isn't very demanding. Fruit tree fertilizer spikes in the spring and a couple of doses of oil spray seem to do the trick; plus, of course, making sure we run the sprinkler system if there isn't enough rain. Insects seldom seem to be a problem, nor do four legged critters (in contrast to our virtual inability to keep our tomatoes from being devoured every year before they even begin to ripen). Occasionally we'll find a chewed lemon on the ground, most likely the victim of deer who, of course, will eat almost anything.
Given my unfettered enthusiasm for fishing, crabbing and clamming, some of our lemons naturally help out with seafood dinners. And fortunately, there are seemingly countless dessert recipes that feature Meyer lemons. We're tried many of them, including lemon squares and bars, but not many are as good as the following one for lemon pie. It has the major advantage of being so simple as to be almost foolproof, so even I can make it a consistent success. If you've got an hour to spare sometime and want to really indulge yourself or some friends, give it a try.
"Lem-E-Tellya Lowcountry Lemon Pie"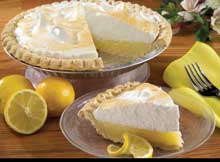 You will need:
– 2 standard graham cracker pie crusts
– 6 tsp powdered sugar
– 6 egg yolks
– 2 14-oz. cans sweetened condensed milk
– 1 cup freshly squeezed Meyer lemon juice
– whipped cream
Preheat oven to 350. Thoroughly blend eggs, juice, and milk with whisk or fork. Pour mixture into crusts. Bake for 15 minutes. Let cool at room temperature, then chill for 3 hours. Dust with powdered sugar and serve with whipped cream. Great with coffee, even for breakfast.