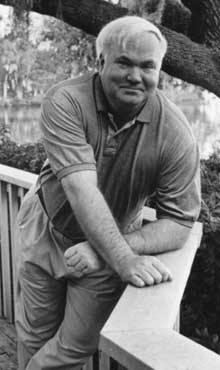 A candid interview with Water Festival Parade Grand Marshal, Pat Conroy, who says he's doing it to impress the grandkids…
The Grand Marshal for this year's Water Festival Parade is beloved best-selling author and long-time Beaufortonian Pat Conroy. The oldest of seven children born to a Marine Corps fighter pilot from Chicago and a southern beauty from Alabama, Pat landed in Beaufort at age 15 – after moving every year, all his life – and decided to call it home.
He's been writing about his adopted hometown and its people ever since, to great critical and popular acclaim. Pat's lived in Atlanta, California, and Rome, Italy. He's traveled the world, hobnobbed with movie stars, and dined with presidents. One thing he's never done, however, is to lead the Water Festival Parade…
Q. Pat, tell us how you feel about this honor?
A. I feel great! I assumed Candice Glover would get the nod, but she must be too busy. The Water Festival has been around forever, since before I came to Beaufort. It's something like eight years older than I am.
Q. Actually, I think you're eight years older than the Festival.
A. Oh. I knew it was something like that. Anyway, it's old.
Q. How did you get the coveted Grand Marshal gig?
A. Well, my nutritionist Liz Sherbert – who also happens to be my next door neighbor – was at the house one day, yelling at me about what I'm eating. She said the Festival committee wanted me to be the Grand Marshal. I told her I appreciated the invitation, and that I'd check my schedule and get back to her. She said, "You're doing it." That was pretty much that. I was afraid to say no.
Q. What do you remember about the Water Festival parades of your youth?
A. I mainly remember that I used to lust after the Pirettes. I guess I'd sound like a dirty old man if I said that.
Q. Is this off the record?
A. Have you ever known me to go off the record?
Q. So, considering those good old days, the Pirettes, etc . . . has being Grand Marshal been a dream of yours all these many years?
A. Actually, it has been a dream of mine to convince my grandchildren that I work for a living. They always come visit for Water Festival, and I'm hoping if they see me in this parade, they will believe that I have a job of some sort. They don't really know what I do; none of them have read any of my books. I recently asked my oldest granddaughter if she had, and she said, "I tried, Poppy."
Q. Aw. What a sweet little girl. How old is she?
A. I think she's twenty now.
Q. Okay, this is a big deal, then – impressing the grandchildren. What will you wear for the occasion?
A. I'm thinking about a crown and a robe… or maybe my full dress uniform from the Citadel. And I'm going to make Bernie Schein drive the car. This means the Water Festival committee will have to take out a major insurance policy. Bernie drives like a maniac.
The Water Festival Parade starts at 10 am on Saturday, July 26th, in downtown Beaufort. For more information, visit www.bftwaterfestival.com