Once again the legions of the Midwest and northeast will longingly look to the Lowcountry with envy. The chilblains of winter are gone and spring is in the air. The annual rite of unfolding into warm breezes and scanning colorful flora will be celebrated in sound at the Sunday, March 1, 5:00 pm concert of USCB Chamber Music. 
Works of geniality, optimism, and good health by Edward Elgar, Giovanni Sollima, and Peter Ilyich Tchaikovsky will fill the hall and evoke the same sense of relaxation and well-being as felt while basking in spring sunshine.
Edward Elgar will be represented with Serenade for Strings in e minor, Opus 20, the earliest of his compositions to have retained a place in the standard repertoire and one of his most performed. The Serenade is a little jewel; it is fresh, natural, and sweetly sonorous from beginning to end. The lilting melody of the first movement is marked piacevole ("pleasingly"), and Elgar knew that he had hit that mark. To the end of his life, he cited the Serenade as the favorite of all his works.
Cellist and composer Giovanni Sollima was born in Palermo in 1962 to a family of musicians. He has been energized by every type of music and seeks to bring them together into a unique classical, rock, jazz, eastern, and ethnic blend. Viaggio in Italia, written in 2000, is a 14-movement suite. Each represents the character of a historical figure or place distilled through a work of art, beginning with Holy Roman Emperor Frederick II. Four movements will be heard, starting with "Campo dei Miracoli," Pisa's Square of Miracles, longrecognized as an important center of European medieval art and an emblematic scene of human creation and architecture. "L'Ortolano" (The Market Gardener) drew inspiration from the painting of the same name by Giuseppe Arcimboldi (1527-1593). "Zobeide," inspired by a scene from Italo Colvino's 1972 surrealistic novel Le città invisibili ("Invisible Cities"), represents a white-washed, ethereal dream-town where a woman appears and vanishes, never to be seen again. The suite concludes with "La Camera Bianca" (The White Room), a mobile laboratory used to analyze crypts with micro-camera probes. In Frederick II's tomb at the Cathedral of Palermo, to the surprise of all, consternation of some, and delight of a few, the Emperor was found lying in the  embrace of a woman. No one knows who she is but, according to Sollima, it brings the suite to "an unsettled conclusion, with one last enchanting conundrum."
String Sextet in d minor, Opus 70 "Souvenir de Florence," Tchaikovsky's final chamber-music work, could only have been written by him. Italian warmth and Western musical traditions are distilled through the lens of Slavic temperament. Sumptuous sweeping lines redolent of the grand ballets, tuneful and memorable melodies, driving rhythms, fierce climaxes, contrapuntal riches, attention to detail, a dynamic palette from softest pianissimo to thunderous fortissimo are all richly exhibited. It is an irresistible mix of passion and lyricism. The tunes will remain with you long after the concert has concluded.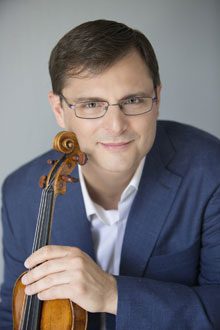 All of the artists who will bring this music to life, violinists Jennifer Frautschi (above) and Hye-Jin Kim, violists Nicholas Cords and Ara Gregorian (right), cellists Wilhelmina Smith and Edward Arron, have substantial and varied careers that include competition winning, solo and recital performance, university teaching, recording, founding and administrating music festivals, and arranging. They grew up around the country, attended the most prestigious, competitive conservatories, and have claimed their place in the classical music firmament. What brings them to Beaufort to play for you, however, is an undying, unremitting, itch-that must-be-scratched thirst for playing chamber music, the classical music-performance genre that allows them be soloists while losing their ego in communal music- making bigger than themselves.
Support the Arts! Celebrate the 40th anniversary season of USCB Chamber Music. Come to the concert and figuratively peer over the artist's shoulders. Become one with the performers. They will feed off your silent energy, and in equal measure you will be drawn into their deep communication with chamber music.
Concert information and tickets, as well as information about the newly launched Endowment, are available on www.uscb.edu/chambermusic or at 843-208-8246, Monday through Friday. The USCB Center for the Arts, located at 801 Carteret Street, opens at 4:15pm on the day of the concert, Sunday, March 1.