Beaufort prepares to step out in style for a cause dear to its heart.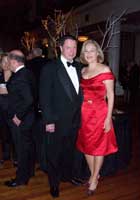 This year, the Beaufort Memorial Hospital Foundation will host its 22nd annual Valentine Ball on Saturday, February 12, 2011. "Love in Any Language" is the theme, and the co-chairs are Dr. & Mrs. Paul Mazzeo and Mr. & Mrs. DeWitt Helm.
The Valentine Ball is a philanthropic event like no other. The night begins with a black tie dinner with old friends, and ones newly introduced, at an elegant and intimate setting in a private home. The party then moves to the festively decorated Lyceum at Parris Island, where everyone visits, bids on an array of auction items, enjoys gourmet desserts, and dances to a live band till 1:00 am.
Private dinner parties are the highlight of the evening! The concept originated in 1989, when the Foundation organized an event "to raise money for the Hospital." Tickets were sent to people in the community, and as RSVPs came in, board members invited guests to their homes for dinner before the "Ball." And that's how a unique and successful idea was born. Over the years, production of the Ball has become a well-oiled machine. Volunteers from throughout the community organize in committees – each team with its own chair – to plan and orchestrate the evening.
It takes a multitude of volunteers to help the Hospital Foundation organize and orchestrate this quintessential event every year. But, more importantly, it requires the spirit of an incredible community coming together year in and year out to deliver a premier, highly successful event! In February, the Ball will celebrate its 22nd consecutive year! Since inception, it has raised over $3,000,000. Proceeds, from the Ball are earmarked for various departments of the Hospital. Previously they have been directed to Cardiac Care, Cancer Care, HealthLink, Health Career Scholarships, Woman's Services and LifeFit Wellness. Again this year, the proceeds are earmarked to help with expansion and updating of the George N. Pratt MD and Sarah Meyer Pratt Emergency Center (ER)
Expansion of the Emergency Center is a high priority for the hospital and the community. This facility now handles almost 40,000 visits each year, far exceeding the capacity of clinical and support space. Expansion and renovation will provide faster and more efficient care of patients; larger and friendlier waiting areas, and more triage rooms are included in the plans. Construction projected to start in May of 2011 will expand the Center from 9,500 sq. ft. to almost 20,600 sq. ft. Philanthropy – including anticipated proceeds of $550,000 from the Valentine Ball in 2010, 2011 and 2012 – is targeted to cover over 20% of the overall project.
Each year, the Ball has a theme to help tie together printed material, decorations and the dinner parties. This year, the theme is "Love in Any Language" which suggests and supports the inclusiveness of the Ball and the Emergency Center. It brings to mind all the people who work hard to make the Ball successful. It embraces all the people who work in the Emergency Center and the people who receive their care. It says Beaufort Memorial Hospital's Emergency Center is there for any language 24 hours each day and 365 days each year. That really is Love with a capital "L."