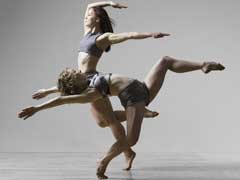 Famed Parsons Dance company to perform at the Arts Center
The New York Times once called famed dancer/choreographer David Parsons, "One of the great movers of modern dance." Parsons' influence is evident in his group, Parsons Dance, which brings its contemporary style to the Arts Center at 8 p.m. Jan. 15.
"Beaufort County is full of dancers, from young to old," Kathleen Bateson, Arts Center president and CEO, said. "So we try every year to spotlight a national dance company. I think the community really appreciates having a chance to watch professionals dance up close."
In previous years, the Arts Center has hosted American Ballet Theater, the Dance Theatre of Harlem, MOMIX and Alvin Ailey's dance troupe, among others. Carrying on in that tradition is Parsons Dance, which, in addition to an annual season at its home in New York City, tours nationally and internationally.
"This is an amazing group, and it starts at the top: David Parsons is a legend of modern dance," Bateson said. "The troupe just finished a tour of Israel, and after Hilton Head, they go back to New York for a string of shows. It's a testament to Parsons' reputation. We were lucky to get them here for this performance."
Since 1985, Parsons has toured an average of 32 weeks per year, to a total of more than 250 cities, 35 countries, six continents and millions of audience members. Many more have seen Parsons Dance on PBS, Bravo, A&E Network and the Discovery Channel.
"Parsons Dance is committed to building new audiences for contemporary dance by creating American works of extraordinary artistry that are both engaging and uplifting to audiences throughout the world," according to the troupe's mission statement at parsonsdance.org.
The company was founded by David Parsons, who has received commissions over the years from the American Ballet Theatre, New York City Ballet, the Spoleto Festival in Charleston and Het Muziektheater in Amsterdam, and whose work has been performed by Paris Opera Ballet, Joffrey Ballet, National Ballet of Canada and Teatro Municpal do Rio Janeiro, to name a few. Parsons has danced in the first White Oak company with Mikhail Baryshnikov and with the New York City Ballet.
Parsons Dance kicks off the Arts Center's Presenting Series, which runs through August. Upcoming shows include: "Defending the Caveman" (Feb. 14), a one-man show that takes a comedic look at the battle of the sexes; Preservation Hall Jazz Band (March 28), the legendary New Orleans' jazz group; and Second City (Aug. 10-11), the famed comedy group that combines sketch comedy, songs and improv.
Tickets for Parsons Dance are available by calling 843-842-2787 or by visiting www.artshhi.com. This is an all-ages show.