A new free exhibit, "Bay Street During the Union Occupation (1861-1865)," will open in the ground floor of the Verdier House at 801 Bay Street January 24. Displaying photographs taken during the Civil War, the exhibit allows visitors to walk block by block on 1860s Bay Street, between Charles and Carteret streets, experiencing 19th century sights.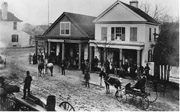 Beaufort was one of the first Southern towns to be occupied by Union forces during the Civil War, and the Union army sent photographers to document the soldiers' stay and life in Beaufort. Their pictures capture at least six buildings that survive today, including the Saltus House, the Verdier House, and the building formerly home to John Cross Tavern.
Beaufort's occupation by the Union army left a valuable collection of photographs taken when soldiers, missionaries and journalists visited Bay Street's shops to send mail, buy food and receive military supplies.
Tours of the Verdier House will be free of charge on the opening day of the exhibit and the exhibit will remain free of charge thereafter. Opening day hours are 10 a.m. – 5 p.m., with regular hours 10 a.m. – 4 p.m., Mondays – Saturdays. Call 379-6335 during museum hours with questions.
Ms. Garrett is available at 379-3331 for press tours and to answer questions.