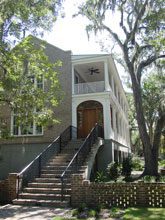 Five Beaufort architects, five private homes and four Sea Islands will greet the public in the third Spring Architects' Tour hosted by Historic Beaufort Foundation on Saturday, March 19
th
, 10 am -3 pm.
Featuring the historic houses of tomorrow, the Spring Architects' Tour presents an annual sample of the creative and distinctive contemporary architecture that interprets the Lowcountry in the 21st century. The tour gives the public a chance to meet and celebrate the architects and architecture that nods to Beaufort's historic past and rich environment. Gilbert Law Firm and PURE Insurance are sponsors.
Two homes on Polawana Island, one on Cane Island, one on Distant Island and one on Seaside Drive on St. Helena Island will be open. They feature the work of Allison Ramsey Architects, R.W. Chambers Architect, Frederick & Frederick Architects, Montgomery Architecture & Planning and Thomas & Denzinger Architects. Individual architects were Bill Chambers, Bill Harris, Jane and Michael Frederick, Rob Montgomery and Joel Newman.
Reservations are necessary and available by calling HBF at 843-379-3331 or going online to www.historicbeaufort.org. Tickets are $65 per person. The tour is self-paced and self-driven.