In the early morning hours of April 24, 1944, in Molesworth, England, 2nd LT Rudolph Hill Heape climbed aboard a B-17 "Flying Fortress" and took his seat as the co-pilot.  This was Heape's second mission with this crew, and it would be his last. The mission that day, Mission 140 for the 303rd Bombardment Group of which the 358th bomber squadron was a part, was the bombardment of the German airfield at Oberpfaffenhofen in the vicinity of Munich Germany.  This airfield, with both above and below ground facilities, was the home of Dornier-Werke GmbH, the builder of a wide variety of bombers and seaplanes, the Do217N-2 night fighter and the
unique Do335A-1 twin engine fighter.  Deep in the subterranean work space, still in use by Fairchild Dornier today, jet engines were being assembled for the dangerous Me262 twin jet fighter which was to enter service during the summer of 1944. Twenty-eight "Flying Fortress" bombers of the 303rd were dispatched that day for Mission 140. Of those, two would land in Switzerland after sustaining damage, one would be shot down and twenty-five would return to Molesworth.  The 303rd Bombardment Group was joined in the mission by twelve other combat wings for a combined total of 524 B-17's, 230 B-24's and escorts from 22 USAAF fighter groups.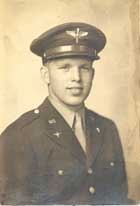 It is reported that Heape's B-17 was hit by enemy anti-aircraft and the plane broke formation and headed towards Switzerland.  Once outside the formation, the bomber soon suffered a nose attack from enemy fighters.  Three crewmen were able to bail out, parachute and land safely, only to be immediately captured and spend the remainder of the war as POW's at Stalag 17-B. While still in the air, as they parachuted to the waiting hands of the enemy, they watched as the plane took a sharp bank to the left, went into a tight spiral dive, and crashed with seven  crew members still aboard near the German village of Gross-Seeham less than 50 kilometers from their target.
Recently, almost sixty-five years later, Heape's younger brother, Beaufort resident Artie Heape, himself a retired U.S. Army helicopter pilot, climbed aboard the Liberty Belle, a restored World War II, B-17 "Flying Fortress" and took a seat in the co-pilot's seat – his brother's seat. Heape carried with him a picture of his brother, Rudolf, taken during flight school, and a picture of the two of them and their sister, Amelia Waters, taken the last time the three siblings were together. And he wore his brother's Army Air Corps Officer's hat. Looking at the hat while talking to those who stopped to ask him about it, he explained that he couldn't find the Officer's emblem from his brother's hat so he had borrowed his grandson's.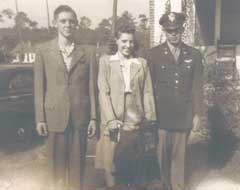 The people gathered at the Savannah Airport Business Center, either to take a ride on the "Flying Fortress" or just be taken in by its history, all stopped to talk to this man with the vintage hat. Some asked if he, himself, had flown on a B-17 during the war. All were taken in by his story and his reason for being there that day. "When I saw in the paper that the B-17 was going to be in Savannah, and that it was possible to actually fly on her, I got goosebumps and knew I had to do it. I picked up the phone right away and made my reservation," Heape told the crowd listening to him. He added that he looked at this as a chance to re-connect with his brother, to get a sense of his surroundings on that last mission so many years ago.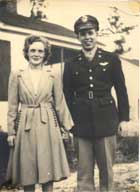 Heape said he'd been in a B-17 on the ground, but had never flown in one. This was an opportunity to be closer to his brother than he had been in a long time, he said. The volunteers of the Liberty Foundation were taken in by his story, as well, and treated him like a VIP, taking him aboard the Liberty Belle ahead of his "flight crew" so he could have a moment to sit in his brother's seat before the pilot and co-pilot of this flight took their seats.
During the thirty minute flight, those onboard were able to move about the aircraft and get a feel for what it would have been like to be one of the crew of a "Flying Fortress." Climbing out of the small hatch door at the rear of the plane, Heape paused to add his brother's name to the collage of veterans' names adorning the door. "2nd LT Rudolph Heape, shot down April 24, 1944" is now there with all of the names both written and unwritten who share in the history of the B-17 "Flying Fortress."  Walking away from the plane, without looking back, and with tears in his eyes, Heape said in a low voice, "He was up there, Rudolf was flying with me today." And then, nodding his head in contentment, he added, "And there was a special bonus – the name of the plane." Heape's late wife of 57 years was named Belle.