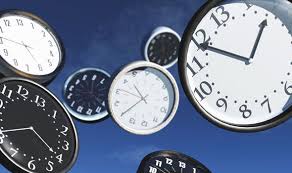 "Another hotly debated question among physicists is what happens if you enter a wormhole [a shortcut that connects two distant points in space and time] and go backward in time. If you then kill your grandfather before you are born, then you have a paradox. How can you exist at all if you just killed your ancestor? Einstein's theory actually allows for time travel (if negative energy exists) but says nothing about how to resolve these paradoxes. String theory, because it is a finite theory in which everything can be calculated, should be able to resolve all these mind-twisting paradoxes."  –  Michio Kaku, The Future of Humanity (Doubleday, 2018)
I'm not a huge fan of cars by nature, though it is pleasant to drive around in a fancy car with a really nice sound system. I've been doing this more lately, especially going to and from seemingly endless doctor visits, and love to play older blues and blues/rock classics. Eric Clapton, Sheryl Crow, Buddy Guy, Sonny Landreth, and company. Often I daydream about how some of these musicians would have been received had they performed for some of my favorite 1930's and 40's big bands. Glenn Miller, Benny Goodman, Artie Shaw, Cab Calloway among others. Yeah, that Cab Calloway, he of "Minnie the Moocher" fame and a wonderful 1980 appearance in "The Blues Brothers" movie.          
I met Mr. Calloway in 1980 when we appeared on an NBC TV daytime talk show in Cleveland. The producer introduced us before the show aired, an experience I will never forget. Cab shook my hand and grinned that great Calloway smile, pacing back and forth as if he were on stage leading his orchestra. The class reunion article I'd written that got me on the show with him led to my fifteen minutes of fame. What a thrill.
I'm becoming increasingly certain that more thrills lie ahead. What if . . . Buddy Guy, for instance, and yes he's still going at 81, performed "Damn Right I Got the Blues" in front of Calloway's and Miller's old bands in a small high school auditorium.
You damn right, I've got the blues
From my head down to my shoes
You damn right, I've got the blues
From my head down to my shoes
I can't win, 'cause I don't have a thing to lose
I'd like to invite my former high school band directors, crusty Robert Johnson and smiling Roger Bloomers, to join us in the audience and first listen to Dr. Kaku, who currently teaches at the City College of New York which my dad also attended, so maybe we need him too. Maybe we should add a contemporary music professor or historian to join the introductions.
One more group for our small audience . . . some of the wonderful students from Marjorie Stoneman Douglas High School along with some random kids their age from the 30's and 40's. What a crowd. My fantasy would be to record the whole concert and then endless interviews with performers and audience members. How did you like the music? Was it too loud or too weird? Wasn't it great? Come on, I saw your feet tapping, you can admit it was too fantastic to turn away from. I mean, hey man, that was the legendary Buddy Guy up there and he's even older than me!
Worm holes indeed and pass the string theory, please. We'd have more fun than a giant pod of stoned dolphins at high tide on a wind-swept, slick spring day in the Lowcountry.
Next up . . . the Sullivan brothers. The Fighting Sullivans, from Waterloo, Iowa, who convinced naval authorities that they could do their country a great service by being allowed to serve together in WWII. And serve they did, on the cruiser U.S.S. Juneau. The Juneau was found at the bottom of "Iron Bottom Sound" in the Solomon Islands after being sunk by a Japanese submarine during the Guadalcanal campaign. All five Sullivans—Joseph, Francis, Albert, Madison and George—were killed when the Juneau went down. Albeit perhaps naïve and stubborn to a fault, the lads were true war heroes for Waterloo and the country.
The Petrel, a sophisticated research vessel, just found the Juneau as if through a wormhole on Saturday, March 17. While Mr. Guy's band puts away their instruments, I would like to summon forward all five Sullivans and their parents, Alleta and Thomas, to a special award ceremony at the U.S. Naval Academy. The tricky part, or one of them, would involve characterizing the seven of them, whether as ghosts, spirits or perhaps with Dr. Kaku's assistance, live normal human beings, each in the prime of their lives. Or perhaps as they appeared on November 12, 1942, the day before the Juneau was sunk. There are problems (do we want pink or blue cups for the reception?) and there are problems (cancer, climate change). This one might be much closer to cancer but nothing ventured . . . And where is Stephen Hawking when we need him? Ah, yes, he may be only a tiny wormhole away, even if he didn't really believe in time travel.
Speaking of my old high school band directors, our Nicolet High School (in Glendale, WI) class of 1968's 50th reunion is scheduled for this summer. The e-mails pinging my computer from class luminaries involved in the planning are like little green worms, wending their way into my consciousness from another era. Nineteen sixty-eight. Speaking of music, in that year, there were some real classics, like Hey Jude, Sunshine of your Love, Mrs. Robinson, (Sittin' On) The Dock of the Bay. And, of course, People Got to Be Free by The Rascals. As in, free to travel about, anywhere, anytime?
Class reunions were the subject of an article I wrote for Psychology Today in 1980, the year I "wormed" my way onto the same stage with Mr. Calloway. Reunions are a fascinating social phenomenon, as can be validated by almost anyone who has "time traveled" back to their high school (or college) to reunite with friends and classmates from decades ago. Back in 1980, just out of curiosity, I got hold of one of Harvard's 1952 class books and browsed through many dozens of photos of the graduates, juxtaposed with their photos taken twenty years later. I found it interesting how some of them looked EXACTLY THE SAME while others were unrecognizable. You can imagine what going to a 30, 40 or later year reunion is like for some people. Will I still sound like a dork to Glenda? Is Tom still so handsome and witty? Can we possibly have anything in common anymore? Yeah, yeah, the sweatshirt.
Judy Garland had it right back in 1939 in The Wizard of Oz when she sang,
Somewhere over the rainbow skies are blue
and the dreams that you dare to dream really do come true.
What's wrong with that?
I got it! All we need is a dozen smart teenagers and twenty-somethings, a cool place to work and plenty of pizza. I'll do my part by getting them off Facebook and such for a few weeks. Uh huh, dream on, time travelin' man.
OK, maybe I'll take a cab back to the future.