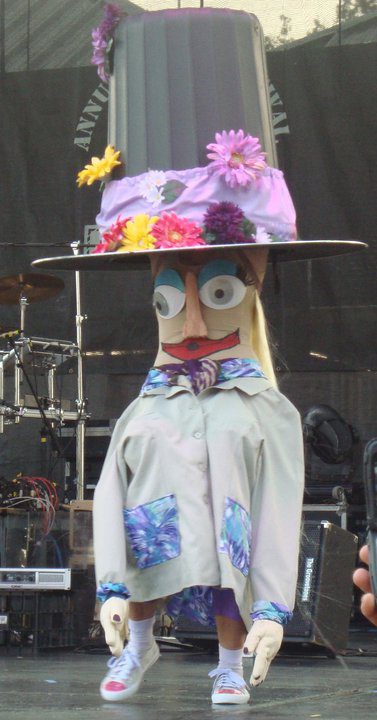 We caught up with Rusty Simpson, past commodore and one of the original Whistlers, hoping to learn how this whimsical Water Festival tradition got its start…
LCW: Take us back to the beginning. When and how did the Whistlers get started?
RS: I moved down here from Charleston in 1982 to manage the Pearlstine Distributors, which is no longer here. Bill Robinson was the commodore that year and George Bullwinkle was program coordinator. (I knew George from Charleston.) Bill Robinson had us over for dinner one night, having just returned from a Festival committee meeting. He said they were looking for some entertainment to go with the Lowcountry Supper . . . something to help keep the crowd in the park a bit longer. My father-in-law had done the Whistlers in Charleston, and I had done it with him for several years. Bill and George asked if I thought I could get the Whistlers down here. (What that really meant was, "Can you get the costumes down here?") I didn't really know anybody in town yet, and I didn't want to be stuck with the job of finding four people to fill those suits every year. So I told them, 'I'll do this on one condition – that from here forward, the four most recent commodores will be the Whistlers." The firsts four Whistlers – and this is a great trivia question! – were Gary Fordham, Pat Dennis, Ronny Tanner, and myself. But every year after that, it's been the four most recent commodores.
LCW: So, then, is being a Whistler an honor… or a duty?
RS: (Laughs) A little bit of both, I guess. For the most part, they have a good time with it. I know I did.
LCW: So, it's been over 30 years. Are the Whistlers still wearing those costumes you brought down from Charleston?
RS: Oh, no! Those are long gone. They were so heavy . . . and HOT. We eventually had our own made. We've probably been through at least three sets of them since then . . .
LCW: How long does it take to get dressed in one of those get-ups?
RS: That depends on how many guys you've got doing make-up. It usually takes a good 30 – 40 minutes, minimum. We used to get dressed in the trailer, back in the day, but now we use Harvey's Barbershop. Harvey's closes for the week of the Festival, and we use it as a kind of commodores' headquarters . . .
LCW: So you were Commodore in 1988, after having only been in Beaufort for five years. That seems like a pretty meteoric rise!
RS: Yes, well . . . back then, there were only four coordinators. The festival wasn't nearly as big.
LCW: From what I hear, you really have to work your way up these days. What's it like being a past commodore? What are the perks?
RS: Once you've served as commodore, you're a lifelong member of the Board of Directors. There are some social events throughout the year, and you get to help choose the next commodore every year, so that's a lot of fun.
LCW: Water Festival is a such a huge undertaking – involving so much work – and everybody's a volunteer. What keeps you all doing this, year after year? What keeps you coming back for more?
RS: I think it's the camaraderie, mainly. The fellowship. When you're out there working hard, sweating – and you're looking at all these hot, tired faces, going through the same thing – that's a bonding experience. Water Festival makes lifelong friends, sometimes out of folks who'd have never known each other otherwise.
LCW: What was your favorite Water Festival? Does a particular year stand out?
RS: You know, people always ask me that question, and as a past commodore, they expect me to answer, "My year!" But I always say that last year's festival was the best one yet. If we can't say that – and mean it – then we're doing something wrong. I think the festival just keeps getting better and better, myself.
The Whistlers will perform Thursday night at the Lowcountry Supper, before the On the Border Eagles Tribute Band. Show starts at 6 pm.