Story by Jan Horan
Photos by Eric Horan Following the longest presidential race ever, my husband and I decided to attend the inauguration in Washington DC. Everything we were hearing about it – speakers, performers and potential crowds – was beginning to remind me of two iconic events I regret missing: Martin Luther King's speech at the Lincoln memorial and Woodstock. While considerably different in nature, each made their mark along the timeline of American history. After this historic election, we decided to participate in the Inauguration of our 44th President… instead of letting it become regret number three.

We weren't the only ones who felt included; this welcome was spreading exponentially to many via technology. I was hooked with the early announcement of Obama's pick for Vice President. It beeped into my phone at 4am. How cool. Opting next for e-mail alerts, I was led, as any others were, to websites with links for information on issues, a place to post questions or comments, with promise they would be heard. I could check in and out 24/7. Later, when in DC, I received invitations for free ticketed events, "Thank you" for my community service, travel tips on foot to the inauguration and a query after the ceremony: "Would you like to send the Obama family a congratulatory message?" Yes we did.

Hotel rooms within 150 miles of DC had already been booked for months. Our grace came from an invitation from Nicole and Tim Harper, friends who recently moved out of the area to Alexandria, Virginia, a 20-minute metro ride to the national mall. A decorated army pilot, Tim recently accepted a position at Fort Belvoir in charge of the flight training program for combat pilots. Nicole's recent completion of her Ed.D from Georgia Southern was in perfect time to unpack boxes and receive guests in their new townhouse.

Trading inaugural news, Nicole and I made plans via e-mail, cell phone and Facebook. Among the event invitations was one to the 'Unity in Service' military ball. Wow. We arrived Saturday night with freezing temperatures. Our kick-off venue was in a neighborhood nightclub for a line-up of comedians roasting Obama. I started with the only hot drink in the house, black tea. Arriving in an oversized white thermos, it later served as great fodder for our own roasting. Last time I order tea in a comedy club.

Sunday and Monday we navigated the metro, hailed cabs and shuttles to and from events easily. From the star-studded welcome at the Lincoln memorial, volunteering at the Robert Kennedy Jr. stadium to the Kennedy Center for Aretha Franklin tickets, we crossed paths with celebrities and dignitaries, and found seats in warm cafes. We even found energy to take in several monuments after dark. Many Washington visitors were doing much the same. Tuesday, however, was a different story.
Before heading to the inaugural, we turned on CNN for news coverage. It was 15-degree weather and still dark as the camera panned over the ticketed and public viewing sections. They had opened the gates hours ahead of the planned 8am seating and were fast filling up. We had been warned to choose between the parade or inaugural; navigating both were predicted impossible with anticipated crowds. In multi-layered winter clothing, we were inaugural bound and headed for the metro, making back-up plans should we be separated.

Boarding was a breeze, but we soon learned there were no guarantee stops. The engineer sailed right passed our exit at L'Enfant station, the designated metro stop for accessing the swearing-in ceremony. Instead, we were released in Chinatown on the opposite side of the mall where the parade crowd was building.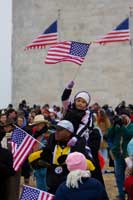 Out of the metro, we were soon shoulder to shoulder, parade crowds joining swearing-in crowds on the sidewalk then filling into the streets. This added serious complexity to our foot passage through, and ultimately around, the 17-city-block parade route. Even radioed security seemed to be getting mixed (or changing) messages from headquarters, or guards on rooftops, watching where to direct pedestrian traffic. Two hours later, our foursome stepped foot onto the national mall grounds. Without kissing the ground, we moved on to join the crowd that stopped short of a jumbo screen at the Washington monument as dignitaries were being announced. A sea of humanity in front, all the way to the Capitol, a mile away, the crowd was fast filling in behind and all around us. Elbow room gone, Obama came to the podium with a wave of thunderous support that drowned out the cannon salute afterwards. Over the top of the crowds were thousands of hands with digital cameras and cell phones, capturing moments of time and place to send home to friends, family and Facebook – once enough bandwidth. There was none for hours.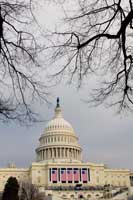 With surprising little swearing and no angry outbursts, folks were overwhelmingly positive, even on our massive exit from the mall. Two million strong, the crowds broke in all directions into flows. The challenge was getting and staying in the right flow. There were tips provided overhead from my 6'3" husband, and from more agile people who managed their way up trees or onto the tops of the port-a-potty rows to offer cues about crowd movement. Our friends literally walked from DC across the Potomac to Virginia, making it back in town for the military ball. Nursing my husband with an ankle injury, we opted for the warmth of the metro plaza, catching bits of the parade on TV, before heading back home.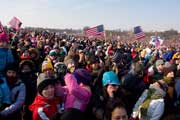 It's impossible to relay the rollercoaster of emotions experienced at a gathering of this scale; I'll offer a thumbnail of observations instead. The venues, diversity of events, crowds and long lines invited dialogue and discourse among strangers. Determined to take advantage of the large crowds, the organizers had us doing community service, preparing 85,000 care packages with hand-written personal messages to soldiers serving on foreign battle grounds, unable to attend. The accumulated body heat was welcome outdoors in winter. Roaring sound waves from the audiences were felt physically. On the national mall with the Lincoln memorial as backdrop, legendary folk singer Pete Seeger brought down the house in his closing sing-along This Land is Your Land.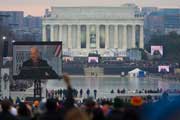 So long to my two aforementioned regrets.