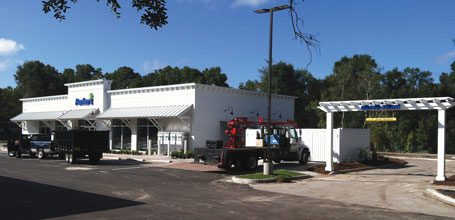 When Bill Bishop, VP of Real Estate & Development for Parker's, took a phone call from Amanda Hanna, Director of Marketing for Lowcountry Weekly, neither had any idea that the course of Bishop's latest development project was about to change.
"We were pretty far along with the new Parker's store at Hwy 21 and Roseida, right at the MCAS base," he says, "when we found out that Marines aren't allowed to wear their utility uniforms in public."
Hanna, who's married to a Marine Veteran who is now a Police Officer on base, just happened to mention this to Bishop on the phone during a sales call. "Marines can't even go in a convenience store if they're on their way to or from work," she told him. "They're not supposed to get out of their cars in their utility or work uniform."
Suddenly, the location of Bishop's newest convenience store seemed highly . . . inconvenient.
"We were building this store for the military . . . in that specific location with that specific customer in mind," he says. "We'd gone to a lot of trouble already – building it in the Lowcountry vernacular style… working with an arborist and a tree surgeon to save some beautiful old trees…"
Canceling the project was not an option. Instead, Bishop and the Parker's folks saw a perfect opportunity to try something they'd just started doing at a few of their other stores: Drive-through Service.
That's right. The brand new Parker's at the corner of Hwy 21 and Roseida Road has a drive-through window. And it opens this week!
Call it "taking convenience to a whole new level." Or just call it awesome. There is now a
store in Beaufort where you can get a cup of coffee, a pack of cigarettes, a plastic egg of pantyhose, a bag of peanuts, a bar of soap, some Twizzlers and a Moon Pie all at the same time . . . without leaving your vehicle.
Oh, and you can get dinner, too. Parker's has raised the standards of its food service program, specializing in "southern comfort food" made fresh, right there on the premises.
"We have a full kitchen, and we're committed to providing healthy alternatives to fast food – with an emphasis on food that's easy to eat in the car," says Bishop.
So picture this: Your family is on the way out of town – maybe you're going to Myrtle Beach for the weekend – and you've got three kids in the back seat, all buckled up and strapped in. On your way out, you remember you forgot to pack your sunscreen and your husband's deodorant. (Ew.) It's almost lunchtime, too, and soon the kids will be grumbly.
Hello Parker's drive-through! Not only do you get your sunscreen and deodorant, you get fried chicken and butterbeans for the whole clan, a few bottles of water, some lemonade, and a Yoohoo for Dad. And if, by chance, he forgot to fill up the car last night . . .
Parker's has the least expensive gas in town. How convenient! As of now, you can't actually fill up at the drive-through window, but these folks are creative and who knows what the future holds?
"We're always raising the bar," says Bill Bishop. "Over the last two years, we've upgraded our exteriors, our interiors, our lighting, our food service . . . We're always trying to improve the shopping experience for our customers."
As a result, those customers are very loyal. Our own Amanda Hanna stops by the Parker's in Port Royal almost every day. "They have the best variety and the lowest prices in town," she says. "And I love how they know my name there. It just feels like family."
This is part of company culture, says Bill Bishop. "We promote a culture of kindness . . . of friendliness. We want Parker's to be your neighborhood store. We want you to stop by every day! That's why we keep raising our standards – why we make sure it's always well-lit, that the bathrooms are always clean, that the food service is continually improving . . ."
It's all about being part of the community, he says. "We want to make things easier for our regular customers. Easier for Mom when she's tired after a long day at work, has kids in the car, and maybe doesn't feel like cooking. Easier for families when bad weather hits and they have to hunker down, or maybe even evacuate. We've got batteries and propane, water and ice . . . everything you need in a storm."
Parker's works hard to earn the support of all the communities where they build. (For example, they've donated over $65,000 to the Beaufort School District through their "Fuel The Community" Program.) Putting in the drive-through window at the store near MCAS is just another example of the company's flexibility and willingness to go the extra mile.
"When we found out the Marines were not allowed to wear their utility/work uniforms in public, we immediately went back to the City of Beaufort and Beaufort County Council and asked permission to add the window. They were quick and happy to oblige."
In fact, Bishop describes the company's relationship with local and county government as "increasingly good," and asked us to express his gratitude to Mayor Billy Keyserling, Libby Anderson, Lauren Kelly, Van Willis, Linda Bridges and Bryl McCartney for their help over the past few years. Thanks to their combined efforts, there's a brand new Parker's in Shell Point along with the thriving store in Port Royal. Bluffton has a Parker's, too, and Bishop expressed thanks to those government officials south of the Broad, as well.
For now, the company is especially excited about its newest location . . . and its latest innovation. So stop by the new Parker's at Hwy 21 and Roseida and check it out. Come in and say "hey," or just pull right up to the window. And if you like the drive-through service, be sure to thank a Marine.
Says Bill Bishop, "We couldn't be happier to serve those who serve our country."