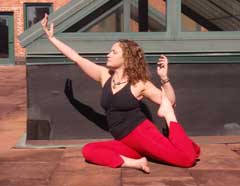 Dancing Dogs Yoga  will celebrate National Yoga Month by providing new students one free week of yoga with a Yoga Month Card, available on www.yogamonth.org, and with YogaFest 2010, a weekend of totally free yoga for new and existing students, on September 25th and 26th.
YogaFest 2010 will kick off on Saturday, September 25th at 9am with Weekend Zen, a class for all levels of students, followed by Yoga Fusion at 11am, a mix of yoga and pilates.  After lunch, try All Levels Alignment Yoga at 1pm, and Taste the Nectar, an Anusara Yoga Inversions practice from 3-5pm, followed by a wine tasting for all practitioners 21 and over.
On Sunday, September 26th, Dancing Dogs will offer Family Yoga from 12-1pm, followed by Kundalini Yoga at 1:30pm, and culminating in a Reiki Clinic from 3-5pm with an open house social following.  All classes and clinics are free and open to the public, but registration is suggested to secure a place in each class. To reserve a space, call (843) 263-5864 or email shelley@dancingdogsyoga.com.
"We'd love to welcome new students to our studio during National Yoga Month," says Shelley Lowther of Dancing Dogs. "My hopes are to bring yoga to as many people in the Beaufort community as possible, and we hope these free events will convince people to give yoga a try."
Dancing Dogs Yoga was founded in January 2010 with the goal of being accessible to all of Beaufort County, offering programs to children and adults of all ages and levels as well as community classes held by donation only. The studio pledges not to turn anyone away for inability to pay.
Lowther received her RYT-200 from the Savannah Yoga Center and is currently pursuing an RYT-500 from the Asheville Yoga Center.
National Yoga Month September 2010 invites all styles of yoga to participate in an awareness campaign designed to educate about the many benefits of yoga and inspire our fellow citizens to live healthier, happier lives.  More information can be found at www.yogamonth.org