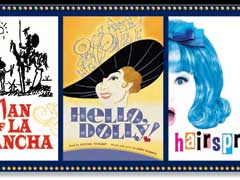 The Arts Center is pulling out all stops to help celebrate its 15th anniversary. The People's Choice season is a mix of Broadway gems and modern classics.
The series kicks off with two American classics – "Man of La Mancha" and "Hello, Dolly!"­ – followed by three recent Broadway hits: "Alfred Hitchcock's The 39 Steps," "Hairspray" and "Smokey Joe's Cafe."
"This upcoming season is going to be really special," said Kathleen Bateson, president and CEO of the Arts Center. "We have the greatest audiences around, and they did a great job of picking a season that is diverse, challenging and exciting from start to finish."
The season kicks off with "Man of La Mancha," Sept. 29-Oct. 24. One of the most popular Broadway shows of all time and winner of five Tony Awards, "La Mancha" follows the eccentric knight Don Quixote and Sancho Panza, his faithful companion in his Quest.
The score features classics such as the title track, "Dulcinea" and the iconic "The Impossible Dream." The New York Times called that song, "One of the most pervasive anthems of uplift in showbiz history."
Romance is in the air for "Hello, Dolly!," which runs Dec. 1-26. Famous matchmaker Dolly Levi spends most of her time finding love for others. But what happens when she decides it's time to find a match for herself?
The production won an impressive 11 Tony Awards and is one of the most enduring musical theatre classics ever. It has enjoyed three Broadway revivals and international success. The joy-filled love note to simple times includes hits such as "Put on Your Sunday Clothes" and "Before the Parade Passes You By."
"We've never produced 'Hello, Dolly!' at the Arts Center; it's making its debut on our stage," Bateson said. "That is surprising to a lot of people, because it's a perfect fit for what we do. It'll be the great show for families at the holidays."
In the spirit of last season's madcap "Boeing-Boeing" comes "Alfred Hitchcock's The 39 Steps," Feb. 8-27, 2011. Mix a Hitchcock masterpiece with a juicy spy novel, add a dash of zany comedy and you have this fast-paced and absurd whodunit.
When a beautiful spy leaks a deadly secret to a man she just met, our hero suddenly finds himself embroiled in a speedy chase across England and Scotland. The two-time Tony and Drama Desk Award-winning treat is packed with laughs, colorful characters and some good old-fashioned romance. The New York Post called it, "The most entertaining show on Broadway."
The recent Broadway smash "Hairspray" lands on stage April 27-May 29, 2011, and brings with it a cast of richly drawn characters and a score that will have you smiling. Winner of eight Tonys, including Best Musical, "Hairspray" is a modern classic and a worldwide hit.
Teenager Tracy Turnblad wants just one thing: to dance on "The Corny Collins Show," the coolest teen TV show of all of Baltimore! Aided by her best friend Penny, and against the wishes of her mom, Edna, Tracy becomes a local star and sets out to challenge the teen dance world.
Rounding out the season, just in time for summer, is "Smokey Joe's Café," June 21-July 31, 2011. Soak in the "malt shop" sounds of legendary songwriters Jerry Leiber and Mike Stoller at this fast-paced, nostalgic trip through some of the biggest hits.
Winner of a Grammy in 1995 for original cast recording, it features 39 pop standards, including the biggest hits of rock 'n roll and R&B – "Poison Ivy," "Stand By Me," "Fools Fall in Love," "Yakety Yak," "Love Potion No. 9," "Spanish Harlem," and many more. Recipient of five Tony Award nominations and a Grammy for original cast recording, the L.A. Times declared, "For up-tempo entertainment, 'Smokey Joe's Café' is right on the money!"
The Arts Center's 15th Anniversary season will also include a four-show presenting series, which kicks off with the world-famous Parsons Dance Company on Jan. 15, 2011. Just in time for Valentine's Day, Feb. 14, 2011, the funny "Defending the Caveman" brings the battle of the sexes to the Lowcountry. The sounds of New Orleans will be on display on March 28, 2011, with the Preservation Hall Jazz Band. And the always popular Second City improv troupe brings the laughs at a season-ending show, Aug. 10-11, 2011.
Five shows theater subscriptions are available in three varieties: Full-Season Plan, the less-expensive Full-Season Preview Plan, which features one ticket to each of the preview performances of the five shows, or a Flex Plan, which includes five tickets that can be redeemed in any fashion. All subscriptions include discounts for presenting season tickets.
Individual tickets for productions are also available. For details, call 843-842-ARTS or visit www.artshhi.com.
The Arts Center of Coastal Carolina is a non-profit performing arts organization. In addition to a 349-seat, main-stage theater that programs an annual theater series –­ producing professional Equity musicals and plays – the organization presents performing artists, oversees two art galleries and conducts regional arts educational programs, as well as produces three community outreach festivals.