Historic Pick Pocket Plantation recently opened to the public for the first time in its history during Beaufort's annual Fall Festival of Houses and Gardens.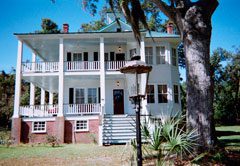 The festival is a fundraiser for the Historic Beaufort Foundation and offers visitors a rare opportunity to explore private homes, gardens, churches and plantations typically not open to the public.
Local preservationist John Keith purchased Pick Pocket Plantation in 2006 and has devoted the last three years to restoring the plantation home and surrounding outbuildings. The property is located northwest of Robert Smalls Parkway between Neil Road and Burton Hill Road.
The farm now comprises over 15 acres and features a large home noted for its distinctive architectural style, wrap-around porches and cupola or widow's watch. Another unique feature of the home is the unusual exterior board siding. According to Keith, the siding is found on only one other home in the area.
Keith says the home has undergone extensive renovations during its restoration. "Everything was totally gutted," he said. "We basically started from scratch. A lot of work has gone into this house during the last three years, but it's turned out beautifully."
Interior designer Peggy Norris of Elizabethton, Tennessee decorated the home with period antiques, Tiffany-style stained glass light fixtures and various collectibles to complement the home's heart pine floors, beadboard wainscoting, large bay windows, arched brick fireplaces and high ceilings. Unique furnishings include two kitchen possum-belly tables with rounded drawer bottoms and a custom-built dining room table constructed of heart pine wood salvaged from the floor of an old railroad car.
Renowned Lowcountry artist and sweetgrass basket weaver Jery Taylor also joined area visitors Saturday at Pick Pocket Plantation to demonstrate the unique weaving techniques that she learned from her Grandmother beginning at the age of five. Sweetgrass baskets typically are made with palmetto leaf, sweetgrass, pine needles and bulrushes gathered from fields and marshy areas.
Taylor's baskets have been showcased at the Smithsonian and around the country. She generously shares her knowledge with the community to help preserve the tradition that she says is waning now since fewer and fewer people are learning this craft. Taylor uses a shortened, twisted spoon to weave her baskets and traces the tradition of basket-making back 400 years to her ancestors in the West African nation of Sierra Leone.
Plantation owner Keith also wants to see this unique part of the Lowcountry Gullah culture preserved for future generations. Despite his current achievements in preserving the historic Pick Pocket Plantation, Keith describes his endeavor as a work-in-progress. He plans to continue with ongoing restoration of the plantation and its many outbuildings, including two barns, a packing shed and warming house.
An official grand opening will be held in the future to give the general public an opportunity to tour the home and surrounding grounds and learn more about the property's history and future. Keith's long-term plan is to use the property to promote area agriculture, tourism and educational activities.