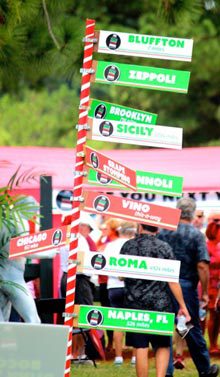 The Italian Heritage Festival on Hilton Head celebrates a growing population and cultural influence in the Lowcountry.
Growing up on Hilton Head in the 1970's, I was accustomed to a certain kind of southern pace, that included predictable, hot, hazy, slow summers, blended with buttery, salty, lowcountry flavors that stewed all day long with fat back. Houses took four to nine months to build, give or take (nobody got into a fist-fight over a completion date, because well… why rush it?), and the lines at banks and post offices stood still while people caught up with one another's family news. There weren't many stoplights, but there were a lot of 'Yield' signs and of course, rotaries.
            After moving away, and returning periodically to visit my parents, I noticed a gradual change in the pace of the Lowcountry. Traffic began moving faster, and there were many more stoplights, stores, and markets. Understanding that this reflected an uptick in the economy, these changes merely caused me to reminisce, rather than complain. Especially, when I noticed the proliferation of really good restaurants. I mean really good. Not that there was anything wrong with those that were already here, however the newer eateries provided an enhanced aroma to the scene. Something new was putting zip into the Sunday strolling stride of the Lowcountry, and I couldn't put my finger on it, until I brought my future husband down from Providence, Rhode Island for a visit for the first time.
            "Why did you warn me that I wouldn't like the food?" He asked, one afternoon while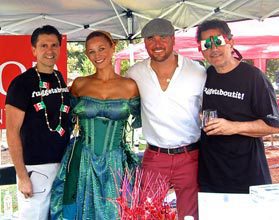 chomping on eggplant parmigiana at an island restaurant. "We haven't had a bad meal since we've been down here."
            And he was right. We had been out to eat for almost every meal and thoroughly enjoyed them all. I was nervous about his experience with the easygoing smiles and no-hurries, no-worries attitude I had grown up with, especially knowing his background coming from an Italian neighborhood in a bustling New England city. We drove to Charleston one day, and things got even better.
            "This is beeeautiful down here," he said, as we jaunted down the battery on cobblestones in our horse-drawn carriage tour.
            Years later, I was to discover that this part of the American east coast has become a destination of sorts, for Italian-Americans throughout the latter part of the twentieth century. Presently, in fact, according to Fred Nesta – pioneering member of the South Carolina Chapter of the Sons of Italy in America, from Myrtle Beach – South Carolina is one of the top regions in the country to which Italian-Americans move.
            Why this shift in location?
            It would be hard to apply a precise reason for such a demographic transference, so I will just cut to the results; visitors to the south and residents win big! Whatever the reasons triggering migratory patterns of Italian-Americans, it is the South Carolinians and those that inhabit this coastal region who enjoy the spoils. For with this move, a warm-hearted, arts-loving culture brings much color and flavor to our way of tradition, fashion, cuisine, and community spirit.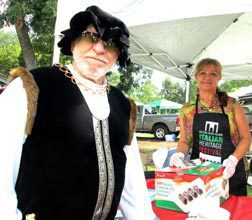 Just like in other areas of the country (Boston, New York, Chicago, Providence, San Francisco, etc.), the Lowcountry enjoys the lively effects of this rich Mediterranean culture, while feeling the residual benefits in the way of more diverse cuisine, crafts, and Old World traditions. Restaurants that have sprung up locally can easily be compared to the famous Italian restaurants of northeast urban areas, and many businesses are spurred on by the competition inherent when transplants from all backgrounds move in and open shops selling similar wares. Everyone wins, right?
            In many ways, the American south is a natural cousin to Italy's lush regions overseas. Both cultures boast strong family ties, love of communal dining settings, and outdoor events and games to celebrate rituals and holidays. So it should come as no surprise that recently – thanks to the efforts of Nesta, and SC State Senator, Raymond Cleary – Governor Nikki Haley signed a bill into law, designating October as Annual Italian Heritage Month in the state of South Carolina. Nor should it surprise anyone that the Hilton Head Island Italian Heritage Festival Honoring the Feast of San Gennaro, hosted by the Italian-American Club of Hilton Head (IACHH) is coming up on its sixth year, this September 19, 2015.
            "One of the things that's always been important to me is spreading positive Italian-American culture," stated Nesta to the Daily News of Milford, Massachusetts.
            The celebration has grown so fast, that the club has had to move it to the Coastal Discovery Museum at Historic Honey Horn Plantation from a previous location, to accommodate the growing crowds and parking. Entertainment is live and includes the local radio station, the Surf, 104.9, and Larry Tannelli's band, from Myrtle Beach. There are booths and vendors from Wilmington Island, Savannah, Bluffton, and of course, Hilton Head.
            A bocce court will be set up for enthusiasts of all ages, as well as a dunk tank,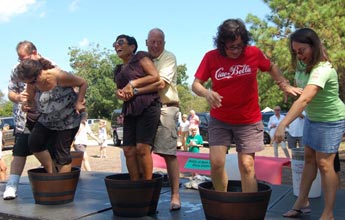 ring-toss (for a bottle of wine), and a kid's zone with inflatable slides and trampolines. There will be food prep demonstrations, vendors featuring specialties from local Italian eateries, and homemade cannoli and zeppoli prepared fresh, on-site. Famous returning competitions include the pizza-eating and grape-stomping contests, while local businesses display their wares in booths and tents lining the grounds. The IACHH will also have tents for those interested in purchasing tee shirts, hats, and joining the local club.
            In keeping with the Old World tradition of giving back to the community, proceeds from ticket sales, raffles, and a vast silent auction featuring crafts, products, and gift certificates from area businesses, will go towards local charities and scholarship funds, south of the Broad River.
            "It's important to us that the funds we raise stay here, benefiting the Hilton Head community," says IACHH president, John De Cecco. "We're encouraged by the support we've received each year from islanders and businesses."
            The IACHH hosts many such events throughout the year on Hilton Head, including an October wine tasting, known as the Zin Experience, held annually at the Omni Oceanfront Resort, an Aria weekend at the Coastal Carolina Arts Center on April 9, 2016, a golf tournament, bocce tournament, and pasta dinner. Members of the club enjoy monthly social events at local restaurants, and weekly luncheon meetings at Flora's Italian Café.
            And for those of you curious about the celebrated San Genarro (Italian for St. Januarius), this year's festival falls on the exact date that the next miracle of liquefaction is scheduled to occur. According to Roman Catholic legend, the blood of this 4th century martyr, which has been sealed and preserved in two vials since his beheading, liquefies and then re-coagulates. This strange chemical reaction goes against biological science, and is considered divinely inspired by the Church, and is what inspired canonization of the young priest in 1389.
            The phenomenon of the blood liquefaction occurs five times a year, and is celebrated with parades down Mulberry Street in New York (as depicted in movies like The Godfather, Part II, and Mean Streets), and in Naples, Italy (where San Gennaro is the principal patron saint). And while we don't celebrate with a parade on this day, Hilton Head IS in the running against Columbia, Charleston, and Myrtle Beach, to host the first statewide, 2016 Columbus Day Parade, honoring the new SC law naming October as the Annual Italian Heritage Month. Stay tuned for updates on this great development for the island that could bring 25,000 visitors during a time of year that area businesses, vacation rentals, and hotels, could use a boost in revenue.
            So come one, come all, and don't fuggetaboutit!
The Italian Heritage Festival Honoring the Feast of San Gennaro will be Saturday, September 19 from 11 am – 4 pm at the Coastal Discovery Museum at Historic Honey Horn. $6.00/person, parking is free. For more information call (412) 897-1148. For tickets visit http://iachh.org/festival.html, or pay at the gate.