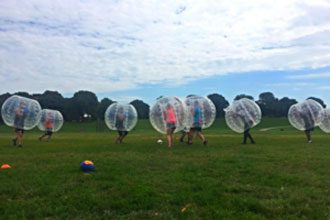 Bring your family and friends to Waterfront Park on Saturday, September 17
th
for Battle Ball, to benefit the Boys & Girls Clubs of Northern Beaufort County.
Otherwise known as Bubble Soccer, Knockerball or Bubble Ball, Battle Ball it is a remix of soccer, zorbs and hockey. Bubble Soccer originated overseas but now is sweeping the US. Bubble Soccer allows each participant to compete in several game modes which involve bouncing into each other in bubble balls, while being fully safe and sound. Bounce into one another, run full speed ahead and come out unharmed as each of the Battle Balls games for Back 2 School Battle Ball have been engineered with safety in mind.  There will be 5 lanes for adults and children over 42" from 12-4pm for all day fun!
Everyone is welcome! Children and adults can play all day for $10! All participants must be 42" or taller to participate. Many formats will be offered! Professionally referred and safety checked. All Boys & Girls Club members with their Club T-shirts on play for free!!
Great Futures Start at the Boys & Girls Clubs of Northern Beaufort County. Club programs are the core of the members' activities. People know the Boys & Girls Clubs are a safe and secure place for club members to interact with their friends, classmates, and staff every day after school and during the summer.  We are over 350 children in Northern Beaufort County daily!  What many people don't know is what happens inside the clubs' programs to create seeds of academic success, athletic performance, artistic expression, civic involvement and character development. Each club's programs focus on (5) core areas which are: Character & Leadership Development, Education & Career Development, Health & Life Skills, The Arts and Sports/ Fitness & Recreation.