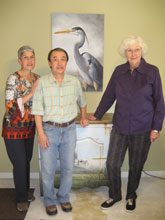 LowCountry Habitat for Humanity's second-ever UpCycled Art Auction will be One Unforgettable September Night in Port Royal. The event will be held at The Shed, 809 Paris Avenue, Port Royal, from 6 to 9 pm Saturday, September 17. Presenting sponsor is CBC National Bank.
     Honorary chair for this event is Hideaki (Aki) Kato, a well known Beaufort-based oil and acrylic painter, muralist and scene-on-furniture creator. Kato has been a strong and generous supporter of this local Habitat for 10 years.    
     In addition to Kato, dozens of other artists and craftsmen are using common items found at Habitat's ReStore, then applying their time and talent to "up-cycle" them- to create new works of craft and art that will be auctioned during the event. Proceeds from the evening will be used to help build a Habitat house. This format of silent and English auctions of these up-cycled works was used to great success in the summer of 2014 in celebration of the ReStore's tenth anniversary. That event sold out early. Tickets this year are selling fast, and strictly limited.
     Local artist Deanna Bowdish will again provide her knowledgeable and entertaining skills as auctioneer for the live, "English" auction.
     Heavy hors d'oeuvres, desserts and drink selections, included in the ticket price, will insure no one goes hungry or thirsty.
     Billy Drysdale and Drysdale Entertainment will provide music and stand-up commentary to add another dimension to the September 17 evening.
     In addition to lending his name as honorary chair, Kato is donating a wonderful antique chest, sourced through the ReStore, that is painted with five breathtaking Lowcountry scenes, inspired by the novels of Pat Conroy. Kato's circuitous journey from Yokohama, Japan to Beaufort has a surprising and touching connection to Conroy's early novel "The Water is Wide," and its movie adaptation, "Conrack."

     Kato says when he was in high school in Yokohama, he saw that film and was moved by the "Lowcountry scenery and the smiling faces of the children." But soon after watching the movie, he forgot about it for a number of years.
     He says that starting as a child of four or five, he liked to draw and paint. His parents supported his interests and he was able to have lessons in Japanese style painting. But something drew him to western artistic styles, including the high Renaissance. Soon after graduating from high school in 1976, he made the huge leap of moving to the United States. Beginning with a 10 month course of English language study at Catholic University in Washington, he embarked on a many city, multi-year tour of education and work.
     He studied math and science at a community college in Gainesville, then transferred to the University of Florida, where he studied art, intending to major in oil painting. He never finished that program, feeling on the one hand that he had the talent and knowledge to succeed as an artist, and then becoming concerned that art was "too unpredictable" to make a living at. He felt torn between his passion for creating art and a worry of becoming a "starving artist." He moved to Atlanta, found it hard to get a break- nobody seemed interested in the portfolio of a young artist who had not graduated from art school. He worked several jobs- as a waiter, cook, manager. He returned to Japan for a time and worked different jobs there. Then he decided he must finish his art program. He moved back to the United States, to Orlando and the University of Central Florida. He there completed his bachelor of fine arts degree.
     After graduation, he worked at Universal Studios in Orlando, painting scenic backgrounds for the exhibits at that theme park. "That helped me learn to do mural work," Kato stated. Then he moved back to Atlanta, edited a Japanese language newspaper for a time and learned to handle a computer.
     Then he took a job that changed the method of his artistic expression- he began working for the high-end furniture company Habersham in Toccoa, in northeast Georgia. "That was where I learned to paint on furniture," Kato noted. He developed the style that has become his hallmark, and he honed his skills. He moved again with different furniture companies- Hendersonville, NC; Greenville, SC, and finally in 2003, to Beaufort.
     When he arrived in the Lowcountry, the setting seemed familiar, like he had been here before: the marsh, tidal rivers, live oak trees, smiling faces of the children- and after so many years, he remembered that film he had seen in high school! Pat Conroy's novel "The Water Is Wide," and its setting, made this artist feel comfortable in his new home.
     Kato has lived here since, and become a well-known local artist who has drawn inspiration from the scenes and elements of Lowcountry life, and interpreted these in a way that enriches everyone who knows him and knows his art. "I like to paint birds and trees and sea creatures and water and working boats. I usually try to work regularly every day. I like to use oils and acrylics, but acrylics are faster drying, so I usually use those. I paint on canvas, paper, murals and the furniture. To survive as an artist, one must be willing to take different jobs," Kato explained, from a perspective of much work experience.
     The antique chest he has generously painted for the UpCycled Art Auction was picked out for him by Habitat ReStore manager Jenny Drake. "Jenny knows what I'm good at. I worked on that chest part of every day for a month," Kato said.
     One of his first donations to LowCountry Habitat for Humanity, in the mid 2000's, was painting scenes on a birdhouse designed by Pat Conroy. The intricate, evocative scenes on his new donation were inspired by Conroy's words. When Kato began this project last fall, he had wanted to have the author sign a painted book that appears on the chest. "I didn't realize at the time that he was too sick to do that," said Kato. He is now inviting several members of Conroy's family to attend the UpCycled event as his guests.
     "I want to say thank you to the other Habitat volunteers, for their time helping me and helping Habitat. I'm just fortunate to be a part of it. We need to continue the effort to help Habitat's mission of providing affordable houses for those in need," Kato summarized.
LowCountry Habitat UpCycled Art Auction
WHAT? One Unforgettable September Night in Port Royal- an UpCycled Art Auction. Presenting sponsor is CBC National Bank. Other sponsors are Beaufort Realty Consultants, Fripp Island Resort, Morningside Assisted Living, Rotary Club of the Lowcountry , Eat Sleep Play Beaufort, Lowcountry Weekly and Picklejuice Productions. Included will be great food, drink, entertainment and the chance to bid on beautiful and unique pieces of art and crafts donated by dozens of generous local artists.
WHEN? Saturday, September 17, 2016, from 6-9 pm
WHERE? The Shed, 809 Paris Avenue, Port Royal
TICKETS? Are $35 each, available at the ReStore, 612 Parris Island Gateway, Port Royal. Also on the website www.lowcountryhabitat.org. These are strictly limited and advance purchase is required.