I first discovered Dragon Boat Racing when I was a US Marine stationed in Okinawa, Japan. Dragon Boating, or "Hari" as the Japanese call it, is a sport that originated in China over 2,000 years ago and has since spread throughout Asia and the world. It is now the fastest growing watersport in the world, and is a competitive and therapeutic passion for thousands.
I was lucky to have paddled with (and coached) the US Navy Dragon Boat Team on Okinawa for four victorious years, competing in large towns and small villages around the island. When my orders sent me to the Marine Corps Air Station at Beaufort, I thought my paddling days were over. You can't imagine my excitement when I learned that Beaufort had a dragon boat team of their own! Before long, I was an active member of DragonBoat Beaufort, and rekindled my love of racing. DragonBoat Beaufort is very different from my team in Japan. DragonBoat Beaufort is a "Pay it forward" team, committed to helping those in the Beaufort County who have or are recovering from cancer. Any kind of cancer. Even with proper insurance, a diagnosis of cancer can be devastating, and many in this group of people know what it is like on a first hand basis.  
 
     Founded in 2012, DragonBoat Beaufort has a twofold mission to provide local cancer
survivors the opportunity to regain physical and psychological wellness through the camaraderie and competition of DragonBoat paddling. There is also an Outreach mission, achieved through one-to-one grants to local cancer patients with needs they are unable to afford or for which they lack coverage. DragonBoat Beaufort gives support for cancer patients in treatment and in remission, including support for their caregivers. We discretely cover needs ranging from getting patients to and from treatment, to covering deductibles, providing home oxygen, meals, emotional support, dentures, or daycare – you never know what one will need until it is suddenly desperately needed.
   Living in Beaufort we are surrounded with a bounty of opportunities to enjoy our beautiful waterways – but none is more exciting than DragonBoat Race Day. Unlike Okinawa, where teams furiously paddled 1,000 meters in a 2,000 pound boat to the finish line (which included a lumbering 180-degree turn) our local races are much more fun and much less labor intensive. Our race is a 250 meter straight course, with 4 boats at a time – each filled with 20 paddlers and a drummer up front. We hire professional steerpeople who travel from race to race, both nationally and internationally. The races are about two minutes of all out, lung busting paddling, ending with one team winning each heat. It is an exhilarating experience – whether you get yourself in a boat or you watch from the shore.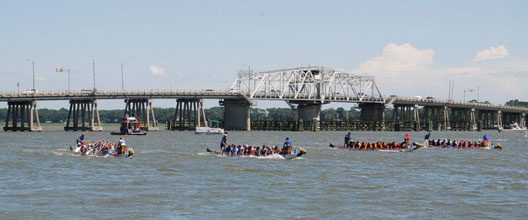 On Okinawa, our smaller ten-person team would travel to little fishing villages that rarely saw Americans but welcomed us with open arms. As a group we tried to act as ambassadors for other Americans both on the local bases and back home in the States. We were rewarded for our racing victories with prizes like cases of beer, bottles of Sake, or my favorite award, a freshly caught, whole, 70-pound tuna which was presented to us in a ceremony by the local fishermen. Occasionally, we won actual trophies. Of course we weren't in it for the swag, or even the bragging rights – we were simply racing for the spirit of competition.
     This year, just as it has been for the last 3 years, DragonBoat Race Day in Beaufort will be something to see and be a part of! Hundreds of spectators will line the Henry Chambers Waterfront Park to cheer on 800 or 900 friends and strangers formed into teams – all duking it out for the swanky medals that DragonBoat Beaufort medals are known for awards, which coincidentally look great on your "I love me" wall at home. These coveted Gold, Silver, and Bronze Medals can only be earned by working together as a team to be the first boat to the finish line. It is a local teambuilding event like no other. Past teams have included marauding bands of Realt'Oars, the keen stylists of Hair Force One and very smart Educate-Oars! Not
to mention The Torture Chamber (of Commerce)….
     No longer affiliated with the Beaufort Water Festival, this year DragonBoat Race Day will be Labor Day Weekend. This is our one and only fundraiser that supports our mission and is made possible with help from our many sponsors and the generosity of the City of Beaufort. The festivities will span the weekend, kicking off with a free Concert for the Community on Friday night, September 2nd, in the Henry Chambers Waterfront Park. A local favorite, the Sweetgrass Angels, will perform from 7-8:30 pm, followed by the popular Cluster Shucks who will have you dancing until 10pm (wear comfortable shoes!).
     Hobbit Hill Child Care is graciously offering a special "Night on the Town" package to help you have a worry free night of fun while generously donating the proceeds to DragonBoat Beaufort to support our Mission of assisting cancer patients and their supporters in Beaufort County. All donations are used locally.
     The RaceDay action starts on Saturday morning, September 3rd, at 8:00 am, culminating with an Awards and Medals Ceremony at 4:00pm. During a mid day break, there will be s special Carnation Ceremony where we remember those who have fought the brave fight and are no longer with us. There is an exciting surprise right after that to energize and get everyone ready for more racing! We are expecting 40 Teams, many of them visiting from out of town. The park will be filled with music, decorated team tents, spectator viewing stands and delicious offerings from our local restaurants.
     Teams have started forming and the fund raising has begun! This is where you need to make a decision; would you like to come and just watch the races, or do you want to come and compete in the races? Space on boats is limited, but we still have plenty of opportunity for teams and individuals who would like to be a part of it – but don't wait, spots will fill up fast. Gather your friends and coworkers and be a part of the action! Get a cool t-shirt and maybe even win a medal!
     Race teams are made up of 20 Paddlers and one Drummer. We will provide everything you will need – from training to equipment. The Drummer should be one of your smaller team members, with rhythm and a good sense of humor – because the best-dressed drummer also wins a big prize! Each team will participate in three races throughout the day and medals are awarded across six categories in Gold, Silver, and Bronze.
     Can't wait until Labor Day? We welcome you to come out for a courtesy paddle with
DragonBoat Beaufort, every Saturday morning at 8:30 am at the Port Royal Landing Marina (our VERY generous sponsor) and we'll be glad to show you what its all about. Just bring some athletic gloves, a bottle of water, and wear clothes that you're not afraid to get wet. And closed toe water shoes – they are a must. We will provide everything else including information on how to officially join DragonBoat Beaufort.
     All of the tax deductible funds raised from the event will stay local and will be used to fund DragonBoat Beaufort's mission. Our Outreach Team provides individualized, discreet support to cancer patients in need locally – everything from gas cards so patients can afford to get to their treatments, assistance with co-pays, to a prosthetics costing thousands. Dragonboat Beaufort will even deliver meals if cooking is a hardship, and it often is. We provide the things that insurance doesn't cover and what other organizations aren't able to. The Labor Day Race Day is the only fundraiser we hold annually and ALL of our funds really do stay local.
     We still have room for teams and some great sponsorship opportunities for this highly visible community event. Paddling not your thing? You can show your support by joining our virtual team, the Land Sharks (who do not paddle) fundraising team and you'll be awarded with a medal on race day for raising as little as $100, although, special prizes are awarded to teams and the individuals who are the biggest fundraisers. Last years top fundraiser was given a weekend stay at the beautiful and historic Cuthbert House Inn on Bay Street. When you sign up with the Land Sharks, you'll create a personal fundraising page to promote among your friends and family and raise money for our worthy mission. Once you create your fundraising page, you copy the URL and paste it into emails or social media to let everyone you know that you are supporting DragonBoat Beaufort and are looking for their help!
     If you aren't already – GET ON BOARD! Form a team and be a part of the excitement! All the information you need can be found at:
http://www.DragonBoat-RaceDay.com/  
or call the Race Day Registration Line at (843) 271-4212
or info@dragonboatbeaufort.org
https://www.facebook.com/DragonBoatBeaufortRaceDay/
Paddles Up!

Joy Craig is the Coach of DragonBoat Beaufort