Discover The Colors
A day of plein air painting at the historic site of Honey Horn will inspire the artists who participate and also will focus on a search for the colors of the old south in a wonderful setting.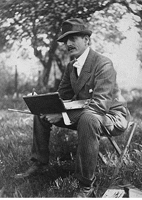 Lynda Potter will conduct this one-day workshop on June 25th from 10 a.m. – 4 p.m. at the Coastal Discovery Museum at Honey Horn. Artists may work in the medium of choice, such as acrylic, watercolor, pen and ink, and oil paints. Instruction will focus on how to make vibrant colors and how to relate those colors to the overall harmonious composition. Potter has been a professional working artist for more than twenty-five years and creativity has been the focus of artistic pursuit in her ongoing career.
Cost of the workshop is $45.00 and participants provide lunch on their own. Reservations may be made by calling 843-689-3033 ext 221.
Discover Animal of the Lowcountry
The Coastal Discovery Museum at Honey Horn is pleased to announce that starting June 11th, there will be two programs each week featuring animals found in the Lowcountry.
"Animals of the Lowcountry" will bring Oatland Island Wildlife Center to Honey Horn with a variety animals to include: barred owl, screech owl, alligator, corn snake, opossum and more starting June 11th and running every other Wednesday through August at 10:30 or 11:30 a.m.
"Get to Know a Gator" will feature Gatorland alligators each week on Thursdays, as they bring live 3-4 foot gators for the audience to view and learn about. Programs are 9:30, 11:30 and 2 p.m. every Thursday through August.
"Birds of Prey" will start June 18th and run every other Wednesday at 10:30 and 11:30 a.m. featuring Raven Oaks Sanctuary in Statesboro. Scheduled to appear are a red tailed hawk, screech owl and a Mississippi Kite.
Pre-paid reservations are required for all programs and may be made at 843-689-6767 ext 223.
The Coastal Discovery Museum at Honey Horn is located at 70 Honey Horn Drive on Hilton Head Island.