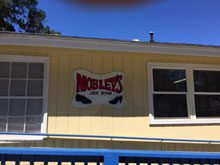 Stephen Mobley has been Beaufort's cobbler for over half a century.
Being from up North, my tendency is to negotiate a price, make my purchase, then hold onto that product until it actually wears out completely . . . and then try to fix it. Yankees will do anything to keep a product functioning.
For instance, I have very large feet. Years ago, I purchased two pairs of size 14 shoes I thought would last. Well-made, classy, shiny -€" perfect. However, in this age of flip-flops, and after lots of walking, my feet turned into 15s and I could no longer squeeze into these perfect shoes. What to do? Get rid of them and buy a new pair? NO WAY. They still look good even though they don'€™t fit. The solution: Go to see Mobley.

What does one do if: A strap on a handbag becomes unhitched? A zipper on a camera bag becomes snarled? A heel breaks off a shoe?
Leather laces, eaten by a cat, break off and need to be reinserted? Shoes need to be professionally polished for that special moment?
A scuff mark appears that mars the appearance of the shoe?
In each of these instances, one has two options. The first -€" go to the store and replace the item. The second (and best) option – go to see Mobley.
Located at the corner of Parris Island Gateway and Old Jericko Road, Stephen Mobley and his wife Mary open their bright yellow shoe repair business daily and work from 8:30am -€" 6:00pm, Monday through Friday, with shortened hours on Saturday. You would never guess that Stephen, the man working those hours, is 76 years old; and most of the time, his wife is by his side. When questioned about his long hours, Stephen says, "€œWorking is my relaxation. The Good Lord never felt that hard work would be a hindrance."€
Stephen is a professional cobbler and master tradesman. The Merriam Webster dictionary defines a cobbler as: "A mender or maker of shoes and other leather goods." Mr. Mobley has been mending and making shoes and other leather goods in Beaufort since 1962 – that's 55 years. His wife's forte is hand sewing of leather goods and her work is a strong complement to his.
In the 2011 October/November issue of Beaufort Lifestyle, Mary Ellen Thompson wrote a story detailing Stephen's background in Rock Hill, his arrival in Beaufort in 1962, working for 27 years in a shoe repair business, hopping over to Parris Island for a couple of years, buying a shop in the Cross Creek Center, and working there for 20+ years before buying the building at 12 Old Jericko Road where Mobley'€™s Shoe Repair currently is located.
The article further detailed the equipment Stephen operates, the daily risks associated with the trade, the difficulty in repairing women'€™s shoes versus men'€™s, and the ease with which Stephen deals with his customers. I get an example of that when I ask him if he can stretch shoes. He looks at me smiling and says, "I do it everyday."€ Dressed in a purple "scrub,"€ Stephen tells me the Bible associates purple with royalty and with Christ, and "that'€™s why I picked up on that color."€
Recognizing that the shoe repair business is a dying trade, Stephen is now a mentor to a former associate and a young husband and wife team, teaching them his business and making sure they appreciate the creativity that a cobbler must employ.
A few fun facts about Beaufort'€™s only cobbler:
LCW: What is the largest pair of shoes you have worked on? The smallest?
SM: The largest pair of shoes I ever worked on were size 27s. I had to order the soles from Chicago. The smallest pair, that'€™s easy: size 2.
LCW: Who is your most famous customer?
SM: The most famous customer I have worked with is Robert Duvall.
LCW: Have you ever had to make a pair of shoes rather than just repair?
SM: I have never made a pair of shoes, and have never had the interest in doing so. But, I love to repair them.
LCW: Do you have children and are they involved in any way with the shoe repair business?
SM: I have two daughters living in Jonesboro, Georgia and my son was taken by the Lord in 2010. The girls are not involved in this business.
LCW: How are your "€œstudents"€ doing?
SM: Well, Keith (who is in his 50s) and I worked together on Parris Island. They do not repair shoes anymore there so Keith is involved in engraving -€" plaques, nametags. He has come back to me to relearn the shoe techniques.
In speaking with Keith, it is apparent he has nothing but respect for Stephen Mobley. "€œThe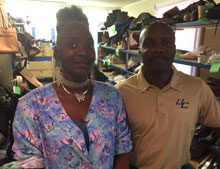 Good Man gave him a gift,"€ he says. The other students are Troy and Cookie James. Troy, a retired Marine, is involved with Battery Creek High School during the day, and Cookie works daily for Beaufort'€™s Health and Human Services office. After work, the Jameses drive to Mobley'€™s to learn their new trade. Troy focuses on repairing leather goods while Cookie is learning shoe repair. Troy says, "€œI enjoy the challenge of putting something back together,"€ while Cookie considers it an opportunity of a lifetime, to see Mobley's legacy live on. She thanks God for allowing her to come into contact with Mobley. "€œI'€™ve always had an interest in fashion, in creativity. I'€™m willing to learn and Mr. Mobley is a very good teacher. He is patient but particular."€
When you arrive at Mobley's, the OPEN sign blinks in the window, chimes announce your arrival, and you are greeted either by Stephen or Mary, who will assess your situation. Occasionally, their advice is, "€œYou'€™d be best to buy another pair,"€ as the shoes are way beyond help. But, usually, you'€™re given a green ticket with the comment, "See you in a couple of days."€ You know, then, that soon you'€™ll be handed a pair of shoes that looks like it did when originally purchased. Or maybe better.
Stephen and Mary Mobley are a true asset to Beaufort. They are talented, hard-working, creative problem solvers who are devoted to each other and to the trade that has supported their family and our community for 55 years! How special is that? And how special are they.