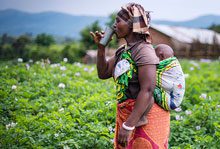 This year, Beaufort will unite to bring safe water to hundreds of men, women and children across the world. Together, we will reach people in need!
Every day, millions of women and children in developing countries walk nearly 4 miles to retrieve water to their family's daily needs. In most cases, even after walking for miles and miles, the water they have to drink is contaminated.
Beaufort's Walk for Water will simulate this trek to raise awareness of the global water crisis here in our community. Each participant will start the Walk with an empty bucket. About half-way through, they will fill that bucket with water and complete the remainder of the course. We hope that all participants end the Walk with a better understanding of the challenges people around the world face daily in search of something that we often take for granted -€" water.
Donations collected for the Walk for Water will support Water Mission, a nonprofit Christian engineering organization that designs, builds, and implements safe water, sanitation, and hygiene (WASH) solutions for people in developing countries and disaster areas. Since 2001, Water Mission has used innovative technology and engineering expertise to provide access to safe water for more than 3.2 million people in 52 countries. Water Mission has 250 staff members working around the world in permanent country programs located in Africa, Asia, North, South and Central America and the Caribbean. Charity Navigator has awarded Water Mission its top 4-star rating ten years in a row, a distinction shared by less than one percent of the charities rated by the organization.To learn more, visit watermission.org
Sponsors of Beaufort'€™s Walk for Water include the Battery Point Neighborhood, First Presbyterian Church, St. Mark'€™s Episcopal Church, Unitarian Universalist Fellowship, Waters Edge United Methodist Church, Cleland Site Prep, Beaufort-Jasper Water & Sewer Authority.
Walk for Water will take place on Saturday, October 14 from 10 am -€" 1 pm, starting at Live Oak Park, 904 14th Street in Port Royal. To join a team or make a donation, visit www.events.watermissions.org. For more information call 843-524-3051.