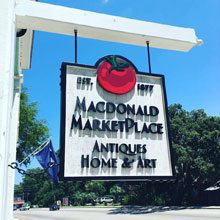 The essence of Lowcountry living and so much more is offered at the new Macdonald MarketPlace that just opened at 853 Sea Island Parkway, St. Helena Island. The MarketPlace includes a myriad of items from handcrafted jewelry, furniture, linens and lampshades to fresh local produce, flowers and prepared foods. Also currently on display are the works of more than 15 artists and artisans.
"We wanted a store that not only shared the talents and treasures of local artisans, but one that celebrated the foods, flowers and culture of our region," says Martha Sanders, one of the owners.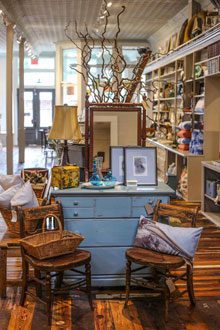 The store and its building is teeming with history. In 1877, James Ross Macdonald settled in the Lowcountry and built the first general store on St. Helena Island, South Carolina. It quickly became a center of social and business activity for the Sea Islands. Generations later, the family is once again running the store he founded on the principles he exemplified – to share with others the vibrancy and robustness of the Sea Islands, but, in today's world, with broader borders. "We wanted a store that united unique, local artisans in one, inspiring collective space," says Lea Taylor. "It's a tribute to our community," she added.
Macdonald MarketPlace is located at 853 Sea Island Parkway, St. Helena Island. The MarketPlace is open Tuesday – Saturday, 10-6. For more information call 843-838-1810 or go to macdonaldmarketplace.com to see a complete list of all the artists and artisans that are currently on display.