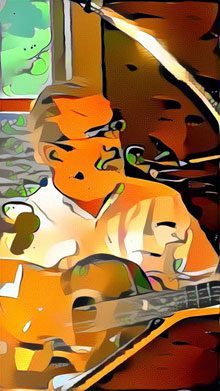 Beaufort jazz ensemble Vic and Friends will perform at the Jazz Corner August 5
th
and 6
th
. A year ago, they launched their CD, entitled "V", at this legendary Hilton Head establishment. We recently sat down with Vic Varner to talk about his band and what they've been up to lately.
LCW: What's the band been up to lately?
VV: We feel very fortunate that our band is active with gigs 3 nights a week here in Beaufort. Nationally, jazz gets about 3% of radio airplay, so I'm amazed that my hometown supports live jazz this much. I've always believed there is a blues culture in Beaufort; we're trying to create a jazz culture as well.
LCW: What's going on with the year-old CD?
VV: We continue to sell our CD at gigs, but mostly, we view it as a document and a booking tool. We're proud of it artistically. The core of the band is Thom Chambers (tenor saxophone), George Sheck (bass), Bill Aycock (piano), and myself on voice and guitar. We recently lost our regular drummer, Robert Moring, who is touring nationally with the band "Safe, So Simple." Robert is about four decades younger than anyone else in the band, so we're happy for him and thrilled at this special opportunity.
LCW: What can folks look forward to at the upcoming Jazz Corner gig?
VV: Well, we're bringing in a special percussionist from New York; Danny Mallon is one of the best in the country! I know Danny because he's married to a former student of mine. He plays annually in Charleston's Spoleto Festival and has done some of our Beaufort gigs as well. He's amazing, with instruments attached to his feet and hands making unbelievable Latin sounds. It's a perfect compliment for our bossa nova, which is the centerpiece of our repertoire.
LCW: Speaking of that repertoire . . . working on any new music?
VV: Our "book" is constantly evolving. I'm excited about our new Beatles medley. We like to make jazz arrangements of otherwise pop tunes, and Beatles music is sacred to me. The medley includes a George Harrison tune, "The Inner Light," based on his exploration into Indian sounds
LCW: What makes the Jazz Corner so special – for musicians and audiences alike?
VV: We are honored to play at Hilton Head's Jazz Corner. There'rs nowhere like it in the southeast! Live jazz seven nights a week AND great food. It's repeatedly ranked best cuisine on the island. I'm a patron of the establishment. I get to see world class jazz artists without going far from home. This upcoming gig is more a "show" than our regular appearances. We are lighted on stage, the audience is encouraged to keep conversation to a minimum, and I narrate the performance.
         Also, we are very excited to announce that Beaufort singer Beth Inabinett will sit in with the band. She helps us out from time to time at in town gigs and people love her!
LCW: For those who can't make it to the Jazz Corner, tell us more about your regular gigs in Beaufort.
VV: Our local weekly gigs include Panini's on Thursday, Maggie's on Friday, and Saltus on Sunday – all 6:30 til 9 pm. "Old Man Hours." We often joke that we should name the band "Early Bird Special." Actually we love playing the dinner hours. Of course our music is not "in your face" aggressive or loud, so that works out nicely for diners and also accommodates our bedtime. Teehee.
Vic and Friends will play at the Jazz Corner on August 5th and 6th at 8 pm. For tickets or more information, visit www.thejazzcorner.com
Top photo of Vic Varn by Betty Owen
Bottom photo of Varner and Thom Chambers by Arastasia Rolain.