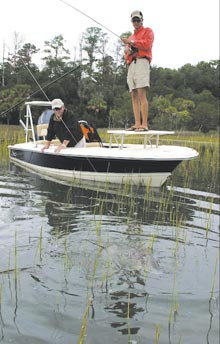 Beaufort's 3rd Annual Lt. Dan Weekend Hooks a Pair of Sporting Legends – Flip Pallot & O'Neill Williams
"People seem to appreciate the story of that character, which is one that goes through tragedy and adversity and comes out on top. And I think that's an important lesson."
– Oscar nominee Gary Sinise in a 2010 Lowcountry Weekly interview
In 2010 Gary Sinise returned to the place where he breathed life into the character of Lieutenant Dan Taylor in 1994's "Forrest Gump." This time he came to headline a Shrimp Festival concert with his band named for that character. They came as part of The Independence Fund's efforts to support disabled veterans of the wars in Iraq and Afghanistan – a cause Sinise has been passionate about for more than a decade. The crowd response was overwhelming. No one was really prepared for the response. Lines into the park stretched for blocks down Bay St. and hundreds were turned away. Lt. Dan, it seemed, needed his own gig.
The next year Sinise and Company returned to headline Lt. Dan Weekend 2 (LDW2) – a stand-alone series of events aimed at raising money and awareness for Wounded Warriors culminating with the band's big show. Now with LDW3 looming we sense a pattern has emerged. Event organizers were looking for a new spin on the 2012 event when David Cargile – an avid fly fisherman and certified Orvis instructor – floated an idea by a board member during a chance meeting at a political event.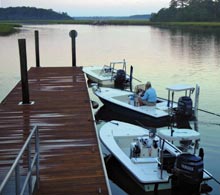 "They were looking for ways to get the public more involved," recalls Cargile, "I said, what about fishing? Beaufort's a fishing community."
Cargile served as an Air Evac Medic in Vietnam and witnessed the trauma of war up close. The support and aid of the severely disabled veterans of Iraq and Afghanistan is a cause very dear to him. "Medical advances can treat these massive injuries," he says. "The body will heal. The key is to follow through with the healing of the mind."
The Scottish Politician and avid fisherman, John Buchan (1875-1940), once wrote, "The charm of fishing is that it is the pursuit of what is elusive but attainable, a perpetual series of occasions for hope." Simply picking up a fishing pole is an act of optimism. Picking up a fly rod is practically an act of faith. Just about any fly fisherman will hold forth at length on the therapeutic power that surges through the soul as a fish rises to a fly at the end of a perfect cast.
The fishing theme fit and the board bought the idea hook, line and sinker that very afternoon during a meeting at Palm Key. Cargile enlisted the help of his friend and local fishing maven, Tony Royal of Bay Street Outfitters and the plan soon fell into place.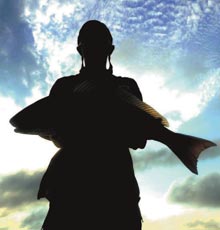 The core of the idea was simple, invite some of the most famous names in the world of sport fishing to come to Beaufort and do what they do best. It just so happens Cargile has a couple on speed dial – internationally known sportsmen and TV hosts, O'Neill Williams and Flip Pallot. Georgia based Williams has hosted "O'Neill Outdoors" in one form or another for more than three decades. The popular show now airs on NBC Sports. Florida native Pallot is an author and fly fishing aesthete whose seminal "Walker's Cay Chronicles" ran for 16 seasons on ESPN and remains the highest rated outdoor program in history.
"O'Neill and I have traveled all over the world fishing together," he says. "And Flip and I have fished for bonefish in the Bahamas the last three years."
Neither man so much as balked at the invitation. Cargile says their responses moved him to tears.
(Read our exclusive interviews with both Pallot and Williams, following this article.)
"I told O'Neill how much I appreciated him taking part," he says. "And O'Neill said, No I appreciate you letting me do this."
"When I asked Flip if he would consider coming his answer was simply, 'Of course I'll come.'"
Cargile also pitched Williams on the idea of shooting an episode of his show as part of LDW3.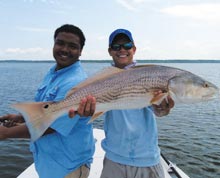 Production schedules for programs like this are usually writ in stone a year in advance, but Williams chiseled out some time for what promises to be a unique piece of television.
"O'Neill and a guest will be 'sight fishing' for redfish – watching for the fish, the movement in the water and casting to it," explains Cargile. "And the guest is blind."
The guest is Sgt. Maj. Jesse Acosta, U.S. Army, (Ret.) who lost his sight in 2006 during a mortar attack on Balad, Iraq. Acosta will head out on the Broad River with Williams and Capt. Tuck Scott of Bay St. Outfitters who will act as his spotters, directing the angle and distance of his casts. Last spring Acosta took a putting trophy using the same technique to sink a 30-footer. Cargile thinks he's got a better than average chance at boating a red.
"He's so animated, if he catches a fish he'll go ballistic," he says. "This could be a classic."
LDW3 SCHEDULE OF EVENTS

Wednesday, Sept. 12
LDW3 Silent Auction and Banquet at Holiday Inn, 6 p.m,
Sporting legends and TV hosts O'Neill Williams and Flip Pallot join Sgt. Maj. Jesse Acosta, U.S. Army, (Ret.) as guests of honor for the LDW3 Silent Auction and Banquet. Acosta, who was blinded during a mortar attack in Iraq in 2006, is scheduled to shoot an episode of Williams' "O'Neill Outside" that morning with Captain Tuck Scott from Baystreet Outfitters. One hundred healing heroes and their caregivers will also be in attendance.
"This will be a rare opportunity to spend time with and learn from two of fishing's greatest pros," says David Cargile, LDW3 Fishing Chairman.
Auction items include a fishing trip with Flip Pallot on the Broad River September 14, fishing equipment from TFO and Powell Rods, golf rounds and equipment, custom jewelry and artwork by area artists as well a few things sure to interest any hardcore Parrot Head, straight from the Mayor of Margaritaville himself. "We've got a few items signed and donated by Jimmy Buffet," says Cargile. You'll have to buy a ticket to find out just what they are.
Tickets are $75 and optional donation of $25 will help provide a meal for a veteran or caregiver.
Thursday, Sept. 13
Fly Casting Clinic at Palm Key Nature Resort, Noon
Learn to fly cast from the master, Flip Pallot. Space is limited and at $100 the slots will go fast. Also at noon, O'Neill Williams will conduct a bass & redfish fishing. The day includes a fly tying seminar for the vets with some limited public participation led by John Holbrook and members of the Sea Island Fly Fishers Club. Participants will learn to tie a variation of the Bay Street Bunny conceived by Tony Royal.
Friday, Sept. 14
3rd Annual Lt. Dan Golf Classic (Scramble) at Cat Island, 9:30 a.m.
The 3rd Annual Lt. Dan Golf Classic begins with check-in and late registration at 9:30 with a shotgun start set for 11:00. Green fees, cart, on-course water, lunch and prizes are included in the cost. There will be three flights and prizes for the top two foursomes in each flight. All par threes will be closest-to-the-pin. The day includes a putting contest and a longest drive prize for men and women, as well. Space is limited to 110 slots. Early registration is recommended. Cost is $100 per person. For more information visit www.ldw4.com or contact Robert deTreville at redetreville@sprintmail.com or (843) 379-8877 (home), (843) 473-5165 (cell).
For those who'd rather fish professional guides from Bay Street Outfitters, members of the Sea Island Fly Fishers Club and the Beaufort Sportfish and Dive Club will be available to take veterans fishing during the day.
Vetpalooza Military Tribute Concert, at Waterfront Park, Beaufort, 7 p.m.
This family-friendly concert kicks off at 7 p.m. at Waterfront Park. "Vetpalooza" features performances by Lt. Col. Mike Corrado, USMC, and his band "Machine Gun" along with Iraq veteran and double amputee Dale Beatty and Outlaw 21. Country music star and 82nd Airborne veteran, Rockie Lynn, headlines the night with his band. Admission is $10 to the public and free for active duty military and their families.
Saturday, Sept. 15
Independence Ride and 5K Run at MCAS, 8 a.m.
Cycling is one of the best vehicles for breaking down the barriers between the able-bodied and disabled communities. For the veterans, many of whom have not been physically challenged since their injuries, the competition brings back memories and the sense of accomplishment from their days of doing 25-mile hikes. Their participation, in spite of their challenges, shows that they can still do it. Riding alongside able-bodied participants further empowers them and the experience is life changing for all.
On-site registration begins at 8:00 am at MCAS, Beaufort or register online at
http://www.active.com/running/beaufort-sc/ldw3-independence-5k-run-and-ride-2012. Cost is $25 for active duty military and $30 for others.
Saturday, Sept. 15: The Main Event
Lt Dan Band Concert at Waterfront Park, Beaufort, 7 p.m.
What's Lt. Dan Weekend without Lt. Dan? The LDW3 finale kicks off with opening performances by local favorite, Bounty Hunter and Nashville recording artist Berry Michael. Then give it up for Gary Sinise and The Lt. Dan Band as they take the stage at 8:30. Tickets are $20 in advance and $25 on Sept 15.
This marks the third straight year that Sinise and his band have performed in Beaufort for The Independence Fund in support of severely wounded veterans.
The Independence Fund is also raising money through the sale of American "Freedom Flags" purchased prior to September 7th. These 12" x 18" American-made flags will be individualized with the business, organization or individual the purchaser wishes to honor and will line Beaufort's Waterfront Park during the Lt. Dan Weekend. Purchasers are free to claim their flag after the show or have it mailed to them.
For more information and to purchase tickets and merchandise online visit www.ldw3.com.
An Interview with FLIP PALLOT

By Mark Shaffer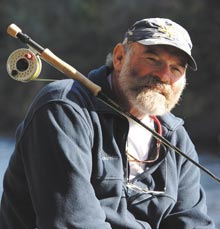 Just about every fly fisherman on the planet knows the name Flip Pallot and most (of an age) recall his transcendent ESPN series The Walker's Cay Chronicles. The program aired for 16 seasons and shattered the traditional mold of what audiences had come to expect of a "fishing show." Elevated by Pallot's literary style, love of language and exotic locales, it was the kind of program that made you want to sell everything and move to the Keys. Right now. Sadly (as we'll find out), the show remains locked in a corporate vault, but you can still hook a snippet or two on YouTube and the like.
Pallot grew up in the 1950's hunting and fishing the wild triangle between Biscayne Bay, the Everglades and the Florida Keys. After a stint as an Army linguist he flirted briefly with a career in banking before fleeing the 9-5 world to eventually become one of the planet's best-known sportsmen. He's published two books (a third is on the way), countless articles and currently hosts Ford's Fishing Frontiers for the Outdoor Channel. Pallot and LDW3 Fishing Coordinator, David Cargile, go way back. When Gargile called to see if he'd participate Pallot snapped at the opportunity like a redfish on a fuzzy mullet.
Mark Shaffer: LDW3 kicks off with a banquet and a silent auction on September 12th and I'm betting your auction item is going to be popular.
Flip Pallot: (laughs) Well, I've donated a fly fishing trip – that will be on the 14th – to fish with whoever bids up the trip. And I'm also going to do some casting demonstrations and things like that.
MS: Have you fished this part of the world before?
FP: I never have and I'm looking forward to it.
MS: The main objective will be redfish – something The Lowcountry's well known for. What makes this fish so special?
FP: Two things. First, they're so widely distributed. They're everywhere from the Florida Keys all around the Gulf Coast to Mexico and then up the East Coast to Virginia. I don't know another game fish that's so widely distributed as the redfish. Secondly, it's a delicious fish to eat. And it's a wonderfully cooperative game fish whether your fishing with bait, artificial lures or flies. Redfish are very willing to eat and get in the game.
MS: The fish is also a prime example of successful conservation efforts.
FP: You're right.
MS: How important is conservation to the modern sportsman?
FP: I think it's incumbent on all of us with all the pressures that are difficult to control, if we don't try to do something there certainly wouldn't be anything left.
MS: I want to talk about The Walker's Cay Chronicles for a moment. This was so much more that a fishing show. What made it unique?
FP: I think if I had to sum it up in a word that word would be "lyrical." It was lyrical and – above all else – about the telling of stories and the featuring of real true fishing relationships. There was nothing contrived about it. It was all real and all real fisher-folk. There was no "how to" and no interviews, just a lyrical story told in each episode.
MS: As I recall you started out as a banker, yes?
FP: (Pause and laughs) Shamefully, yes.
MS: Were you interested in writing during those 9 to 5 years?
FP: My education was in liberal arts so that I didn't have to study very hard. That's what you do when you really hope to be able to party more and maybe fish a bit.
(Laughs) So, writing was always there, yeah.
MS: Who would you count as your influences – and I'm just guessing you might have a couple of Hemingways on the shelf.
FP: (Laughs) Well, he was certainly one of them. Thomas McGuane is another and Jim Harrison is on the list. On the technical side there's Lefty Kreh.
MS: You've done some TV work with McGuane on the Outdoor Channel's Buccaneers and Bones series.
FP: I have. Fortunately I've known Tom since the late '60's. I have fished with him and hung out with him and somehow managed to survive and stay out of trouble.
(Laughs)
MS: Is there a PG-13 Tom McGuane fishing story?
FP: (Laughs, followed by long pause) Uh, no. In fact I am surprised you'd even ask a question like that.
MS: Sorry. Don't know what I was thinking. What's keeping you busy besides fishing these days?
FP: I do a great deal of consulting in the outdoor industry and I'm still doing television. I'm currently doing a show called Ford's Fishing Frontiers. I'm working on my third book and I do a lot of appearances at clubs and groups and trade shows and so forth. I stay pretty busy and still manage to do some hunting and fishing on my own.
MS: We're having this conversation a few days from the 20th anniversary of Hurricane Andrew – a big milestone for a lot of Floridians.
FP: We'd just decided to do the Walker's show and the hurricane came along as we were getting ready to shoot and the first [planned episode] was blown out by Andrew. So the first show in the series is [post-Andrew] about revisiting the places that I used to fish after the hurricane.
MS: What a time capsule. Is there any chance of revisiting that series?
FP: I'm trying all the time. The rights were sold to ESPN. I've tried to buy those rights and I've tried to buy the name and even tried to buy the old shows and revamp them. There were 16 seasons of Walker's Cay. There are people who are very heavily involved in fishing today who've never seen that program. It's not been on the air in nearly a decade so it would be wonderful to buy those shows and update some of the content and re-air the series. I think it would be very well received.
MS: I agree. It was ahead of its time – smart, literate and beautifully photographed. I'd love to see it again.
FP: [ESPN] won't even discuss it. But I don't give up. I drive them crazy, really.
MS: We wish you luck. One last question, after so many fish does the phrase "the one that got away" conjure one up?
FP: Actually, it does. I was fishing with my close friend Randy years and years ago and we were at the mouth of one of the major Everglades rivers where it flows into the Gulf of Mexico. At the very end of the retrieve of a surface plug I had a snook eat the plug right beside the boat – which totally surprised me – and I allowed my reel to backlash. The fish stayed for a time right beside the boat and I fought him thinking I'm going to get this fish. I estimate he would have been in the 30's (lbs) – a career fish by any yardstick.
We struggled around the boat and Randy tried valiantly to get a hold of the leader, but in the end – because I let the reel backlash – he made a run, broke off and got away.
It's funny how things like that stick with you. There have been 2000 snook since then. But that particular one was THE one. Maybe he was THE one because he got away? Sometime it's not good to probe too deeply into these things.
Learn more about Flip Pallot at www.flippallot.com
An Interview with O'NEILL WILLIAMS
By Mark Shaffer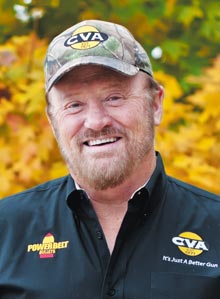 It's easy to understand how O'Neill Williams became one of the most popular personalities in outdoor television. On the phone he's accommodating, smart, precise, funny and doesn't take himself too seriously. What began as a local cable access show in metro Atlanta celebrates its 32nd season next year. Williams' weekly adventures in the field are seen by millions on NBC Sports (formerly Versus) and his popular radio show has aired for two decades. Williams says he's often asked to appear at events honoring Wounded Warriors, but a tight production schedule sometimes makes it difficult to attend as many as he'd like. When he got the call from his old fishing buddy and LDW3 organizer, David Cargile, he scrambled his schedule in order to shoot an episode of "O'Neill Outdoors" in Beaufort. To borrow Mr. Williams' favorite adjective, that show should be just marvelous.
Mark Shaffer: You're in high demand for events like LDW3.
O'Neill Williams: I do Wounded Warrior projects similar to this three or four times a year. The reaction is always marvelous and we're always happy to be involved at every opportunity. I got the call from Cargile – and he's an old friend of mine – so there you are.
MS: "O'Neill Outdoors" has aired for 31 years. That is an eternity in television.
OW: Yes it is and it feels like it. But there are worse ways to make a living than what I do.
MS: I would say so. How does one get lucky enough to spend 31 years doing what you do? What's the secret of success?
OW: The secret of success in this business is the solicitation, management and retention of sponsors. That's it. If there are no sponsors there will be no show. That's the first thing. Another key is to keep it down to earth. It's just a television show. It's nothing special.
I had that lesson taught to me in a Waffle House one morning. Believe me, if you're an outdoors guy and on TV the Waffle House holds your [demographic]. I walk into the place one morning and a guy jumps down off a stool and comes over and hugs me. And he said, "O'Neill I love you. You are my hero." And I thought when was the last time a policeman, a fireman, a nurse, a doctor, a teacher, a minister, or a soldier walked in and he did the same thing to them. No, he didn't. An outdoor show is no hero. It's just a television show. If it goes away I'll be the only one who suffers.
MS: On the subject of heroes, you'll shoot an episode with Sgt. Maj. Jesse Acosta who lost his sight while serving in Iraq in 2006.
OW: I plan to be the student here. I plan to learn from him about the way things sound and feel and the subject of balance. I'm really looking forward to it. It's going to be marvelous.
MS: David Cargile – who's not just the fishing coordinator for the event, he's also an Orvis fly fishing instructor – got Acosta interested in the idea of "sight casting" for redfish and then he pitched you.
OW: He asked if I wanted to give it a try and I thought, man, what an opportunity! I look at this as a very welcome challenge. I want to see how it is from his perspective – I want to capture that if I can. I think it's going to be great fun.
MS: It certainly has the potential for being unique and informative on a number of levels.
OW: Oh, I hope so. We're going to make it that way. I suppose we'll position him at 12 o'clock and say, "Fish is at 1 o'clock, forty yards." And we'll try a few casts and see how they work and I'll bet you he gets it right away.
And redfish are perfect for this. All you have to do is find them and they'll bite. You don't have to trick them, just find them. I'm really looking forward to it.
MS: I'm told [Acosta] sank a thirty footer to win a putting competition at an event last April.
OW: Yeah. Isn't that marvelous? My dad was an air force pilot. He died when I was very young and my mother later remarried and that man is a hero – he's 91 – and he was a radio operator on a B-29 who flew 25 missions over Japan. So I have a… connection, I think – even in a minor sense – with Jesse.
MS: Have you fished Beaufort before?
OW: I have not. My closest connection to Beaufort is that movie…
MS: "The Big Chill?"
OW: That's it! One of my favorites. I can identify with all of that.
MS: Maybe we can arrange a movie tour while you're here.
OW: I'd like that.
MS: Was there a particular moment when you decided on this career?
OW: I graduated from Emory and I've always been a salesman or a sales manager my whole life. I treated the television show as "extra." I've won some championships, but I'm not a "professional" fisherman a la The Bassmasters Tour. I'm not that good. But in the early '90's I decided to quit everything else I was doing and devote all my attention to television and radio and the promotion therein and it just exploded – blossomed, if you will.
MS: And it continues to grow through a new affiliation with NBC Sports.
OW: I started out with them many years ago when it was The Outdoor Life Network. Prior to that was the Outdoor Channel. Outdoor Life became Versus Network and now it's NBC Sports and I'm real proud to be there.
MS: Final question: When I say "The one that got away" what springs to mind?
OW: Oh, man! I'm not a big time dedicated bill fisherman but I did hook a marlin once off the coast of Costa Rica that was pushing 1000 pounds. I didn't have him on long, but a fish that big and that fast – I've been forever impressed and haven't had one on the line since then.
MS: That's a Hemingway fish.
OW: Yes! And I didn't have on my turtleneck or a grey beard and I was sober, for cryin' out loud, and he never was!
Get more on O'Neill Outside online at www.oneilloutside.com
GET MORE:
Look for extensive coverage of LDW3 – including the filming of O'Neill Outside – online at www.lcweekly.com
For complete information on LDW3 events, tickets and ways to support our Wounded Warriors and their caregivers visit www.LDW3.com and www.independencefund.org.