The staff of Covert Aire shared an enormous amount of good will, love, positivity, and inspiration by performing random acts of kindness all over the Lowcountry throughout the month of July. Ten random acts were planned in celebration of the 10th anniversary of Covert Aire.
The random acts of kindness (RAKs) valued at over $1,000 in total ranged from paying for groceries for strangers, sharing quarters and detergent at a local laundromat to supplying tennis balls for dogs at the Sun City Dog Park and giving away free iced tea at the Bluffton Farmers Market. Through these acts, the Covert Aire employees as well as President, Mike Covert, hoped to brighten the day of those around them and with a simp
le message of "€˜pay it forward"€™ to someone else.
"It was so rewarding, really heartwarming for our entire team," says Mike Covert. "We couldn'€™t imagine a better way to celebrate our tenth anniversary than by spreading joy to our community that helped build Covert Aire into what it is today. We believe we successfully reached out to over a thousand people through this campaign."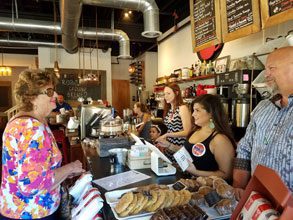 Other acts of kindness included paying for haircuts at Great Clips, paying for coffee at Corner Perk, surprising a single mom with childcare for a week and a gas card for her long commute, and buying lunch for patrons at a local restaurant.
"€œOne of the most surprising results of the campaign was how the people who were touched by our kindness, in turn, reached out and spread that kindness to others,"€ said Melanie Thomas, Mike Covert'€™s Executive Assistant. "That was our hope all along – to encourage others to show kindness as well. Each time we shared a RAK, we left them a sticker or card that explained what we were doing and encouraged them to pass it on. Best of all, we know that took place. Each time a RAK was given, social media had major activity from others going with the momentum."€
The RAK campaign kicked off on July 4th with gifts and surprises to residents of Sun City and it closed with school supplies for teachers at H.E. McCracken Middle School.
About Covert Aire
Covert Aire is a family owned business based in Bluffton, SC, and serves the SC Lowcountry and midlands, sea islands and sand hills of GA. Covert Aire provides heating, ventilation and air conditioning products and services for residential, commercial, industrial, institutional, healthcare, and retail. The staff is Nationally Certified by organizations such as NATE, EPA, NIULPE, ACCA, ASHRAE and other certifying organizations.
Pictured above:
1. As part of Covert Aire's 10th Anniversary celebration, employees gathered school supplies for H.E. McCracken Middle School as one of the company's 10 random acts of kindness in the month of July. The Covert Aire employees pictured are Blake Proudfoot, Jaysin Woodward, Jacob Cain, John Falkenberg, John Brown and Michael Hesch.
2. Mike Covert, President of Covert Aire, visited the Bluffton Kroger in July where he surprised some customers by purchasing their groceries.

3. In July, Mike Covert, President of Covert Aire, stopped at the Corner Perk one day to spread joy to some of the patrons there.