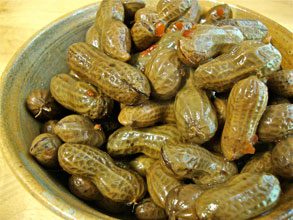 The Greater Bluffton Chamber presents this year's Bluffton Boiled Peanut Festival. Now in its 6th year the event promises to be a fun filled day for all ages.
On September 21st at 6pm at the Bluffton Farmers Market, the Queen and King of the Festival will conduct the traditional "€œCracking of the Nut"€ to kick off the event. The "Cracking of the Nut" involves the World'€™s Largest Boiled Peanut created by Bluffton Boiler, Jared Jester, the idea man behind the Festival. The ginormous peanut will be christened by this year's€™ Grand Marshalls -€" King & Queen of the Festival – with hops infused beverages in true Bluffton fashion, much like you see when ships are christened by the Queen! 
The Chamber will be taking applications for all contests during the Farmers Market for the Peanut Pageant carry titles of Lil'€™ Baby Goober, Lil' Miss Peanut and Lil'€™ Mr. Goober€; the Peanut Cook-off€ for those challenging last year's€™ winners; the all-time favorite eating contest! 
Of course, there will be a kid zone with all the young 'un€™s favorites as well as a V.I.P. area for the boiled peanut eating elite. The festival is on Calhoun Street in the historic district of Bluffton this year and runs from 3pm-8pm on Saturday, September 23rd. Live music, food vendors, retailers and crafters will be there as well. Admission to the main event is free. Food and beverages may be purchased during the event.
Sponsors and vendors are still being accepted but spots are going quickly! Please go to www.boiledpeanutfestival.com or call the Greater Bluffton Chamber at 843-757-1010 for more information and applications or email at info@blufftonchamberofcommerce.org
The Greater Bluffton Chamber is a non-profit 501c 6 organization representing area businesses while supporting the greater area.