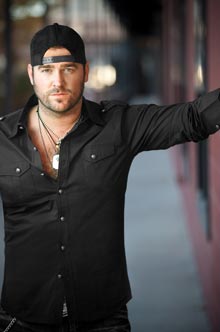 The rising country superstar is headed to the Beaufort Water Festival
The rugged sound of steel guitar and fiddle, the images of fields and farms, allusions to heartbreak and hard work… You can't miss the fact that Lee Brice is country all the way.
It's in his voice – think of it as honey trickling through lines of melody etched in leather – and in the images it conjures, of "country girls and redneck boys" anticipating the night to come in the sunset glow of a Dairy Queen ("Sumter County"), of growing up "on the edge of a cornfield" ("Picture of Me").
And that makes one detail in his dream seem especially surprising.
"Ten years from now," he says, smiling at the idea, "I'd love to hear my songs on the radio – on the rap stations, not just country."
This sounds absurd, but only until you remember what made Lee's debut CD, Love Like Crazy, one of the strongest debuts in any genre over these past several years. If anybody can make this happen, it's this young man from backcountry South Carolina. His voice, his sound, even his wide-open grin are as country as they come – but his view of life is much broader than that.
Begin with his taste in music. Ask him to name the artists who influenced him, and he'll answer with Garth Brooks and Hank Junior, sure, but also Coldplay, John Mayer, Brian McKnight, Tom Petty, 3 Doors Down, Whitney Houston, Edwin McCain, Ray Charles … a list you might assemble by grabbing randomly at bins as you wander through the Tower closing sale.
But Brice insists that something ties all these artists together: "They're all great, which appeals to me because I want to make every song I do as great as I can, too. I'm not comparing myself to them in any way, but I want the same thing that I love in what they do: They all make music that you can believe in."
Brice took a big step toward his dream with his debut album. This is music that takes you to special places, from the farms that he worked as a kid to the dirt roads where he and his buddies would spin their wheels and race for the smiles of their girlfriends. He has that knack for making memories come alive that he sensed in the songs of his heroes.
It took him a while to figure out who those heroes were. While most people his age across America were tuning in to MTV, Brice was growing up on gospel, as sung by his mother and her side of the family. His Aunt Henrietta played the piano, and through the singing she did with her sisters, Lee built his own music on the rock of the church.
"I was completely sheltered, even from country music," he remembers, "so my first influences were those gospel singers. Man, those tenors could wail! I started to sing by imitating them."
By age seven he was teaching himself the basics of piano on Aunt Henrietta's old upright. Shortly after that he began writing songs; aside from church quartets and his father's Alabama and Oak Ridge Boys albums, he had only his own imagination to mine for inspiration. By the time he'd entered high school, though, he'd assembled enough originals to perform them at the talent pageant – which he won, by the way, three years in a row.
Around that same time Lee finally became aware of other styles of music, through friends who had trouble believing he'd never heard groups like Aerosmith. "Now, I'd heard of Aerosmith," he insists, just to set the record straight. "But that's when I got exposed for the first time to them, to John Mayer and Dave Matthews and all that stuff. My first huge influence, though, was Garth. He had a definite effect on my writing, especially in making my lyrics more mature and my hooks stronger, although even when I was ten years old I was writing very emotional songs, songs that told stories."
There were two loves in Lee's life at that time: music and football. His father, a star player in high school, had passed on an offer to play for Clemson in order to marry and open shop as an electrician. Lee, not having yet met the lady of his life, picked up where Daddy left off by enrolling at Clemson and making it onto the team, long-snapping for punts and then moving to center .
But fate changed the game plan. After playing the first game of his senior year, Lee woke up one morning unable to straighten his right arm. "I'd been snapping the wrong way, 500 times a day," he explains. "They had me in surgery the next day, took out all this cartilage, and that was the end of that."
He could have stayed and finished his civil engineering degree; instead, Lee resolved to chase his other dream. He'd kept playing music during his spare time at Clemson and had even spent spring break in Nashville, checking out the town and its possibilities. During that visit he met and performed some of his tunes for Doug Johnson, which prompted the well-established songwriter/producer to offer advice that, by his own admission, Lee's family might not have appreciated.
"He told me, 'Lee, I see that you love music with every bone in your body, so unless you love civil engineering as much as you love music, you need to be here. And if you do come to Nashville, I'll stand by you from the moment you get here."
Brice laughs at the memory of that conversation and at his decision to leave Clemson that summer and take his chances in Music City. With Johnson as his mentor, he sharpened his writing, played out at songwriter circles, and hooked up with some of the top talent in town on co-writing sessions. His partners included Bob DiPiero, Craig Wiseman, Walt Wilkins, Marv Green, and more than a dozen other heavy hitters.
When Johnson took on A&R duties at Curb, one of his first acts was to bring Brice onboard for a writing deal with Curb Music Publishing. For a year the young writer blossomed, creating songs that would be covered by a diverse group of artists, including Cowboy Crush, Keith Gattis, and, on his upcoming CD, Jason Aldean. "I was writing two and three times a day," he remembers. "I'd go to one session at 9:30 in the morning and write until two. Then I'd go from three to six, and again from seven to ten. I just wanted to write, write, write. I did 150 songs that year, and some of them were pretty good."
How have things changed since then? Brice grins as he answers, "I might have written 60 songs this year – but they're 60 songs that really matter."
They especially matter when it's Brice delivering them. Powered by musicians hand-picked for the session, with Johnson bringing the same sensitivity and feel for the material that distinguished his productions for Clay Walker, John Michael Montgomery and Hank Jr., Lee's album alternately flows like a stream of memory or pounds like the tide along the Carolina shore. The songs represent the cream of Brice's catalog, whittled down from more than 300 compositions. Taken together, they forecast years of success ahead for an artist who has the key bases, writing and performing, more than covered.
"I love what I'm hearing on the radio today," Brice insists. "People aren't trying to be perfect or slick anymore. It reminds me of records back in the day, when everything sounded like it was played live. I'd love it if someday people could look back on what I'm doing now too and say, 'When Lee Brice arrived, something changed in a positive way.'"
Lee Brice will perform at the Beaufort Water Festival "Concert in the Park" on Saturday, July 16th. Josh Thompson will open the show, which starts at 8 pm. For a complete schedule of Festival events, visit www.bftwaterfestival.com. To read more about Lee Brice, visit www.leebrice.com, where this article first appeared.