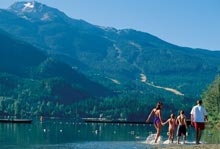 As we head into the dog days of summer, I started thinking about cooler places or activities that would adjust the body temp. Here are some travel tapas that might take the bark out of the dog.
GO TO THE BEACH: Obvious choice locally, but let's think outside the State here. Apart from Waikiki, Miami & Daytona, it's a smorgasbord of beaches out there. Florida alone has almost 700 miles of sandy beach. Close to where I grew up there are 2 I'm fond of: Ft DeSoto (State Park) and Caladesi Island (another State park), both on the central west coast near the Tampa Bay area. Two of my favorites in southern California are Malibu (did you know that it was originally named Humaliwo meaning "surf that sounds loudly" by native Americans?) and Laguna Beach which, along with a beautiful beach & upscale town center, has a wonderful Playhouse and hosts the "Sawdust Festival" – an arts festival lasting 2 months during each summer, currently in its 45th year. Beaches aren't just on the ocean. You can also sit on a white, sandy beach in Idaho – yes, Idaho. Called the "Caribbean of the Rockies," Bear Lake there is shared by Idaho and Utah and boasts intense, turquoise-colored water. And, with only 18 miles of Seacoast, New Hampshire lists Hampton Beach as its most popular beach destination. Nearby, the town of Newcastle, while the smallest town in NH, has a 31-acre seaside park (great for windsurfing, too). There's 800,000 miles of beach in the world, with the longest claiming to be Cox's Bazar in Bangladesh at 150 miles long, so break out the Coppertone!
ENGAGE IN WATER SPORTS: A few years ago we did a whitewater rafting trip up near Murphy, NC. It was so hot outside but the "mountain water" was a very cool 62 degrees. Thank goodness for flotation vests – however, I was wishing for one made of down! After a very scenic 2-hour paddle, I don't think I thawed out until the next day. Whatever type of paddling you do – kayaking, canoeing, or whitewater – or whatever activity you choose from sailboarding to surfing to snorkeling to diving to … well you get my drift … you'll benefit from both the exercise and the coolness of your skin as the water naturally evaporates! Did you know there are teams actually play underwater hockey? Just thought I'd advance that sport with a mention.
VISIT THE MOUNTAINS: Think of those favorite ski mountains – Aspen, Jackson Hole, Sun Valley and Park City in the US; Chamonix, Garmisch, Innsbruck, Whistler & Zermatt as favorite foreign schuss sites. These areas don't hibernate in the summer – they become alive with arts & music festivals, food & wine gatherings and a myriad of outdoor pursuits. They are vibrant communities that thrive in every season! Accommodations are becoming world-class as the crème-de-la-crème of hoteliers vie for attention with amenities such as spas, gourmet dining, celebrity chefs, and guided and pampered adventures from their lobbies to the scenic areas around them. Think whitewater rafting, golf, hiking, lake sailing, horseback riding, tennis, paragliding, sky diving, rowing, waterskiing – something to pump everyone's adrenalin. Many are near national and state parks to further expand your adventure quotient. And most are easy to get to via major or regional airports. So, when the thermometer climbs, head for cooler climes!
STAY AT AN ICE HOTEL: Think upscale igloo! The Quebec Ice Hotel (Hotel de Glace), the only one in North America, recently moved its location closer to Quebec City (about 30 minutes out of the city). Four foot walls protect guests from the wind, but temperatures inside can range from 23 to 26 degrees F. Tours are available and those ticket holders can visit the Ice Bar until midnight, after which the hotel is only open to overnight guests. Overnight stays include an Ice Bar cocktail, access to the hot tubs and sauna, gear to sleep in the Ice Hotel rooms (thermal sleeping bag and camping pillow) plus instructions on how to stay warm, and hot morning beverage. Apparently you can also choose a back-up room at a nearby lodge just in case. Don't underestimate any bragging rights with this one . . . "I stayed at the Quebec Ice Hotel" is a statement bound to intrigue and impress. NOTE: This hotel is only open from January to April each year but it's in the running for generating cooling thoughts.