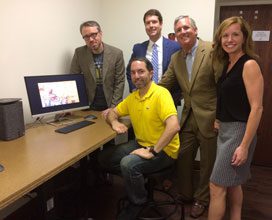 A convergence of three local institutions -€" one with college coursework focused on local history, one a local business that supports educational initiatives, and one a new history center seeking dynamic ways to tell a story -€" has led to the establishment of the Education Station, sponsored by Kinghorn Insurance of Beaufort, at the Santa Elena History Center.
Professor Dr. Brian Canada, of University of South Carolina Beaufort, challenged his students to create programming projects with a Santa Elena theme in mind. This resulted in a unique digital games developed around many aspects of Santa Elena, the Spanish settlement of 1566 on Port Royal Sound.
"€œFrom building puzzles of old maps to racing in ships across the Atlantic and conducting commerce throughout the village -€" the variety and quality of games produced by local students, about local history, is very impressive," remarked Megan Meyer, Director of the Santa Elena History Center. "We'€™re so grateful that the team at Kinghorn Insurance believed in this project and made it possible. Furthermore, we are grateful to Dr. Canada and USCB students for contributing one-of-a-kind games to share with the public."
These games are available for children of all ages to enjoy during their visit to the Santa Elena History Center, adding to the menu of child-friendly resources and showcasing the work by USCB students in a public institution. Due to success of this project, Dr. Canada will continue with future classes, allowing the inventory of games in the Education Station to remain dynamic.
"Kinghorn Insurance of Beaufort is honored and proud to partner with Santa Elena and USCB to help promote education for youth in the community. This new partnership will provide an opportunity to better understand the rich history, culture, significance and beauty of the Lowcountry. Kinghorn Insurance of Beaufort would also like to thank the many individuals that have donated time, talent and money to develop the Santa Elena Foundation as it truly has become a gem of Beaufort."