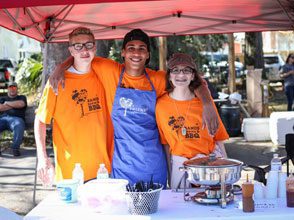 It's time for some food, music and fun! The 10th annual Bands, Brews & BBQ is bringing two days of food, music and fun with wings, barbecue, craft beers, live music and kids' activities on Friday and Saturday, February 22nd & 23rd. We are excited to announce that this year's event will take place at The Port of Port Royal. 
            This official South Carolina Barbecue Association-sanctioned event kicks off the 2019 season and benefits FRIENDS of Caroline Hospice.
            Friday night is the Wing Throw Down from 6 p.m.to 9 p.m. where you can sample wing recipes from participating cookers while enjoying live music all evening, a Kids Fun Zone and lots more.
            Saturday is the BBQ tasting day from 11 a.m. to 4 p.m. with cook teams from across the Southeast serving their award-winning butts. Don't forget the beautiful view, live music, and the Kids Zone. 
            New to this year's event is the Kids Que: Burger Battle. Kids ages 6-15 will compete Saturday, Feb 23 for the title of Kids Burger Champion. 
            Awards will be presented on Saturday by the South Carolina BBQ Association.
            General admission passes are available online and at the gate.
            The sampling of wings Friday night and BBQ Saturday will be available by purchasing tickets for $1. Beer, soda and wine will also be available for purchase.
            Event will take place rain or shine.
To purchase your tickets today or for more information and volunteer opportunities go to
friendsofcarolinehospice.org or call 843-525- 6257.