Carissa Doig came back from the darkness of MS to open Creations & Libations of the Lowcountry, a Wine & Paint Boutique.
Sometimes, you have to lose your vision in order to gain it.
            "Ten years ago, if you'd told me I'd be living in South Carolina and running my own Wine & Paint Boutique, I'd have told you that you were crazy," says Carissa Doig.
            When Carissa was 22, she had a very promising career as a regional manager and makeup artist for a well-known fashion cosmetics brand. "One morning I woke up and my vision was blurred," she says. "A week later I was unable to see out of half of my right eye."            
            Other strange things began to happen to Carissa. She visited specialist after specialist and had test after test – MRs, CT scans, blood tests, neurological exams, even a spinal tap.
            No one could explain what was happening to her. Until someone did.
            "Ironically, it was April Fools Day when the doctor called me. 'You have Multiple Schlerosis,' he said. I couldn't believe it. All I had was blurred vision and some other weird stuff . . . but the pain in my legs, the shocking feeling down my spine, the numbness in my fingers, the uncontrollable twitches in my neck that caused my head to suddenly shake . . .  Everyone had that every once in a while, right?"
            Wrong.
            She was immediately put on medication that had to be injected three times a week. It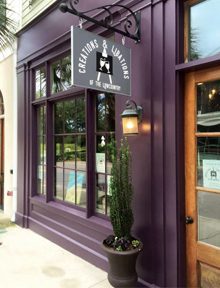 made her feel like she had a perpetual case of the flu. "I was always sick. One morning the phone rang again and it was my regional. 'Do you think you're still able to handle the responsibilities that come along with your position?' Again, I couldn't believe it! Yes, I was sick more often. Yes, I'd been on medical leave. Yes, I had other 'stuff' going on, but I was still good at my job. After a few more calls from company peers I was convinced to step down. It was at that time that the real trouble began . . . at home."
            "The worst part about having an invisible chronic illness," says Carissa, "is that it's invisible. To everyone else you look completely normal, but inside, your body is eating its own nerves and causing complete chaos."
            Carissa had a cousin with MS, and at that time, her cousin's illness had become quite visible. Because Carissa's symptoms didn't "show," her family members were skeptical. She heard things like "You can't have MS! You don't even look sick!" and "That doctor of yours is a quack!" and "You're just making this up!" and "You're embarrassing the family!" This went on for months.
            Eventually her vision returned and she started to feel normal again. She stopped taking her medications, stopped seeing "The Quack," and stopped talking about her illness.
            "I pretended it had never happened," she says.
            Ten years went by. Carissa went back to school and started a new career in the media industry. She became Marketing Director for a popular radio station. She met someone and fell in love.
            "We decided to move down South and get married," she continues. "I became a Marketing Director again for a popular radio group in Savannah, and then moved up to a job at a local TV station there. We bought a house in beautiful Beaufort. Life was wonderful . . . until one morning when I woke up and I couldn't see out of my right eye again."
            Carissa ignored the problem for weeks, even keeping it from her husband. It got worse and worse. Eventually her vision in that eye was gone altogether.
            "I had to tell my husband. He took me to the ER and I had an MRI. 'Has anyone ever told you that you had Multiple Sclerosis?' the ER doctor asked. I told him yes, but that 'according to my family,' he was wrong. The ER doctor held up my MRI for me to see and my brain had little white dots all over it. Ten years. Ten years without medication to stop my body from eating my nerves. Ten years of telling myself that the pain in my legs, my arm, and in my eye were all normal. Ten years, and now the front of my brain looked like Swiss cheese in the photo I was staring at."
           She was put on a new medication to slow the progression of the disease, but other symptoms began occurring.
            "I lost all feeling on the right side of my body. My brain and limbs were no longer communicating. I would burst into tears for no reason. My balance was non-existent. I was exhausted all the time. The pain in my spine and chest was unbearable; I felt like I was being squeezed to death. My head began to shake uncontrollably. Gradually I lost all of my vision. I was so weak that I had someone chop off most of my hair because I couldn't lift a comb or a hair dryer anymore. I was in my 30's and my husband was washing me, doing my hair, helping to feed me. I felt useless. I wasn't 'me' anymore. Would I ever be me again?"
            Carissa's relapse lasted for months, but eventually it passed. The feeling came back in her limbs. Her balance returned. Even her vision – mostly – returned.
            "There were things, however, that never went back to 'normal.' My head constantly continues to tremor. My vision gets blurry when I get tired. The pain is constant."
            She could no longer drive from Beaufort to Savannah for work every day. "By the time I got to work I was in so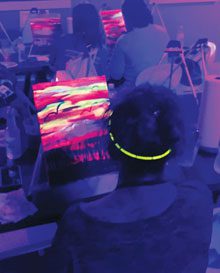 much pain that all I wanted to do was go home." She left her job.
            "I was in limbo. I was still not 100% myself, but I was feeling well enough to try to take on the world. I did a lot of thinking. I thought about what I had just been through; I thought about what I had lost. I felt sorry for myself. I remembered what it felt like to sit at home and wonder if my vision would ever come back, alone in the living room, listening to the TV and waiting for someone to come home and talk to me so I wasn't alone in the dark. Then, I remembered what it felt like to gradually get my vision back . . . to be able to see my face in the mirror again (and think . . . 'oh boy Carissa, you really need some makeup!')"
            "Everything looked different after not being able to see it – and thinking I never would be able to see it again. Trees, flowers, the sunset, birds . . . everything was so beautiful!"
           But what would she do now?
            "I had never been more sure of the answer. I was going to be my own boss. I was going to open up my own business. I would never have to call someone and explain why I needed a sick day for my treatment. I wouldn't have to worry about traveling far to work anymore. I wasn't going to have to answer to anyone but myself. I was going to create beautiful things and be surrounded by fun. I had been miserable for so long that all I wanted to do was to make people happy."
           She decided to combine her makeup artist's "art" roots and her years of marketing creativity to open up a Wine & Paint Boutique – and she was going to do it her way.
           "I took a bit of inspiration from my favorite artist Andy Warhol's 'silver factory,' a little bit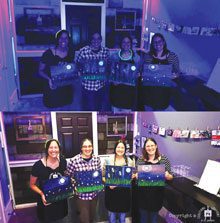 from the makeup artist training facility I'd trained in, added some rock'n roll from my radio station days, threw in some purple, the color of mystery & magic, and came up with Creations & Libations of the Lowcountry. Not only did I want to create a beautiful space to have fun and party in, but I took it a step further: we would paint in the dark."
            And that's just what they do.
            "At Creations & Libations we paint in the dark under black lights. We do this for a few different reasons: the first is that it's fun! When the lights go out everything glows! The paint glows on your brush, on your canvas, you can rock out some glow jewelry, and there are surprises on the walls that glow too! The second reason is that things look much different when the lights go back on. When the lights go back on you have some time to adjust your painting, get it exactly how you want it, and it's beautiful!"
            "I was that painting in the dark," says Carissa. "Things were looking much different for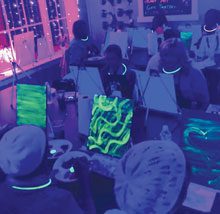 me for a while. The paint on my canvas was streaky and not quite where it was supposed to be, but when I was able to see the lights . . . I adjusted. Even though my canvas will never be a Michelangelo, I am able to see the beauty and the fun in myself and in every painting that's done at Creations & Libations."
            "Every single Wine & Paint session is different," she says. "Though we may do the same painting in many different sessions, everyone's painting always looks wonderful in its own individual way. I get to see the way that other people see things, and it's always amazing to me!"
            Carissa Doig has a message to anybody out there who is struggling with MS, and maybe feeling alone: "You will get through it. You are not alone. If plan 'A' doesn't work out for you, know that you are resilient enough to come up with your own plan 'B.' Never give up. Never stop moving. You are strong enough to fill up your own canvas with beautiful things that make you smile. Don't be afraid to do what makes you smile."
March is Multiple Schlerosis Awareness Month. To learn more, visit www.nationalmssociety.com
For more information about Creations & Libations of the Lowcountry visit www.creationslibations.com