Stanley cruises the open road in an RV with his people and his Labrador brother, stopping at state parks to volunteer. Chick changed her name to the more sophisticated Savannah Belle and set up housekeeping with her best friend on Society Hill in Philadelphia.
Closer to home, Emma left the small confines of the Tabby House desk drawer where she hid her sorrow at losing not one but two beloved humans for a spacious house on Callawassie. Princess comforted a job-seeking human every Friday morning until the nice woman came in with both a job offer and an adoption application. Toby escaped his new home to yowl at a neighbor's window down the street where, apparently, his last people had lived, moved, and left him behind.
These and over a thousand other cats have been adopted in the last four years through Tabby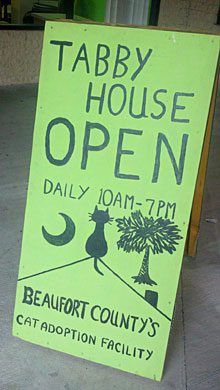 House. The cat adoption center is associated with the Beaufort County Animal Shelter but located in the middle of Town Center (ok, we all call it the Kmart shopping center). Every cat comes through the shelter, is spayed/neutered, vaccinated, health-checked, and microchipped. After a bit of acclimation to life with 30-40 other cats, they roam freely in an environment that is as homey as we can make a storefront with a resident menagerie.
Each year, the shelter takes in over 3,000 cats and kittens. Vestiges of rural life, outdoor domestic and feral cats blanket much of Beaufort County. With all the birds, lizards, and rodents in the area and year-round mild weather, cats reproduce in abundance. Military families cannot always keep their pets when they move or are deployed. Older people may have difficulty finding homes for pets when they can no longer care for them.
Dogs are far more likely to be reclaimed or placed than cats, which account for about three-quarters of the shelter intake. Most Beaufort dogs are moved to no-kill shelters where they have a good chance for quick adoption. Rarely does a no-kill shelter report they need more cats. Fortunately, Hilton Head Humane works closely with the shelter to take in as many cats as possible, but the number is simply overwhelming.
Animal Services Director Tallulah Trice envisioned a cat adoption center where potential adopters could visit cats in a comfortable, if not home setting, then at least a non-sterile one. A place where cats roam freely and visitors could see the cats interact with both humans and other cats more naturally than at an average shelter. She also wanted it located closer to where people lived and shopped. An anonymous donor pledged the rent money for the first year, and Tallulah scavenged for the rest within her own budget and through grants. Since then, the county has funded approximately half the cost, with the remainder funded through donations and grants. Combined with an ambitious spay/neuter program, Tabby House has contributed to a much higher adoption rate for cats and a much lower euthanasia rate.
Tabby House is brightly decorated with paint the color of grass and sky. Local artist Kay Owen created whimsical cat-themed murals for the walls. Cages are only used for newly-arrived cats, those needing a time out, and those who may be a bit under the weather or in need of some alone time.
The center is staffed entirely with volunteers: €"retirees, college students, Marines and their spouses, and people who work full-time jobs but find a few hours a week to clean or staff the desk.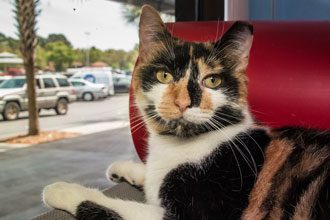 We love visitors. Of course, we hope you'll consider adopting a cat or two, but we have regulars who just come in for a cat fix. A purr can go a long way toward soothing that last phone call from the boss or the jitters before a big exam at school. Your visit helps further socialize the cats and provides us with more information about how a cat does with quiet people, busy children, inattentive adults, or crowds. Occasionally, one of our reclusive cats will discover among you just the right person in need of companionship.
Cats come in all colors and all personalities, and each has someone who is perfect for it. We have window cats, lap cats, crazy cats, lazy cats, '€˜fraidy cats, water cats, and dog-like cats. I feel a little like Dr. Seuss here, but the point is that all cats, in fact most, are not aloof. Given the chance, they are loving, attentive, and fun to be around. I once heard an animal behaviorist say, "If you want to live with a fuzzy four-footed human, get a dog. If you want to live with another species, get a cat."€
We hope you'€™ll visit. Tabby House is open Tuesday-Sunday. Every day but Sunday we open at 11 a.m., Sunday at noon. We're also on Facebook. Interested in volunteering? Call us at 843-255-5030.