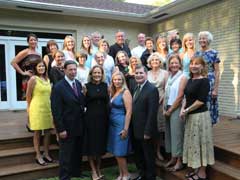 The committees responsible for planning and staging Beaufort Memorial Hospital Foundation's 2011 Valentine Ball gathered in September to raise a glass of cheer in celebration of work now underway.  Over 30 volunteers attended a party, hosted by   this year's co-chairs, Lisa and Paul Mazzeo and Anne and DeWitt Helm, at which the  theme for the Ball and recipient of its proceeds for 2011 were announced.
"
Love In Any Language"
is the theme unveiled for the 2011 Valentine Ball.  These simple words work together to stimulate visions of unselfish love without barriers or reservations.  Lisa Mazzeo and Anne Helm are confident the theme will help create interesting dinner parties throughout the Beaufort area on the night of Saturday, February 12
th
.  In 2011, proceeds from the Ball again are earmarked for much needed improvements  to the George N. Pratt and Sarah Meyer Pratt Emergency Center at BMH.  Dr. Paul   Mazzeo, Chief of Staff at BMH, and Rick Toomey, President and CEO, used the occasion to emphasize the importance of expanding and updating the emergency center used by over 40,000 patients last year.
Ball committees have started work.  Letters of invitation to host dinner parties have been mailed; decorations are being developed; and exciting auction items already are being donated.  This year, an important new committee has been organized. It's called "Introduce The Ball." This Committee will host parties at four different locations in the Beaufort area to introduce new members of the community to the Hospital, to the Foundation and especially to the Ball.  Participating in the Ball provides "win-win" opportunities: To make new friends at dinner parties hosted in private homes and "to give back" to the community all of us proudly call our home.
In 2011, the Valentine Ball will be 22 years young.  Committee members are multi generational in age – all are young in spirit!  This year, there are both new volunteers and veteran volunteers doing new jobs.  It's an engaging time that will culminate with committed citizens gathering at an elegant Ball at the Lyceum on Paris Island to celebrate working together for a purpose and cause that serves our entire community.  Is this not demonstration of "love in any language?"