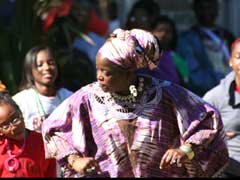 The historic Penn Center, located on St. Helena Island, South Carolina, will celebrate the 28
th
Annual Heritage Days Celebration on November 11-13, 2010.  Organizers are expecting up to 10,000 visitors for this traditional fall celebration, one of the south's oldest cultural festivals.  One of the major changes to the Heritage Days Celebration this year will be a charge of $5 admission on Friday and Saturday for guests l7 years of age and older (children are free on Saturday).   Due to increasing operating costs and a slow economic recovery, a modest admission fee is necessary this year.
Heritage Days is a time that visitors from all over the country will converge on St. Helena Island to revel in a unique Gullah experience: an exciting three-day event that includes food, music, seminars, arts and crafts, a parade, and the folk traditions of the Gullah descendants of West Africans in an historic setting, formerly known as Penn School.
This year's theme is "Advancing Gullah/Geechee Culture and Tradition Through Empowerment."  On Friday, November 12th, the Heritage Symposium will feature African-American Genealogy with panelists from the University of South Florida Africana Heritage Project, Lowcountry Africana, the Magnolia Plantation, and the National Trust of Historic Preservation.  USAF will present the audience with tools to access thousands of on-line data-bases. The symposium will be held at St. Helena Elementary School from 9:30 am to 12:30 p.m.; $25 tickets may be purchased from the Penn Center.
The York W. Bailey Museum at Penn Center will feature an allegorical exhibition of original artwork by renowned artist, Tyrone Geter of Columbia, SC. The exhibit, "Purgatory Ain't Nothin' But The Blues," includes over-sized abstract paintings, drawings and mixed media—even a five-foot gatekeeper made of wood, torn paper and discarded materials.  Mr. Geter, a professor at Benedict College, is collected nationally and internationally by museums and private collectors.  The Savannah River Archaeological Research Program will also display a unique 120 year old pot crafted by "Dave the Slave" of Edgefield, SC. Traditional Gullah artisans will also demonstrate crafts, such as net making, boat building, indigo dyeing, and basket making, that link the Gullah people to their West African ancestry.
One highlight of this year's event will be the "Coretta Scott King Book Awards Fair," sponsored by the National Black Arts Festival of Atlanta.  The book fair for elementary-middle school students is the brainchild of Dr. Colette Hopkins, NBAF's Director of Education and Family Programs.  The exhibit will open on Friday, "Youth Day", and will be featured all weekend.
Food and fun will be served up all day on Friday with entertainment provided by school bands, choirs, step teams and African dancers and drummers.  The evening will end with a fantastic Fish Fry, Oyster Roast, Crab Crack and Blues, featuring live music by Doctor Patch Enterprise Band from 6:00-midnight.
Saturday, November 13th, culminates with festivities beginning at 9:00 am with the start of the Annual Heritage Days Parade from St. Helena Elementary School to the Penn Center. Local authorities will post information on road closings for the parade along Sea Island Parkway.
A special ceremony of the crowning of the 2010 Miss Black South Carolina Queens will be held on campus at 12:00 p.m.  This event is sponsored by Miss Black South Carolina Scholarship Pageant for queens, teens and princesses from all counties in South Carolina.
Guest children's author, Mildred Glover, a native of New Orleans, LA, will be  giving a book talk and signing her new book, Buddy Heads For Home: A Hurricane Katrina Pet Survival Story.
Center stage performances, the Old Fashion Craft Fair, an Artists' Small Works Holiday Art Show, a Taste of Gullah, the Coretta Scott King Book Awards Fair, and cultural demonstrations in the Gullah Roots Village continue throughout the day until 5:00 pm.
or email info@penncenter.com Penn Center is a 501©3 non-profit organization.
 PENN CENTER 28TH HERITAGE DAYS CELEBRATION 
SCHEDULE OF EVENTS
THURSDAY, NOVEMBER 11, 2010
3:00-4:00 p.m.            Penn School Founders Memorial Service – Brick Baptist Church Cemetery, St. Helena Island
5:30-7:00 p.m.            Art Exhibition Opening / Gallery Talk and Reception
"Purgatory Ain't Nothin' But The Blues" –featured artist, Tyrone Geter.  Exhibit closes January 22, 2011.
6:00-7:00 p.m.            "The Road of Remembrance" Youth theatrical production.
Frissell Hall. Tickets: $5/adults; $3/students
7:30-9:00 p.m.            Old Fashion Prayer Service – Brick Baptist Church, Ebenezer Baptist Church & Bethesda Christian Fellowship
FRIDAY, NOVEMBER 12, 2010
9:30 am – 12:30 p.m.            Heritage Days Symposium
"African American Genealogy: Discovering Your Roots"
Panelists: USAF Africana Heritage Project, Lowcountry Africana, Magnolia Plantation, & the National Trust 
St. Helena Elementary School; Tickets: $25/adults; $15/students
9:30 a.m.-4:00 p.m.            $5- Gate Admission
Youth Day featuring Gullah storytellers, step teams, craft demonstrations, food, music, and dancers.
Coretta Scott King Book Awards Fair – (Group reservations required)
6:00 p.m.-Midnight            Fish Fry, Oyster Roast, Crab Crack & Blues – Live music by Dr. Patch Blues Band – Penn Center Grounds
Tickets: $6-$20
Magic Midway Kiddie Carnival (Buy tickets at the gate)
SATURDAY, NOVEMBER 13, 2010
9:00-10:30 a.m.            Heritage Days Parade (Sea Island Parkway from St. Helena Elementary School to Martin L. King, Jr., Drive)  Sea Island Parkway will close at 8:30 a.m.
FESTIVAL TICKETS: $5-Adults only (17 and older); children-free
9:00 a.m. – 5:00 p.m.            Old Fashion Craft Fair & Center Stage Entertainment –
featuring the S.C. State Ujima Dancers, Aunt Pearlie Sue, African Drummers, dance groups, and other gospel choirs; craft demonstrations; Coretta Scott Book Awards Fair
Crowning Ceremony – Miss Black South Carolina
Tyrone Geter Art  Exhibition – York W. Bailey Museum
Lowcountry Artists Expo – Frissell Community House
6:00 pm –12:00 am            Benedict College Alumni Dance
Darrah Hall; $10
Call for advance ticket information: (843) 838-2432; email: info@penncenter.com
Or visit our website for more information: www.penncenter.com