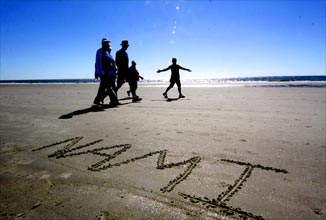 NAMI facilitator Carola Eldridge has looked at mental illness from both sides now.
Do the adjectives confident, courageous, poised, and witty describe a person with mental illness? Yes, they can. Carola Eldridge will tell you that, "Mental illnesses are brain diseases, and like diabetes or heart problems, they do not change who you are as a person."
For the past six years of her life, Carola has shared a message of hope and healing as a National Alliance of Mental Illness (NAMI) volunteer, member of the Coastal Empire Board of Directors, and South Carolina Department of Mental Health Client Affairs Coordinator.
Carola's journey has taken her from England, where she was born, to New England where she grew up and later worked before pursuing a passion for garden design. Carola first received mental health services in the Boston area. With the help of connections made through the wife of her realtor, Carola relocated to Beaufort in 2005 after getting "snowed out of Massachusetts" and established her new life.
Carola volunteered her first year in Beaufort as NAMI Walks Team Captain, raising funds and awareness to improve the lives of people with mental illness and their families. Each year her team has grown. This year Carola is not only participating in the 5K beach walk which is being held October 4, at Coligny Beach on Hilton Head Island, but coordinating a team of 60 contributors.
When asked to go to NAMI SC in Columbia for training to facilitate programs of support and education for individuals with mental illness, Carola said yes. A NAMI Connections Support Group that meets monthly in Beaufort on Fridays from 12-1:30 keeps Carola mindful of her own recovery while helping others.
One of the most rewarding experiences for Carola is sharing her story through NAMI's In Our Own Voice program. After a recent presentation to nursing students at the Technical College of the Lowcounty, one student commented on their evaluation form, "I never knew a person with a mental illness could live such an independent, productive full life; this presentation has opened my eyes".
Pig Pickin' (and Chicken) in the Park will be held this October 11 from 5:00 to 8:00 pm. Carola is chairwoman of the event and a member of the Beaufort Steering Committee. Live Oaks Park in Port Royal (behind the Elementary School) was chosen because of its family friendly atmosphere and charm. Jimmy Fitts' catering will serve up pulled pork barbeque, half a hog, chicken and all the fixins' plus sides, beverage, and desert. There will be live music –all for $25 adults and $12.50 Kids. Tickets are available at the Beaufort Chamber of Commerce or on-line at www.NamiBeaufortCounty.org. All proceeds from this event will fund the ten local NAMI programs, which are given at no cost to participants.
One of the best pieces of advice on mental illness came from a local hospital liaison who said, "We can help you if you take our advice and medications offered. If not, mental illness becomes your life." Carola Eldridge has made mental health and recovery her life's work. We applaud her.
Suzanne Hassett is the marketing and community outreach coordinator for NAMI Beaufort County. For more information visit www.NamiBeaufortCounty.org