This January 26th, at the Parris Island Lyceum, Harlem Renaissance 2008 will celebrate the historic musical collaboration of Billy Strayhorn and Duke Ellington. Their jazz arrangements, like "Take the A Train" and "Deep South Suite" are a significant part of the legacy of the Harlem Renaissance, an intense and productive era for the arts between 1919 and 1940. Expect to dance the night away, thanks in part to general sponsor Beaufort Jasper Hampton Comprehensive Health Services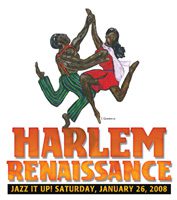 As the annual fundraiser for the Arts Council of Beaufort County, Harlem Renaissance 2008 will also include an auction of work by established Lowcountry artists, as well as a new visual arts component this year— an emerging artist exhibition. ACBC's mission is to nurture the arts, and the county-wide organization is doing this with the Get Your Art Out emerging artist initiative. With support from the Coastal Community Foundation, ACBC offers free programs to new & emerging artists (landscapers who want to be printmakers, administrative assistants who want to be potters) such as working with galleries, arts advocacy, grants writing— and sometimes even the opportunity to share, exhibit and sell their artwork at fantastic venues like Harlem Renaissance 2008.
"I'm ecstatic," said Stephanie Goodwin, one of the new artists. Her work is already an integral part of Harlem Renaissance; her jitterbuggers are part of the logo. "This is a rare opportunity, and one that I welcome as an emerging artist in the Lowcountry." Stephanie was born and raised here, and has recently moved back and established her studio in Ridgeland.
Stephanie's work fits in readily with the annual Harlem Renaissance theme. "I have a fascination with the 1920s-40s, I've always loved that era, loved that new beginning, with culture branching out, all the music and the feeling. I've always been drawn to Jazz and everything that has to do with it. Billie Holliday started from nothing, but she was pure talent, that's what gave her a breakthrough— I can make it and here's what I have to offer. Her music really resonates. Her life was the same thing that she was singing."
More new and emerging artists for Harlem Renaissance are being prepared by Lowcountry artists Hank Herring and James Denmark. "This has been an unbelievable experience," said Stephanie about working with Denmark. "He has offered so much wisdom and guidance, and has answered all my questions, and I do appreciate that."
"There are artists all around the Lowcountry who have not had a venue," explained Denmark. "This is their opportunity to be in front of the public. All that's neccesary is that Hank and I make it happen."
"We've collected quite a few names," said Herring. "And we're finding out why these artists are emerging, we need to know how long they've been working at craft, and details about their study. I feel great about volunteering for this. I think back to myself as a student— if I had the same opportunity, I'd have a different career as far as my art is concerned. There's so much potential, so if I can help someone now with what they truly love, then they can make a living and have peace of mind."
Ethel Denmark, wife of the great collage maker, is part of the triumverate that runs Harlem Renaissance, along with co-chairs Marie Lewis and Claudette Humphrey. "We wanted to do something different for Harlem Renaissance this year," she said. "The Arts Council just did an emerging artist exhibit at Penn Center during Heritage Days. We disucssed doing something more, so we're using Harlem Renaissance for exposure for more Lowcountry Artists. They do not have to create something relative to the scene. They will emerge with what they have."
"I am blown away by the voice of the local, emerging, artistic talent that exists here in the Lowcountry" said Deanna Bowdish, who is the President of the ACBC Board of the Directors, and, as an artist and gallerist, has helped with both emerging artists shows. "It is such a joy to see artists working in such a vast array of mediums and genres. Kudos to the artists who put their energy and soul into these exhibits."
As though the music, dancing, silent auction, and art won't be enough, the black tie celebration offers dinner as well, set in the energetic ambiance of the elegant Cotton Club era. The Swingtime Orchestra will perform their tunes, featuring vocalist Jan Spencer, and more notables like Teddy Adams and Lavon Stevens.
"James is donating BBQ for eight for the silent auction," explained Ethel Denmark. "He's known for his BBQ, and he's got a new toy, a new big grill. I've also been talking with some ladies who do fantastic jewelry. I'm looking forward to having a grand time."
Billy & The Duke: Harlem Renaissance 2008 is Saturday, January 26th, 2008, 7 to 11pm. Advance tickets only: celebrity seating for 8- $560; reserved table for 8- $400; single tickets- $50 & $70. For more information call 843-379-ARTS and visit http://www.beaufortcountyarts.com.