These creative intentions can be fulfilled at ARTworks, home of the Arts Council of Beaufort County, in Beaufort Town Center.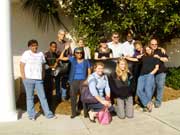 I will try
Auditions for "No Child" are on January 12 & 13th, 7:30 to 9pm. The production will be presented by The Palmetto Theater Experiment at the ARTworks Theater in March. No preparation required, auditions are an improv experience with cold readings.
I will create
…and get my hands on some drums, photographic principles, textiles, hammered metals, small diameter wood, and much more, by taking creative classes at ARTworks.
I will provide opportunities
Word of mouth is simple and effective: tell friends, family, and co-workers about afterschool classes and the scholarships kids can get to attend; about quarterly grants for individual artists, teachers, and schools (next deadline is February 15th); get the word by signing up for ACBC's informative e-newsletter at beaufortcountyarts.com.
I will advocate
The Lowcountry Inauguration Party is a great way to start, on Tuesday, January 20th, from 6 to 9pm. This patriotic, red, white, and blue celebration of the 44th president and his policies for the arts is sponsored by the Lowcountry Inauguration Committee. $25 single tickets, $45 for couples, includes cocktails, hors d'oeuvres, big screen TV, and buffet dinner. Reservations required by January 16th, 379-2787.
Then proceed directly to the Statehouse in Columbia, for Arts Advocacy on February 10th, to discuss with legislators the importance of the arts in education and in the quality of life in Beaufort County. scartsalliance.net for more info.
I will collect
The most resolute way to support the arts in Beaufort County is to have fun collecting it! Attend performances, display local art on your walls— and attend a President's Circle event to see how locals form their own Lowcountry art collections. January 24th highlights "The Mayoral Collection" (including work by Cabell Heyward) hosted by Mayor Billy Keyserling. $20 per person, limited to 20 tickets only: 379-2787.
I will be Cool
Cool John Ferguson is having a concert at the ARTworks Theater on January 16th. Lucky, lucky us. Reserve your seat now, $15 per person, 379-2787.
I will dress to the nines
For the Harlem Renaissance Gala, on January 31st, don your best flapper dress and zoot suits for a smashing Rent Party of dinner, dancing, socializing and other glamourous amusements. Mary Louise and her six piece jazz orchestra will fill the Officers Club with the sounds and moods of the 20s and 30s. This grand celebration of the arts is a fundraiser for ACBC; tickets are $60, or $480 for a table of 8. 379-2787.
I will opine
Take the easy-breezey 10 question survey about creative learning resources in Beaufort County, to help ACBC staff better understand the learning experiences of established artists, the equipment & educational needs of emerging artists, and what resources and services will best serve them all. Get to the survey via www.beaufortcountyarts.com.
Happy 2009!