In February 2008, former LowCountry Habitat for Humantity President Barbara Thomas will lead its first international team to participate in LentBuild08 in Mexico.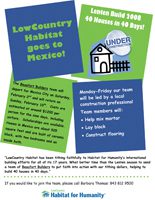 "It has been a long-time dream of mine to see a team of volunteers building along with our affiliate's tithing dollars," she said. "LowCountry Habitat for Humanity has been tithing faithfully to Habitat for Humanity's international building efforts for all of its 17 years. What better time than the Lenten season to send a team of Beaufort Builders to put faith into action with our tithing dollars, helping to build 40 houses in 40 days."
The Beaufort Builders team will depart for Mexico City on Saturday, February 2nd and will return on Sunday, February 10th. Costs are estimated at around $1200 per person for the nine days, including airfare. Scholarships are available. Homes in Mexico are about 525 square feet and are built of ceramic block, with two bedrooms and an inside bath. Monday through Friday, our team will be led by a local construction professional. Team members will help mix mortar, lay block and construct flooring using hand tools. If you would like to join the team, please give Barbara a call at 812-9500.