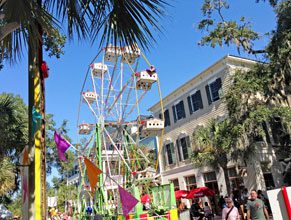 The Habersham Marketplace is celebrating the 8th Annual Habersham Harvest Festival by increasing its offering of special events over the weekend
of October 21-23, 2016.
            The inaugural Wine & Wheel Night officially kicks off the weekend on Friday, October 21 from 7 pm – 9 pm. Wine & Wheel is a 'date night' evening out in the Marketplace in collaboration with new Marketplace merchant Creations & Libations of the Lowcountry. Spend your Friday evening strolling Market Street, enjoy dinner in one of our five distinct eateries, sip a complimentary glass of wine and purchase a ticket to ride the Big Round Wheel. Creations & Libations will be hosting their Grand Opening that evening and will feature a special Black Light Paint Night with a 25% session discount to Wine & Wheel participants.
            On Saturday, October 22, from 10 am – 4 pm, the Harvest Festival vintage street fair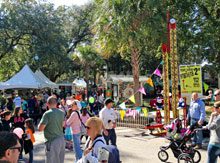 returns with activities for all ages, including celebrated local food purveyors and artisan crafts set against the backdrop of timeless southern architecture on Market Street, continuing on Sunday, October 23 from noon – 4 pm.
            Spend the days browsing artisan vendors, sample and enjoy great local food, live music on the Hargray main stage, plus plenty of activities for kids including the ever-popular 47-ft ferris wheel, vintage rides, contests, petting zoo, face painters, hayride and more!
            This seminal event is made possible with the generous support of sponsor partner Beaufort and Bluffton Family Dentistry. The festival is free admission with food, drink, art and crafts available for purchase and select activities may include nominal entry fees. Wine & Wheel Night and The Harvest Festival are hosted in Habersham Marketplace and Produced by Plum Productions. Visit habershamharvestfestival.com