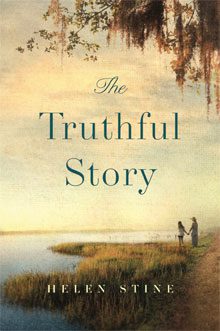 By Margaret Evans, Editor
"The Truthful Story is a wonder. Like the Lowcountry river that nurtures and sustains young Genevieve Donovan—and takes the life of her beloved Nannie—this debut novel runs deep and even dark. But the light shines in the darkness, and Helen Stine's gentle humor, uncanny insight, and quiet wisdom shine through every page of this book, carried along on a stream of luminous prose. The 1960s South she recreates is one born of rapturous memory, painful reflection, an artist's imagination, and love. Most significantly, Stine gives us the great gift of Genny Donovan, a character who set up residence in my heart the same way Jean Louise Finch did so many years ago. I have a feeling that, like Scout, she will live there forever."
            Above is the blurb I wrote for Helen Stine, a stranger to me until a couple of months ago when she wrote and asked me to read her debut novel. I get a lot of requests like that and I typically decline – politely, of course – because I simply don't have the time. But there was something about Helen's email. I couldn't say no. In hindsight, I'm so glad I didn't.
            I'd hoped to write a proper review of The Truthful Story for this issue, since Helen has a book-signing at McIntosh over the weekend. But then Matthew happened and plenty of "best-laid plans" went awry. Time was lost, nerves were frayed, balls were dropped, etc. etc. But Helen was kind enough to send me a press release at the last minute, which I'm excerpting here by way of summary:
"Moss-draped trees, deep, winding rivers, rich family traditions, and whispers of heartache and pain are all part of Charleston, SC and the Southern Lowcountry's hauntingly beautiful landscape. The new book, The Truthful Story by Helen Stine, is part memoir and part fiction and is a tribute to the land and people who shaped her life.
Set in the 1960's, The Truthful Story shares the journey of ten-year-old Genevieve Donovan during a tumultuous era and in an unforgettable place. When Genny's Nannie dies mysteriously in the Lowcountry river she's loved and lived near all her life, Genny and her family are heartbroken. It is a time when new industry is encroaching on old country, and Genny fears her grandmother may have gotten in the way of so-called progress. As Genny and her family struggle with loss and heartache, she begins to fear her grandmother's death was not an accident and the drunkard son of a local businessman may have played a role.
What's more, ever since Nannie passed, Genny has been hearing and seeing things she's not sure she can share with anyone except her mother, whose own grief is making it harder and harder to get through to her. Seeking answers, longing for guidance, and unsure if Mama will ever be the same again, Genny gingerly forges a path out of childhood and into adolescence. As Genny struggles to understand justice, healing, and a world in which Nannie is gone but still present, The Truthful Story traces a family's difficult journey through the pain of loss and the survival of love."
Okay, me again. Y'all, I'm telling you . . . this is a wonderful book. It will draw you in and hold you spellbound. I read it before Matthew wreaked his havoc, but it's a perfect post-hurricane read. For anybody who loves this Lowcountry – or anybody who just loves love – The Truthful Story will be a gentle but powerful balm.
Helen Stine says of her book, "It allowed me to revisit a place where everything in nature was personified. Where the land, trees, and surrounding waters literally breathed alongside the diverse set of people that molded me, and I couldn't wait to tell their story."
Helen was born and raised in Charleston, and is a College of Charleston graduate with a degree in English. After college, she spent 27 years as a military spouse, raised two children, traveled extensively, and pursued a career in early childhood education. During this time, she co-authored Staying on Course: The Early Childhood Board's Guide to Success for boards of directors operating child care programs. Five years ago, she teamed with her husband and son to form an independent film production company, Rushaway Pictures. They have produced three award-winning short films and their first full-length feature film is underway. Inspired by her childhood memories and love of the Lowcountry, The Truthful Storyis her first work of fiction.
            I strongly encourage all you readerly types to head over to McIntosh Books and meet Helen Stine on Saturday, October 22nd. She'll be there from 11 am – 2 pm, signing copies of The Truthful Story. McIntosh is located at 917 Bay Street in downtown Beaufort. You can also connect with Helen on Twitter , Facebook and Goodreads and learn more at www.helenstine.com