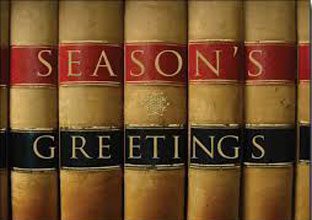 "I think often of Celia Davies. She could squeeze a conversation to its rind, leap it east to west, or change its axis wholly. Her wits were as supple as her fingers were rigid. I don't know her story, for she was an adept evader of questions, but her life would be a giddy crossword, working down from some clues and across from others." Leif Enger, So Brave, Young, and Handsome (2008, Grove Press)
The holidays have descended on the Lowcountry like pollen on your porch, confetti on a parade, frost on pumpkins. And what are the Christmas holidays without the characters we grew up with? Santa, of course, plus his industrious elves. Frosty The Snowman, Rudolph the Red Nosed (non-alcoholic) Reindeer, Ebenezer Scrooge, Bob Cratchit, hark those herald angels. How about the Grinch, Tiny Tim, the Little Drummer Boy? Let's not forget the nice people ringing bells for the Salvation Army, either. I dropped some money into their pail last week and felt ten years younger, if not rotated on my axis.
Christmas stories, the classics at least and by definition, have been around for many years. A fascinating new cast of characters came my way this holiday season, thanks to several marvelous books by breathtakingly talented writers. While none are standard issue, Hallmark card-style holiday reading, they serve to remind us all that the true spirit of the holidays often lies in everyday heroes, those whose grace and goodwill extend far beyond dates we circle on the calendar. Here are some my favorite non-holiday books that sparkle nonetheless with holiday cheer.
Half Broke Horses by Jeannette Walls (2009, Scribner)
We should all be blessed with an appreciative granddaughter like Ms. Walls, author of award winning The Glass Castle. In Horses, Walls lovingly traces the sweat stained, ruggedly individualistic trajectory of daredevilish Lily Casey Smith. Born to break horses, herd cattle, bust up an unfair fight, and teach the dickens into the dusty kids of Arizona rustics in the early 1900's, Lily was a boot tough rancher who stubbornly and lovingly went to the mat for her family and left the world richer for her children and students. In a life with few store bought gifts, nearly every day seemed like Christmas in her soul.
Lily, bless her heart, was a patron saint of political incorrectness and practicality.
"Levi's we didn't wash at all. They shrank too much, and it weakened the threads. So we wore them and wore them until they were shiny with mud, manure, tallow, cattle slobber, bacon fat, axle grease, and hoof oil—and then we wore them some more… When Levi's reached that degree of conditioning, they were sort of like smoke-cured ham or aged bourbon, and you couldn't pay a cowboy to let you wash his."
You can imagine what kind of devoted wife, mother and grandmother this salty, hardscrabble lady was. She earned every penny of her keep, born in 1901 in Salt Draw, Texas. The Greatest Generation didn't get that way by accident. The Lily Casey Smiths of America forced the issue and we are all in their debt to this day.
Peace Like a River by Leif Enger (2001, Grove Press)
Born in 1961 and raised in dinky Osakis, Minnesota (2010 population 1,740), Enger quickly convinces that he knows the values of land, sky, beauty, and love. Peace is fiction but it reads like a biography in its poetic attention to the details of life that give it character, meaning and unique expression. I challenge anyone who writes for a living, or like me just loves to write, to turn a phrase as melodically and evocatively as Enger does.
On his birth, after not breathing for 12 minutes, narrator Reuben writes:
"'Sometimes . . . there is something unworkable in one of the organs . . . In these cases," said Dr. Nokes, 'we must trust in the Almighty to do what is best.' At which Dad stepped across and smote Dr. Nokes with a right hand, so that the doctor went down and lay on his side with his pupils unfocused. As Mother cried out, Dad turned back to me, a clay child wrapped in a canvas coat, and said in a normal voice, "Reuben Land, in the name of the living God I am telling you to breathe.'"
And breathe he did. Other miraculous events follow in this quasi-religious trek through the joyous and frightful canyons of human existence. Take a ride with asthmatic Reuben, his stricken father and Scout-like (think Mockingbird) sister Swede as they scour the badlands in search of accidental desperado brother Davy.   If you are agnostic, like me, suspend it for a few hours. If you are no poet, again like me, pretend just for once that you are indeed. If you just enjoy a towering story, dive right in. May Peace be with you.
Skeletons on the Zahara by Dean King (2004, Back Bay Books/Little Brown)
There was a time when sailing in international waters meant maps were unreliable, electronics nonexistent. Sailors lived and died by their wits, weather and raw seamanship. As in 1815, when intrepid captain James Riley and his Commerce crew of eleven, including 15-year old cabin boy Horace Savage, lost their ship in the rocks off the western coast of Africa.
What followed is a true story reminiscent of some of the most profound writing of Nathaniel Philbrick, he of In the Heart of the Sea's tale of the whaleship Essex—which formed the basis of Melville's titanic Moby Dick. We're talking heroism and endurance on that Kongian scale. In King's case, however, the heroics largely play out in primitive desert surroundings. The merchant sailors from Connecticut were enslaved by rogue Arabs, starved, beaten, dehydrated and sunburned within an inch of their lives. Riley's leadership under excruciating duress was Rushmore-esque. The faith Riley showed in his men, himself and ultimately, several of his captors who risked their own lives to help him, ultimately enabled him to return home against every probability of survival.   This is a sea and sand adventure for the ages and yes, have the Kleenex handy. And some stiff eggnog.
The Storied Life of A.J. Fikry by Gabrielle Zevin (2014, Algonquin Books)
Let's end here on a happier note, a lighthearted romp through the heart and soul of American darlings. In this ode to bookstores, the quaint ones that once dominated the landscape before Borders and their ilk mashed the landscape, we meet one A.J. Fikry. He is a mite dweeby, yes, but smart, disarmingly sensitive, under remunerated but richly paid apart from money. He traffics in uplifted human spirits and in so doing raises an abandoned daughter who is as disarmingly quirky, witty and smart as her entranced new dad.
Read this one for the pure joy of it. If it doesn't make you smile, quickly see the Wizard of Oz for a sense of mirth. Then raise a toast with the rest of us as we welcome in a year that must surely surpass 2016.
Cheers to us all!