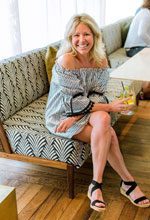 The Women's Association of Hilton Head Island (WAHHI)is pleased to announce the keynote speaker for the September luncheon will be Neely Powell, founder of the Charleston Shoe Company. The event will take place on September 24, 2019 at the Hilton Head Marriott Resort and Spa, located in Palmetto Dunes. Social hour begins at 11:00am. Program and luncheon start at Noon. Cost for the luncheon is $34 for members and $39 for guests.
The luncheon is open to all WAHHI members and the general public. To register for the luncheon, please visit the website at www.wahhi.orgor contact Anne Lambdin at reservations@wahhi.org. 
Founded in 1961, the Women's Association of Hilton Head is an influential group of over 750 women who are active in civic, cultural and philanthropic activities in the Bluffton and the Hilton Head community. Membership in the Women's Association is open to residents of Hilton Head Island and Bluffton. For more information regarding membership, please contact Linda Jackson at membership@wahhi.org.
In 1996, Neely Woodson Powell discovered a pair of hand-made, ultra-comfortable shoes in the colonial Mexican town of San Miguel de Allende. Loaded up with suitcases stuffed with the made-by-hand shoes, Neely sold the sandals alongside her mother's own burgeoning import business at furniture markets.
After years of selling shoes out of the trunk of her car, Neely enrolled in the accessories design program at Savannah College of Art & Design with the idea of launching her own brand. Shortly thereafter, with design and production support from a fourth-generation cobbler in that same Mexican town, Charleston Shoe Company was formed. In 2010, Neely was ready to take the next step into making Charleston Shoe Co. a national name. She opened her first storefront in the iconic Savannah Market and shortly thereafter, a second location on historic King Street in downtown Charleston, South Carolina. Building on her retail success, Neely now has 25 locations around the US. As popularity of Charleston Shoes grew, Neely created a wholesale line that launched in January 2011 and is now sold in over 300 boutiques across the country.
In addition to founder and owner of Charleston Shoe Company, Neely is a mother, an avid traveler and very active in the Charleston community. Neely's charisma and charm have built a thriving business of providing comfortable, versatile and stylish Charleston Shoes to women all over the country.