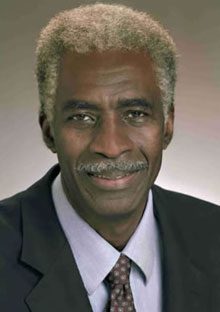 The Hilton Head Island St. Patrick's Day Parade Committee introduced Gullah cultural heritage leader Dr. Emory Shaw Campbell as Grand Marshal for the 35th Annual Hilton Head Island St. Patrick's Day Parade. Committee co-chair Alan Perry made the announcement at the Hilton Head Island-Bluffton Chamber of Commerce Ball on Saturday evening.
The traditional Grand Marshal Sash Presentation Ceremony will be held at Reilley's Grill & Bar on Tuesday, January 30 at 3:00 PM. The parade is scheduled for Sunday, March 11, 2018 at 3:00 PM on Hilton Head Island's Pope Avenue.
Born and raised on Hilton Head Island, Dr. Campbell graduated as valedictorian from Michael C. Riley High School in Bluffton and went on to earn degrees from Savannah State College and Tufts University. He has long been an advocate for public health access for the poor, and for the preservation of traditional Lowcountry communities and culture. While serving as director of the Penn Center on St. Helena Island (1980-2002) Dr. Campbell traveled to Sierra Leone in Africa to establish connections there with the Gullah people of the South Carolina Lowcountry. He also contributed to a Gullah language translation of the New Testament. Today, he heads Gullah Heritage Consulting Services, helping individuals, organizations, groups, journalists and scholars learn more about Gullah Cultural Heritage.
"€œOur Grand Marshal has been described as a peace maker and a bridge builder,"€ said Perry. "€œThese are attributes that exemplify and emphasize the '€˜unity'€™ in '€˜community'€™ and this is what we look for when selecting a Grand Marshal."€
"€œIt'€™s really a thrill to have such a pillar of Hilton Head Island history as our Grand Marshal for 2018,"€ added Committee co-chair Gabrielle Muething, "€œa year of so many milestones for the Island, including our Parade'€™s 35th anniversary."€
The Committee expects another record number of bands and marchers to participate this year including marching bands from Battery Creek High School and Savannah High School, with more expected to join by Parade Day.
Pipe and drum bands from up and down the East Coast will march this year including Wake & District Pipe Band (Raleigh, N.C.), Coastal Florida Police & Fire Pipes and Drums (Palm Coast, FL), Boston Police Gaelic Column (Boston, MA), Police Pipes and Drums of Bergen County (Bergen County, N.J.) and Charleston Police Pipes and Drums (Charleston, S.C.). The Marine Corps Band from Marine Corps Recruit Depot Parris Island also returns.
Already committed guest attractions include the Oscar Mayer Wienermobile, the Big Idaho Potato, and the oven used to cook the Guinness World Record-shattering "€œWorld'€™s Largest Meatball"€ at Hilton Head Island'€™s Italian Heritage Festival last fall. Additionally, the Express Clydesdales of Yukon, Oklahoma will make their second consecutive visit to Hilton Head Island. The team travels the country promoting Express Employment Professionals and raising millions of dollars for Children'€™s Miracle Network Hospitals. The Parade Committee expects to add other exciting and interesting attractions by Parade Day,. All will join the usual collection of colorful floats and marching groups from local businesses and non-profit organizations, and a procession of local dignitaries.
More Information:
Parade Date and Time: Sunday, March 11, 2018, 3:00 PM rain or shine.

Parade Location: Pope Avenue at Hilton Head Island's South End.

To join the Parade, enter online at HiltonHeadIreland.org.

Entry fees are $325 for businesses and $150 for non-profit organizations.

Volunteers are needed to help in the staging area and along the Parade route. Volunteer online at HiltonHeadIreland.org or contact Bill Harper at (843) 616-3604.

The Parade will follow its usual route, beginning at the south end of Pope Avenue near Coligny Circle and marching north to Office Park Road – site of the reviewing stand – where it will make a left turn and proceed to its end in front of Park Plaza and The Courtyard Building.
Founded in 1983 by local business icon Tom Reilley and a few friends and family, the Hilton Head Island St. Patrick'€™s Day Parade has grown to become one of Hilton Head Island'€™s most beloved and popular annual events. Upwards of 30,000 spectators line Pope Ave. and Office Park Road each spring to enjoy floats and marching groups representing local businesses and charities, high school and university marching bands, the U.S. Marine Corps Band from Parris Island, pipe and drum bands, a procession of local dignitaries, and the always popular Shriners with their hilarious antics. Over the years the Parade has also featured the Budweiser Clydesdales, military jet flyovers, and Nashville recording star Michelle Murray among other attractions. In 2013 the Parade received a commendation from Hilton Head Island's Town Council in celebration of its 30th anniversary.