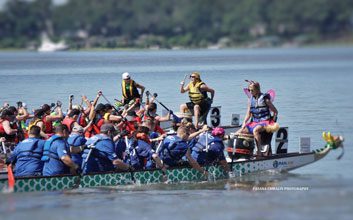 The beginnings of DragonBoat Beaufort were inspired by the documentary film "€œAwaken the Dragon"€ presented at the Beaufort International Film Festival in February 2012 which told the story of Dragon Boat Charleston's cancer survivor dragonboat racing team.
Several people quickly agreed to start a dragonboat team right here in Beaufort. With no resources and no equipment, the first practice was done sitting on chairs and paddling with brooms in Waterfront Park. All were sharing the same enthusiasm and desire to change one's€™ focus of recovery and individual fight to a focus of common energy and love, community spirit, camaraderie and winning as a team. Just a few months later and with only a few practices under its belt, DragonBoat Beaufort competed at the Charleston Dragonboat Festival. Thanks to generous sponsorship, Dragonboat Beaufort celebrated the christening of its first dragonboat, Braveheart, in June 2012 and its second dragonboat, Dragonfly, in June 2015. DragonBoat Beaufort consists of very active and dedicated folks from all different backgrounds and ages. They all share the same passion for the sport, the desire of fighting as a team, the compassion for one another and the long lasting camaraderie. The mixed competitive team comprises many cancer survivors as well as supporters who practice three times per week. This year at the Charleston Dragonboat Festival, DragonBoat Beaufort won a gold medal for the Cancer Survivor Division and a silver medal for Division C€ as well as best tee shirt design. DragonBoat Beaufort will be competing at festivals in Richmond, VA, Carolina Beach, NC and Lake James, NC later this year.
What does DragonBoat Beaufort Outreach do?
Many cancer patients will agree one of the worst days of their lives was the day they were diagnosed. Emotions run heavy, as big decisions need to be made. The financial toll that a cancer diagnosis often brings can also be overwhelming. Some struggle to find transportation to treatments while others don't know how they will pay this month's bills and their new co-pay? This is what our friends and neighbors face right here in Beaufort County.

The DragonBoat Beaufort Race Day Festival raises funds to help cancer patients that live, work, or receive treatment in Beaufort County. This is our one and only fundraiser and the money we raise stays right here in Beaufort County, which means that our loved ones, friends and neighbors can receive your assistance.
Our all-volunteer force tries to be your good neighbor in a stressful time by assisting with the needs that insurance does not cover. In the past eighteen months DBB's Outreach Team has assisted 88 of our neighbors. Whether the need is as simple as gas to get to an appointment or help paying a mortgage, we can assist with the unforeseen expenses. We'€™ve assisted with groceries, utility bills, prescription costs, and even rides to get to treatment for those who can'€™t drive themselves.
Cancer does not discriminate by age, race, or gender. We assist patients that would never dream they would not be able to meet their basic needs but the expenses of treatment can quickly overwhelmed them. Cancer treatments can reduce your income, increase your expenses; or for many, both. Our Outreach Program works with the social workers at local hospitals to insure that we are the right organizationto assist the patient. There are many charitable organizations in our area and we belong to theCommunity Service Organization to stay abreast of local resources.
DRAGONBOAT RACE DAY, JULY 24
7:30 AM Captain's Meeting
8:00 AM Opening Ceremony
* National Anthem by Velma Polk and Elaine Lake
* Drummer's Parade
* Dotting the Dragon's Eye
8:15 AM First Marshalling Call
8:30 AM Heat 1
10:30 AM Heat 2
12:30 PM Mid-Race Ceremonies
* Carnation Ceremony
1:30 PM Heat 3
4:00 PM Awards Ceremony

The Carnation Ceremony
The Carnation Ceremony is designed to allow time for reflection, prayer, and celebration. We remember the lives of our loved ones who have lost their battle and reflect on those who are currently in treatment and those who have survived. The Carnation Ceremony will begin with a survivor speaking words of encouragement about their cancer journey. Then Velma Polk and Elaine Lake will sing, while all participants hold a red carnations high over their heads. As we wave the carnations to the rhythm of the music, our thoughts and prayers will be felt by our loved ones. We will have tears; tears of loss, tears of joy, but mostly tears for a hopeful future free of cancer. After the ceremony each participant will have the option to keep their carnation, throw it into the Beaufort River or return it to a member of Dragonboat Beaufort. All returned carnations will be donated to River Oaks Assisted Living in Port Royal.
The Carnation Ceremony honors our loved ones who have faced the battle with cancer. It allows us time to reflect on and celebrate the lives of our loved ones. This ceremony means something different to each participant. Everyone takes something different away from this touching and moving ceremony. Join us and have your life touched by this poignant and meaningful display of love.
Taiko Drummers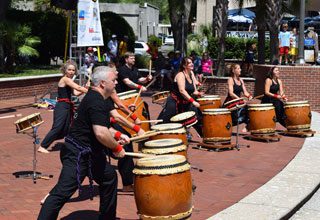 The Taiko Drummers from Charleston will be performing during Dragonboat Race Day 2017!
What is Taiko?
The rhythms of the heavy wooden Taiko drum have figured prominently in traditional roles from ancient times in Japan. On one end of the spectrum, during times of war, the Taiko's resonating pulse echoed through vast distances as both a call to battle and a tool of intimidation against the enemy. On the other end, Taiko was a component within the regional Japanese cycles of festival life rooted in the agricultural seasons. Within these festivals known as Matsuri, its role ranged from a pulse to sustain the tempo of celebration to an astounding range of elaborate and intricate forms of drumming and dance traditions. Taiko also was a significant element within the theatrical traditions of Kabuki and Noh.
During the last, approximately, forty years, Taiko has gone far beyond its traditional role and emerged as one of the most energizing and innovative of Japanese art forms. Due to the vision and work of figures such as Oguchi Daihachi Sensei, referred to as the granddaddy of modern day Taiko, and widely renowned groups such as Kodo and others, Taiko has come into its own as an evolving, creative art form exemplifying passionate musical expression, precision, power and grace. Although contemporary Taiko known as "€œSosaku Daiko"or "€œKumi Daiko"€ is rooted in and incorporates traditional elements of martial arts and dance, the expression and range of creativity is original and influenced by life today. Within the last two decades, hundreds of drumming groups within Japan and around the globe have formed as people are drawn by the intensity of the discipline and the unique camaraderie within a drumming group.
Taiko Charleston seeks to foster a diverse community of performers dedicated to physical, musical and creative excellence through the discipline of Taiko. We strive to honor the Japanese culture in which it is grounded and to connect and inspire across cultural lines through the power of this unique and vibrant art form.
DRAGONBOAT RACE DAY 2017 TEAMS
Beaufort Believers – Lady's Island

This is our first year as a team!! We are a group composed of YMCA Kick Boxers, Pleasant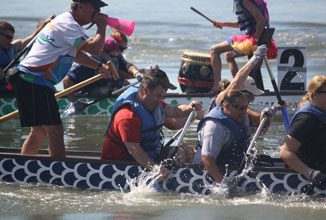 Point Golf Club Golfers, Bladen Street Tennis players, neighbors, and friends. Some of us are cancer survivors! We Believe We Can Make A Difference!
BMH Spittin'€™ Fireball – Beaufort
Beaufort Memorial Hospital is pleased to introduce this year's Dragon boat team, Spittin' Fireball. We have a few veterans, some newbies, and a boat full of paddlers excited to get back out there! We are humbled by such a wonderful event and look forward to giving back to our community by participating in the race. See you in the water!
Brawn & Bling – Bluffton
I am so excited to announce the first year launch of Brawn and Bling, inspired by the wonderful company I represent, Touchstone Crystal by Swarovski as an Independent Consultant! My name is Sharon Browne and I have been with Touchstone and also a member of Dragonboat Beaufort for 3 years!!!! Through this business and the help of wonderful hostesses we were able to donate $2500.00 to Dragonboat Beaufort in 2016! This team is a mixed group of men and women that see a need to support this giving and meaningful organization. Many of us have been touched personally, with those we love affected, and some lost, to cancer. Because of my experiences with all of the amazing and brave survivors and supporters of Dragonboat Beaufort, I can't wait to share this experience with my team and to spread the word of DBB and all they are and offer! I am blessed and grateful for this opportunity and thank you team for coming together for this wonderful cause!
Charleston Fire Breathers – Charleston
Charleston Paddle Club is passionate about paddling sports, physical fitness, and fun! Through the paddling sports we offer, our members develop a respect and love for Charleston, SC beaches and waterways, get in great shape, and make new friends!! We welcome members of ALL AGES and SKILL LEVELS, and we especially love introducing this rapidly growing sport to the people of the Lowcountry!
Charlotte Fury – Charlotte, NC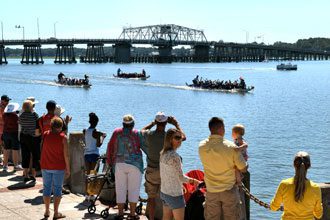 Charlotte Fury was formed in 2007, with crew largely from Charlotte and nearby towns. The team is part of the Charlotte Dragon Boat Association, who organized the first Dragon Boat event in the Carolinas in 2006. Our membership is a balanced mix of both male and female crew from a broad ethnic origin. Our club goals are to promote community building and to develop Dragon Boat racing into a premier recreational and competition event in the region. The "CDBA Gold" and "CDBA Blue" teams are development teams of Charlotte Fury to enhance the skills and further the interest of Dragon Boat racing to our new paddlers.
Dragon Slayers – Habersham
The Dragon Slayers are in their third year as a dragon boat team and have the enthusiasm and spirit of a veteran team! We are a mixed community boat with several cancer survivors; but all have been touched by this disease. We chose the name Dragon Slayer to represent our strength in spirit and purpose. We paddle with conviction to honor those we have lost to cancer, celebrate those that have won their battle, and to support and encourage those that are battling now. Every stroke is in your honor. Regardless of the times our heats take we will have a "boat load" of fun for this very worthy cause.
Dragonboat Charleston -€" Charleston
Dragon Boat Charleston is racing in memory of one of our club founders, Dannie Manning. She recently lost her battle to cancer and was a long-time paddler and valuable member of the DBC Family. Beaufort was her all-time favorite dragon boat festival to participate in and DBC's "Dannie's Dragons" is racing in her honor today.
JCB Paddling Diggers – Hardeeville
The JCB Paddling Diggers are all co-workers or spouses of co-workers from JCB. Coming together to have fun away from work. The team members work in different areas of the business from the General Manager, materials, purchasing, finance, accounting, production and engineering. Watch out for our awesome teamwork.
PadaWan Dons (Celedon) – Lady's Island
Parish Paddlers – Beaufort
"Fear not, for I am with you; be not dismayed, for I am your God; I will strengthen you, I will
help you, I will uphold you with my righteous right hand" (Isaiah 41:10). The Parish Paddlers are members of the Parish Church of St. Helena and are desiring to get local churches to join in this community-wide effort to support cancer patients in Beaufort. Fighting cancer or any disease requires feeding the body, soul, and mind. We challenge you to join this effort. Help support the Parish Paddlers! To God be the Glory!
Pink Courage – Beaufort
We are a group of cancer survivors and supporters. With love, enthusiasm and care, we are paddling for family, friends, and in some cases ourselves. We are mothers, sisters, daughters, aunts, grandmothers, brothers, fathers, uncles, grandfathers, and sons. We are here to raise money for DragonBoat Beaufort so they can continue their outreach programs in Beaufort County. We are strong, courageous and passionate. We are Pink Courage! Community, Competition and Compassion!
Pinnacle Plastic Surgery – Hilton Head Island
Pinnacle Plastic Surgery provides advanced healthcare for people seeking reconstructive or cosmetic surgery to enhance their well-being. We understand that living well includes feeling good about the way you look. As Beaufort County's only female plastic surgeon, Dr. Audrey Klenke offers a unique perspective, driven by modern perceptions of aesthetics. She views cosmetic surgery as a natural part of a healthy lifestyle. Whether you're looking for age-defying quick fixes, or time-honored surgical procedures, like facelift and tummy tuck, our goal is to help you look your best at any age!
Rack Attack – Hilton Head Island
Team Rack Attack is representing the nationally accredited Breast Health Center with Hilton Head Regional Healthcare. The Breast Health Center is overseen by Dr. Rochelle (Shelly) Ringer, a fellowship trained breast surgeon who is dedicated to caring for patients with breast disease.
Some Like it Hot – Hilton Head Island
Bikram Yoga Hilton Head is an ambassador of strength and wellness on Hilton Head Island. We are dedicated to building a community of mindful, compassionate people who believe that a strong community can help those who are going through hardship.
Yoga maintains youth. It keeps the body full of vitality, immune to diseases, even at old, old age. The Yogi never becomes old. Postures strengthen and develop will and body…€" physical and mental development are intertwined. -Bishnu Ghosh
Swamp Dragons – Bluffton

We are a group of cancer survivors, caregivers and those that have been touched by cancer in some way. We are working together to raise money and help those in the community that need assistance with their battle with cancer and the families affected also. We also have fun together on the water for a great cause! Paddles up! A special thanks to our sponsor John Haynie with Beaufort Air!
The Incredible Recovery Team
We are Select Physical Therapy of the Lowcountry! You can find our outpatient clinics in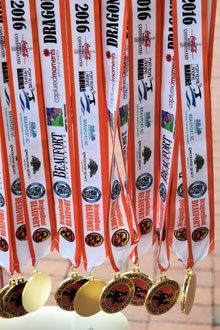 Beaufort, Bluffton, and Okatie. Our core services include Physical therapy, occupational therapy, certified hand therapy and aquatic therapy. We are excited to be a part of the Dragonboat race this year and look forward to seeing everyone on the water! To learn more, please visit our local community website: http://www.selectphysicaltherapy.com/community/south-carolina/center/?id=40967
Thunderstruck II (Lockheed Martin) -€" Beaufort
In 2016 Lockheed Martin employees, family, friends and Marines from right here in Beaufort, joined together in their first Dragonboat Beaufort Race Day. This year the drum beats louder as Team Thunderstruck II gathers to train, compete, educate and raise money for activities in support the Dragon Boat Beaufort cancer survivor teams.
Our Lockheed Martin team takes pride in doing what's right, respecting others and performing with excellence. What better way to express this than to help create excitement and awareness in the community for outreach cancer survivor programs.
Tidal Creek Turtles – Beaufort
The Tidal Creek Turtles are composed of a group of friends from Tidal Creek Church who have had close friends and family impacted by cancer in the past year. We are here to support cancer survivors and raise money for those cancer patients in our community. And we are all up for a good challenge. Don't be fooled by our name!
We Have the Advantage – Bluffton
WE HAVE THE ADVANTAGE, sponsored by Advantage Builders, LLC, participated for the first time in the 2016 Dragonboat Race Day. Our team is excited to be returning for the 2017 race. The team members are comprised of cancer survivors, supporters of cancer survivors, and/or those that have lost loved ones to this disease. The team members have found unity through their desire to give back, to help others, and to be part of something meaningful. Our enthusiastic and energetic team consists of paddlers from Dallas, NC and Beaufort, Bluffton, Hilton Head, Okatie, and York, SC.
This is the fifth year that Rick DeLong, president of Advantage Builders, has sponsored a boat for Dragonboat Race Day in support of those impacted by cancer in the Lowcountry. An award winning builder, Rick DeLong and his team build extensively in the Lowcountry. Rick DeLong has been in the construction Business for over 25 years. Rick specializes in the construction of high-end custom homes, remodels and commercial upfits. Unlike most contractors Rick is actively involved and on site in all activity in the building process.
WE HAVE THE ADVANTAGE members wish to thank Rick and Advantage Builders for supporting our team in this years' DragonBoat Race Day. Paddles Up!
Weichert Warriors -€" Beaufort
24 Awesome Weichert Agents paddling their hearts for a cause that is near and dear to each of them. Weichert Works!
OUR SPONSORS
A big shout out from DragonBoat Beaufort to our sponsors for Dragonboat Race Day 2017! We could not do it without you!
Port Royal Landing Marina
City of Beaufort
Beaufort Regional Chamber of Commerce
Coca-Cola Bottling Co. Consolidated
Kamagold LLC
Beaufort Memorial Hospital
Hilton Head Hospital
South State Bank
—|—
Adams Outdoor Advertising
Apex Broadcasting
Beaufort Water Search and Rescue
Habersham Properties Inc.
Rugala & Associates
Southern Tree Services of Beaufort
Modern Jewelers, Inc.
—|—
Best Western Sea Island Inn
Dentistry at Habersham: William Zimmer, DDS
Gilbert Law Firm LLC
Higher Ground
JH Hiers Construction
Kinghorn Insurance of Beaufort
Lowcountry Weekly
Mitchell Brothers Construction
New South Shirts
Nuances
Spectrum Graphic Arts Center
Tracks Wildlife
UBS – The Bankhead Family
Weidner, Wegmann & Harper, LLC
BiLo
Sutton Construction
The Beaufort Inn
Beaufort Bread Company
Downtown Marina
Lowcountry Produce and Market
State Farm Insurance Agency – Andy Corriveau