Beaufort's newest bookstore offers up the stuff of dreams.

Story and Photos by Mark Shaffer

"Jake went in, aware that he had, for the first time in three weeks, opened a door without hoping madly to find another world on the other side. A bell jingled overhead. The mild, spicy smell of old books hit him, and the smell was somehow like coming home."
― Stephen King, The Waste Lands
DOWN THE RABBIT HOLE
The sign is the first clue: a raven perches in silhouette above whimsical lettering. Open the bright red door and an old-fashioned shop bell softly rings you down a short flight of steps into an unexpected world, an atmosphere so richly textured and well lit that it seems almost familiar, like something out of a dream or perhaps a movie. As it turns out, NeverMore is a bit of both.
David and Lorrie Anderson have dreamed of owning a bookstore for nearly as long as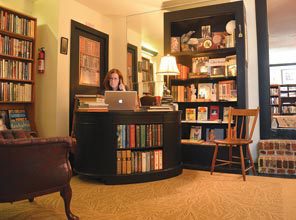 they've been together. But for Dave the dream stretches back to childhood. "Since I was eleven. I read a book called 'Parnassus on Wheels' by Christopher Morley about a gypsy who sold books out of a wagon, and that was pretty much it."
Growing up in Omaha, Anderson developed a fierce love of books plundering through his father's furniture store. "He used to buy books in bulk and store them in a warehouse and I'd climb all over the shelves to get into the boxes and then I'd steal all the good stuff." Out of that a lifelong passion for collecting fine and rare books was born. It's a passion Lorrie shares, and one that's finally reached its logical conclusion with no small amount of panache.
Building a specialized inventory was never a problem. "It all came right out of our house," she says. "I swear the whole house moaned when we started hauling this stuff out." One look at the location in the old cellar beneath the law firm of Tupper, Grimsley & Dean sealed the deal, says Lorrie.
"We've been talking about opening a bookshop as a 'retirement plan' for 15 years and when the space beneath the TGD Law offices came available, we knew the time was right."
Over drinks a few days into the shop's first week, Dave claims different motives.
"I started the bookstore so I wouldn't have to rely on a life of violence and graft."
I always suspected as much.
The Andersons spent months meticulously transforming the space into something that J.K. Rowling might have imagined for Harry Potter's Diagon Alley. There is indeed a bit of magic at work here – movie magic. Dave spent years in the film business working on major motion pictures. His knack for design is all over the place.
"The place is set-dressed," he says. "It's styled after Badger's house from The Wind in the Willows except without the larder. It's a comfortable, softly lit space where you can find little odd treasures and take time out of your day to relax a bit."
The name NeverMore comes by way of Chef John Marshall at The Old Bull Tavern. It fits perfectly with the shop philosophy of acquiring and selling books of quality that are becoming harder and harder to find and therefore more valuable. Knowing what to collect and how to go about it can be a lucrative form of investment. And forget the popular notion that books are going the way of the dodo, says Dave. "Books have been going out of style since the Gutenberg Bible. And now there's a resurgence. Go to New York or Boston and you'll find hundreds of independent bookstores."
The sculpted likenesses of Cervantes and Balzac stand sentry in the street side shop window. Appropriately, a portrait of Edgar Allan Poe welcomes patrons as they step into the shop below. An illustrated copy of Alice in Wonderland juxtaposed beneath a framed print of the Grateful Dead's iconic "Blues for Allah" cover beckons you further down the rabbit hole. (It should come as no surprise that the Andersons' favorite holiday is Halloween.)
Most weekdays you'll find Lorrie behind the period kidney shaped desk in the far corner. Saturday is Dave's turn. While Dave's personal taste in books tends toward the rare and
unusual ("Arthur Rackham illustrated editions, hard-to-get 'beat' works and lots of esoteric 1960's stuff"), the shop is filled with the notion that there's a book for every age and taste. NeverMore also offers Dave's expert appraisal services for a reasonable fee. "I can tell you if what you've got is garage sale or Strand Rare Book Room." As for the NeverMore inventory, expect it to change constantly. Or as George R.R. Martin might put it, all books must sell. Prices start at five bucks. Signed first editions and limited runs are more.
Begin your literary quest alphabetically in the main room and continue down the hall into a salon complete with fireplace. Atop the mantle an exquisitely bound and boxed set of Khaled Hosseini's novels The Kite Runner and A Thousand Splendid Suns is framed between a globe and an old brass sextant. A pair of matching leather club chairs beckons beneath an ornate illustration out of Tolkien. A matching chess set sits ready at Gandalf's feet.
There's also a trippy little anteroom devoted to another passion of the Andersons: music. "It's meant for those folks who still collect vinyl," says Dave. "In my formative years I was always in either a bookstore or a record store. Come to think of it, nothing's changed."
Making the transition from a longtime career in media sales to small business owner is a huge step, says Lorrie. But after the first week it feels like the right one. "I feel so comfortable in this space surrounded by books I love," she says. "The customers have been amazing. I love talking to them, finding out what they like to read. It's wonderful to see how many people still want to read real books."
Best selling author Jen Campbell's been writing about bookshops for years. In her recently published The Bookshop Book she writes, "These places are time machines, spaceships, story-makers, secret-keepers. They are dragon-tamers, dream-catchers, fact-finders, and safe places. They are full of infinite possibilities and tales worth taking home." And, I would add, places where dreams still do occasionally come true.

THE APPENDICES
NeverMore Books is located at 201 Carteret Street in historic downtown Beaufort.
Hours are 10-5 Tuesday – Friday, 10-3 on Saturday.
Appraisals and acquisitions are available. Phone 843-812-9460 for more information. "Like" them on FaceBook.